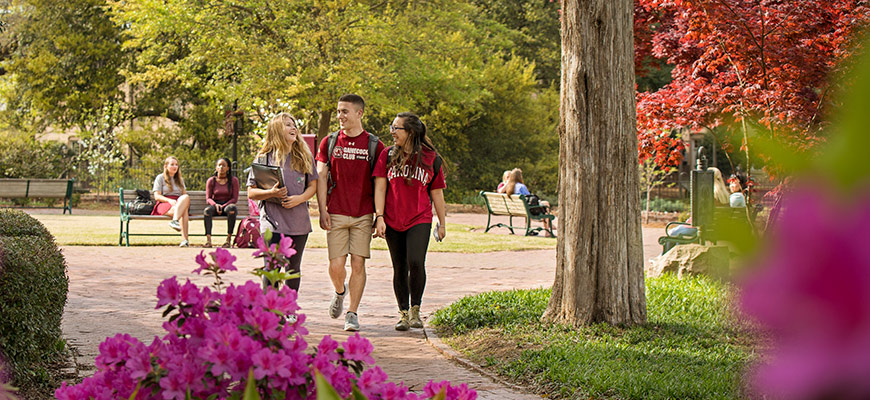 UofSC announces partnership to strengthen cyber security workforce in S.C.
---
---
The University of South Carolina is announcing a new partnership with Check Point Software Technologies, a global leader in Cyber Security Solutions. As a part of the ongoing cyber initiatives in South Carolina, the partnership will focus on providing UofSC students with innovative and collaborative learning opportunities that will prepare them for careers in the cyber security industry.
"Given the recent global events, the need for cyber security training has never been more important," said Bill Kirkland, executive director of UofSC's Office of Economic Engagement. "As the flagship institute of South Carolina, we have a responsibility to provide the state with a skilled cyber security workforce. We are excited and thankful to be partnering with Check Point Software in providing our students with the educational tools and opportunities needed to position South Carolina as a leader in cyber security."
This partnership will provide the resources needed to establish a Check Point Training Hub for the Southeastern United States, making the state of South Carolina a key player in producing a skilled workforce for high demand jobs within the cyber security industry.
"With the continued increase in cyber-attacks and more sophisticated cyber threats, Check Point Software is committed to making cybersecurity education and knowledge accessible," said Check Point's Vice President of Learning and Training Liat Doron. "Our mission is to bridge this gap by providing worldwide cyber security education through partnerships with higher learning institutions."
This is a win-win for students, the university, and state of South Carolina.

Tom Reichert, dean of the College of Information and Communications
Students participating in Cyber programs will be immersed into an experiential learning environment, including:
Specialized/Professional education and curriculum development
Capstone and Research Projects
Guest Lectures
Workshops
Scholarship opportunities
K-12 Summer Camp
"We're excited to be working with Check Point, and I give credit to our college's School of Information Science for seeing the value of this partnership and moving swiftly to put it in place," said Tom Reichert, dean of the UofSC College of Information and Communications. "Ensuring students get job-ready skills is a high priority. We aim to be the leading hub among Check Point's university partners in North America, and we look forward to furthering the relationship. This is a win-win for students, the university, and state of South Carolina."
UofSC, along with other universities and colleges around the state, will work together to cultivate job opportunities with Check Point and Check Point Partners while also fostering key initiatives with the military and veteran student population.
---
Share this Story! Let friends in your social network know what you are reading about
---