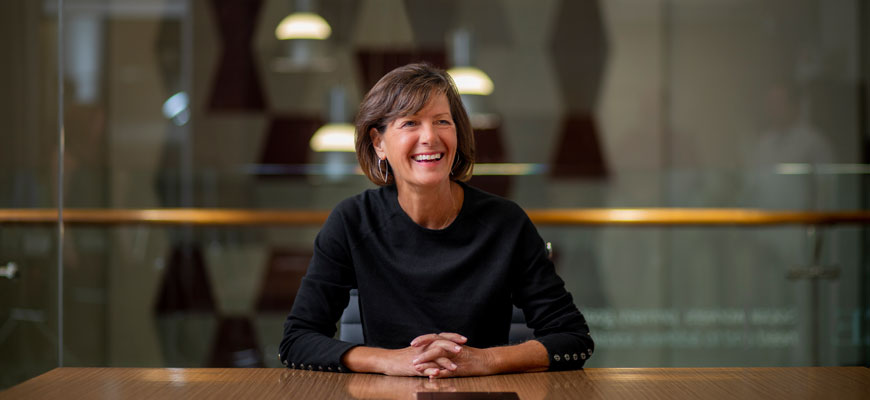 UofSC instructor inspires the next generation of leaders in sports
Susan O'Malley, first woman to run an NBA team, shares her insight with HRSM students
---
By Megan Sexton,
msexton@mailbox.sc.edu
, 803-777-1421
---
Susan O'Malley knows something about getting to the top of her profession, becoming the first woman to run a professional sports franchise when she took over as president of the NBA team in Washington, D.C., in 1991 at age 29.
In the years since, she's heard plenty of people tell her she broke the glass ceiling — that things must have gotten easier for women working at high levels in sports.
Her response is clear: No. It's still challenging.
She shares a story about talking with a student who recently completed an internship with a National Hockey League team. When the intern asked her boss what it was like for women working in the organization, the supervisor told her, "I still go home and cry sometimes."
"And I was thinking, 'Oh my gosh, I'm 30 years removed from that first day.' So that is the thing I try to tell women: It's still not easy."
Now a senior instructor of sport and entertainment management in the College of Hospitality, Retail and Sport Management, O'Malley has brought her knowledge, insight and enthusiasm to the University of South Carolina, focusing on giving students — men and women — a taste of the fast-paced field of sports and event management.
A passion for sports
Teaching in a university classroom in South Carolina wasn't on O'Malley's original to-do list. But running a sports franchise was always on her mind.
O'Malley grew up in Maryland, the middle child in a family of five. She always loved sports — and competing. She remembers a school assignment when she was 13, saying she wanted to grow up to run a professional sports franchise. While the teacher complemented her composition, she also commented that it was an "unrealistic goal."
She should have known not to underestimate O'Malley.
O'Malley went on to intern with Washington's NBA and NHL teams while she was a student at Mount St. Mary's University in Emmitsburg, Maryland. She worked briefly for an advertising firm after college, but at age 25 got a job as director of advertising for the Washington Bullets, now the Washington Wizards. A few years later, she was running the show as president of Washington Sports and Entertainment. She earned a law degree from Georgetown University and was one of the first women in a top front-office position in major league sports. She also ran the Verizon Center, now called the Capital One Arena, the WNBA's Washington Mystics and Ticketmaster Washington-Baltimore.
And she did it well. Under O'Malley's leadership, the Wizards had the largest ticket revenue increase in the history of the NBA. That same year, the club achieved its highest season ticket renewal rate. By the 2005-2006 season, the Wizards attracted more than 17,000 fans per game, had 14 sellouts and the team made its second straight trip to the playoffs.
Teaching is the greatest service job left, in my mind, because you have an opportunity to make a difference in the next generation.

Susan O'Malley
She eventually retired and left the Washington, D.C., area for Sullivans Island on the South Carolina coast near Charleston.
That's when Tom Regan and Matt Brown from the university's Department of Sport and Entertainment Management came calling, recruiting her to the classroom, knowing the impact she could have on students.
She wasn't sure. She had no idea if she wanted to teach, and Sullivans Island is a two-hour drive from Columbia. But she was intrigued.
"They had a great vision for trying to get the students to understand practice and theory," she says. She accepted the job and joined the faculty in 2016. She laughs now, saying some of her colleagues later told her they didn't think she'd last a year.
"But I liked it. Teaching is the greatest service job left, in my mind, because you have an opportunity to make a difference in the next generation. I really believe that. And I also believe that people can have an enormous impact on someone's self-worth. It's that old expression that people remember how you treat them forever," she says. "And I remember the people along the way that helped me and made me feel better and those that made me feel shamed. And, so, I think that's an important role."
Mentoring the next generation
At South Carolina, she has made it a point to mentor students — particularly women — since she knows that sports jobs still tend to go to male candidates. She called on her contacts with Monumental Sports and Entertainment to secure four guaranteed paid internships for female students majoring in sport and entertainment management, as a way to both help students and develop future industry leaders.
She shares with female students a line she stole from singer and actress Reba McEntire; that to be successful they need to go into every meeting with a wishbone, a backbone and a funny bone.
"I tell women that you have to have those three things. And you're going to have to work harder than men do. And, you know, you really do have to kind of check your emotions at the door. My old boss, Abe Pollin (who promoted her to president of his NBA team) was an amazing man, but if I got passionate or emotional about something, he'd put his hand up and he'd say, 'Keep your eye on the ball.' "
O'Malley has been fortunate to have her own group of women mentors, including the late Katharine Graham, the publisher of The Washington Post.
"When I got the job (as president of the Washington Bullets), I got a letter from her. A little handwritten note was delivered to me and it said, 'Would you be interested in having breakfast with Katharine Graham?' "
O'Malley jumped at the chance. She remembers Graham telling her it would be a tough road for a woman in a male-dominated field, but she also recalls the publishing icon's offer to be available to talk whenever O'Malley needed her. She did call on Graham over the years, although she admits she was always a little intimidated. "For me, it was like talking to royalty."
Some of her students may feel the same way with O'Malley, who just this week was named by the Sports Business Journal as one of six members of the class of 2022 Champions: Pioneers and Innovators in Sports Business. But she goes out of her way to encourage students to stop by her office to talk — including keeping the candy bowl on her desk full and bringing her golden retriever puppy to the office for students to meet.
"When I first got here, I looked for everyone who won the teacher of the year award and I asked them, 'Could I sit in on your class? Because you're the best and I want to learn from you.' And afterward I'd ask them, 'What do you think your secret sauce is?' And two of them said the exact same thing, 'The students have to think you care about them.' And I thought, OK, I can do that. Because I do. I really do care about the students."
---
Share this Story! Let friends in your social network know what you are reading about
---