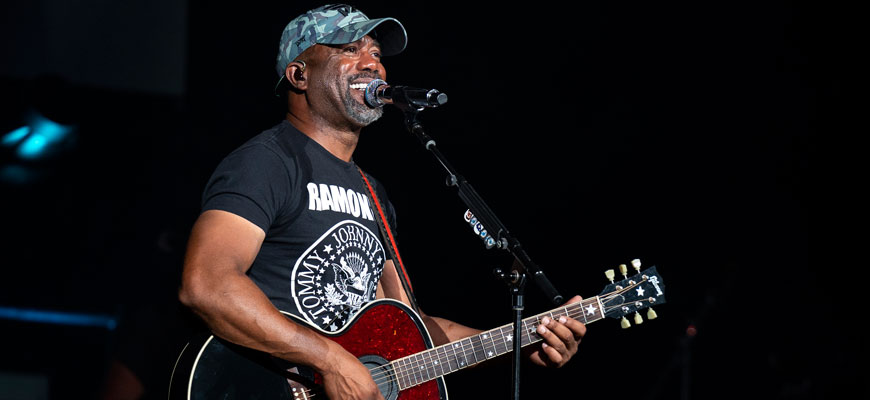 Darius Rucker on championships, concerts and that tattoo
UofSC alumna set for free concert to celebrate Gamecock women's basketball
---
By Megan Sexton,
msexton@mailbox.sc.edu
, 803-777-1421
---
Darius Rucker has made no secret of his love for all things Gamecock.
Consider his response to a tweet on April 2, the day of the men's Final Four game between North Carolina and Duke, a matchup that captivated the college basketball world.
"Who you got? #UNCvsDuke" the tweet by Lauren Beasley read.
Rucker's reply: "Who cares. I got @GamecockWBB."
The country music superstar and Gamecock superfan's roots run deep garnet. And, once again, Rucker will give back to his alma mater as he takes the Colonial Life Arena stage Sunday night (April 24) for a free concert for students to celebrate the women's basketball team's national championship.
The plans for the free show started gelling soon after the Gamecocks topped UConn to win the team's second national championship in five years.
A video of Interim President Harris Pastides, interviewed on the court during the victory celebration about the possibility of a Rucker show, started circulating on social media. Pastides' message for Rucker: "We want it right away."
Rucker quickly responded: "I'm in. Sooner the better!!!"
Doors open at 6 p.m. for the show, which will feature an opening act by rap artist Nelly. While he now is a chart-topping country artist, Rucker got his start as the lead singer for Hootie and the Blowfish, formed with his Carolina classmates in the 1980s.
We caught up with Rucker to talk about basketball, Dawn Staley and Sunday's show.
On winning the national championship
I mean, it's awesome to have a dynasty right there in Columbia, South Carolina. I think it's amazing what they're doing there, because it's what every coach dreams of doing — building a program, recruiting and winning.
On Coach Dawn Staley
She's funny. She's so fun to be around. She's a cool, laid-back person in life. But when you see her on the court, she coaches hard. She coaches with love, but she coaches hard.
On being a recognizable Gamecock fan and the request for a celebration concert
It's awesome to be that guy and be a part of that family at the university. I feel like (the fans) feel. They expected me to play a show. I expected me to play a show, too. These girls have gone out and just played so well, so well and were so dominant. And it seems like I needed more, so I called Nelly and said, 'How much to come play with me?' And he was in. He was there."
What to expect at the concert
Nelly killing it and then me going after him and trying to kill it. It's going to be a lot of fun. That's what that night is going to be about. Just fun.
The importance of a show for the students
I mean, in a perfect world for me, we would have done it at Williams-Brice or on the Horseshoe, so you get all the students and then you could have a whole bunch of alumni who also support the team so much and went to the games. But, if you do it at (Colonial Life Arena), you want it to be for the students because, I mean, these are memories that you want them to make. I remember when I was in college and the memories I made of seeing Eddie Murphy or seeing the pope, and all that stuff that basically only students get to do. So, if it's going to be for somebody, it should be the students.
On that gamecock tattoo
It's new. I got it four or five months ago. This great artist, Luke Wasserman, is a friend of mine. I told him I wanted to cover up an old (tattoo) and I knew I wanted to cover it up with a gamecock. He researched it and drew it up by hand. To have an original piece of art like that; that's not something anybody else has. I was like, 'Wow. Man, that's exactly what I wanted.'
---
Share this Story! Let friends in your social network know what you are reading about
---