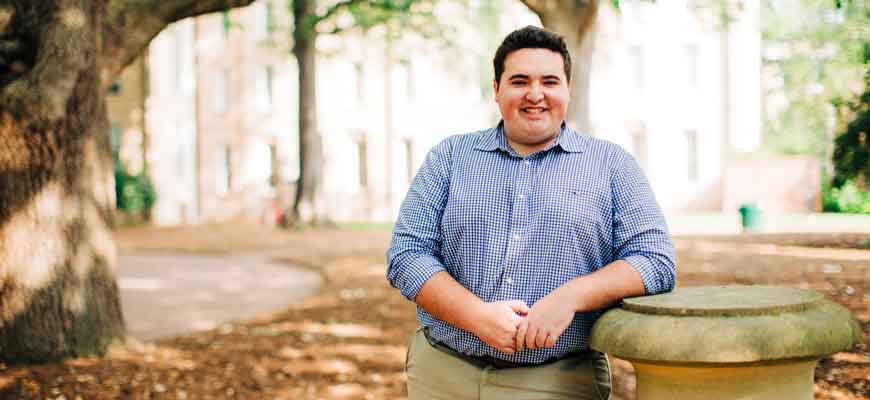 4th Udall Scholar named in 10 years at UofSC
Honors College junior receives prestigious award for environmental leadership
---
By Amanda Hernandez,
hernan56@mailbox.sc.edu
, 803-777-3078
---
When Harrison Bench was in high school, he found out just how valuable the environment is. He joined his high school's research group, and while working on two projects over the course of four years, he learned that natural ecosystems need to be protected.
"I realized that I had to demand more from my elected officials," Bench says. "I needed to work with them to pass legislation that addresses climate change and protects these beautiful, important ecosystems for generations to come."
Bench helped co-found Students for Climate Action, a youth-centered environmental organization based in New York. His passion for environmental advocacy and public service never waned and recently resulted in
one of the most prestigious national scholarships in the United States. Bench, a rising senior (BARSC, '23) at the South Carolina Honors College, has been awarded a Udall Undergraduate Scholarship.
"Harrison is an emerging environmental leader with a passion for politics. His commitment to building bridges that transcend partisan divides reflects the Udall Foundation's core values of civility, integrity and consensus," says Meredith DeBoom, Bench's faculty mentor throughout the Udall campus nomination process. "The Udall Committee is proud of his record of achievement at UofSC and looks forward to his future accomplishments in public service."
Don't let failure stop you from pursuing your goals and dreams.

Harrison Bench, BASRC undergraduate and 2022 Udall Scholarship winner
The Udall Scholarship is awarded to college sophomores and juniors for leadership, public service and commitment to issues related to Native American nations or to the environment. It is named in honor of Morris and Stewart Udall, whose careers had a significant impact on Native American self-governance, health care and the stewardship of public lands and natural resources.
Bench was unaware of the Udall Scholarship before the staff of UofSC's National Fellowships and Scholar Programs encouraged him to apply.
"After familiarizing myself, I felt that I was a qualified applicant for this award because it pertains to undergraduate students committed to public service and leadership in environmental disciplines" he says.
Highly competitive, the Udall Scholarship is awarded to about 55 undergraduate students annually. Bench is the fourth Udall Scholar at South Carolina in the past 10 years and just the 17th since its inception in 1998. Recipients of the Udall Scholarship receive $7,000 that can be used toward tuition, fees, books, supplies and room and board.
"I intend on using the scholarship to pay for graduate degrees that will help make my career aspirations a reality for me," Bench says.
As part of the award, Bench will spend five days in Tucson, Arizona, at Scholar Orientation, meeting other scholars and alumni, and learning new skills. He'll also get access to the Udall Alumni Network, an association of change-makers working in environmental fields, sharing innovative ideas, professional advice and job and opportunities
"We are proud to have Harrison represent UofSC as a Udall Scholar selected for 2022," says Novella Beskid, assistant dean for National Fellowships and Scholar Programs. "Harrison is already making a difference as an environmental advocate, following in the strong tradition our previous Udall Scholars from the university."
Bench is a rising senior from Sayville, New York, and in addition to being a member of the Honors College, he is a McNair Scholar. The McNair Scholarship is one of the university's top merit scholarships, awarded to 20 out-of-state undergraduates each year. In spring 2021, he won a NOAA Hollings Scholarship as well.
In 2020, Bench was invited to speak at the Future Leaders Climate Summit in Chicago, following a presentation he gave the United Nations in February that year called Youth Talking Truth to Power: Taking Responsibility for the Climate Crisis. Although the summit was canceled due to COVID-19, in summer 2020, Bench began interning with Students for Climate Action and now serves as deputy director for the organization. While at South Carolina, he also served as an intern with Sen. Tim Scott and the South Carolina Department of Health and Environmental Control.
Bench's advice to other students who have interest in applying for a competitive award is to meet with the fellowships office, even if they are on the fence or think they might not be the right candidate. Staff members at NFSP are there to help students though the process, from identifying possible awards to submitting their application.
"Beyond that, another important piece of advice would be, don't let failure stop you from pursuing your goals and dreams," he says. "Two months before receiving the Udall Scholarship, my application for the Truman Scholarship was rejected. Not every application will yield success, and that is a part of the journey. Take these failures and channel them toward becoming a better, stronger applicant for other awards in the future."
---
Udall Scholars by the numbers
55 scholars are chosen each year from a pool of 400 candidates
Each school can nominate up to four students
Total UofSC Udall Scholars since it began in 1998: 17
Total UofSC Udall Scholars since 2013: 4
Students seeking national scholarships are assisted by National Fellowships and Scholar Programs. For more information, visit the National Fellowships and Scholar Programs website or call 803-777-0958.
---
Share this Story! Let friends in your social network know what you are reading about
---