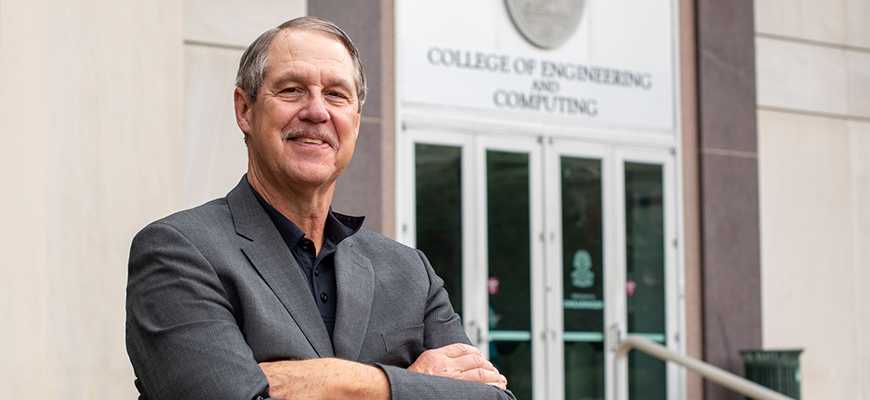 Sutton among the greatest scientists the field of applied mechanics has ever seen
With his reception of the Timoshenko Medal, Michael Sutton will have the highest recognition possible in his field of research.
---
By Abe Danaher,
adanaher@mailbox.sc.edu
, 803-576-7780
---
This is Michael Sutton's lifetime achievement award. His Major League Baseball Hall of Fame induction. His Pulitzer Prize, Grammy, Emmy, Tony. His Heisman Trophy; maybe even his Nobel Prize.
When Sutton receives the 2022 Timoshenko Medal on Nov. 2, he will officially be recognized as one of the greatest scientists the field of applied mechanics has ever seen.
"Only people who have made significant contributions in the field are considered for the Timoshenko Medal," Sutton says. "I have taught classes using books written by two of the medal recipients. During my Ph.D. studies at the University of Illinois, a former graduate student of previous Timoshenko medal recipient, James Rice, taught my fracture mechanics class using Professor Rice's notes. So being in the same room, being in the same conversation, as those individuals is just hard for me to believe. I am truly humbled by anybody thinking that what we have accomplished here would be appropriate for such a high honor."
Sutton has been a professor at the UofSC College of Engineering and Computing since 1981. His research throughout that time focused on the creation, application, and worldwide technology transfer of the digital image correlation (DIC) method, which is now used by industry and research titans such as NASA, Proctor and Gamble, Boeing and the U.S. Army for structures and materials testing.
The Timoshenko Medal is widely regarded as the highest international award in the field of applied mechanics. Mike's reception of this award further cements his pioneering legacy in the field and deservingly recognizes the transformative impact of his work.

Hossein Haj-Hariri, dean of the UofSC College of Engineering and Computing
This technology has benefited both engineering researchers and, through his commitment to technology transfer by helping found South Carolina-based Correlated Solutions Incorporated, has been disseminated globally to a broad range of industries, including manufacturing, biomedicine, aerospace and military systems development. The broad impact of his contributions on the entire field of mechanical engineering led to his recent induction into engineering's most prestigious academy, the National Academy of Engineering, in 2020 and his reception of the Society of Engineering Science's 2021 Engineering Science Medal.
But, more than that, his contributions have improved, and will continue to improve, the safety and well-being of people across the world. For example, the DIC technology has increased railway safety, improved the effectiveness of bridge inspection and increased the reliability of manufacturing standards. As DIC begins to be paired with simulation platforms, machine learning and artificial intelligence, along with increased integration into the field of civil engineering, its impact will only continue to grow.
"Dr. Sutton is representative of the worldwide impact our faculty and their research can have, and how this university provides the support needed to promote this tremendous level of success," says Stephen Cutler, interim provost at South Carolina. "Dr. Sutton's work will continue benefiting people across the globe for decades to come, and I am very proud this work happened at the University of South Carolina."
The Timoshenko Medal was established in 1957 as one of the American Society of Mechanical Engineers' achievement awards and is bestowed to "distinguished individuals" in the field of applied mechanics who have made transformative contributions to the field of mechanical engineering. The long-term impact of Sutton's work was highlighted by Guruswami Ravichandran, who remarked in 2018 that the DIC method is the most significant advance in measurement science since 1900 and will most likely be the gold standard for the next century or more.
"The Timoshenko Medal is widely regarded as the highest international award in the field of applied mechanics," says Hossein Haj-Hariri, dean of the UofSC College of Engineering and Computing. "Mike's reception of this award further cements his pioneering legacy in the field and deservingly recognizes the transformative impact of his work."
---
Share this Story! Let friends in your social network know what you are reading about
---