A Few Grown Men
For sports agent Aaron Henderson, responsibility is a two-way street
Aaron Henderson knows he has a great job. A fun job. Or, as he calls it, a "sexy job." Hanging out with athletes at the NFL draft. Smiling for the camera alongside Magic Johnson at a documentary screening in Los Angeles. Enjoying the view from the sidelines at professional sporting events.
But he knows being a sports agent with pro football clients is something else, too. It's hard work. Fast-paced work. Analytical work. In a field where careers can change in an instant and big money is always on the line, Henderson understands the importance of doing the difficult work, putting in the time to build the relationships, working to sign clients who will benefit from his expertise and advice.
"It has great perks, don't get me wrong. But it's a job, too. And there are certain aspects of it that can't be avoided," Henderson says. "And so, when it's time to do that work, you've got to love to do that just as much as you love going to the games and going to the draft and doing all the fun stuff."
Henderson, who earned his degree in sport and entertainment management in 2013, is a lifelong sports fan. He grew up in a sports-loving family, and he played at powerhouse Dorman High School in Spartanburg, South Carolina. But when he realized in high school that his dream of being the next Michael Jordan was not going to come true, Henderson turned his attention to figuring out a career. And to becoming a Gamecock.
"I said, 'Hey, I know I'm not going to go to college to play sports, but I definitely want to work in sports.' I did my research and found out that South Carolina had a sport and entertainment management program that was very highly ranked. And it gave me the opportunity to be close to home, but still far enough away. I could experience SEC football and at the same time get a great education. It turned out to be the best decision I made in my life."
His timing, as a sports fan, was perfect. There may have been no better time to be a Gamecock than 2009-2013. Henderson was here for the start of five straight wins against Clemson in football, two national championships for the baseball team and a basketball victory over then-No. 1 ranked Kentucky.
But college wasn't all about cheering on the Gamecocks. He also got involved as a student ambassador for the College of Hospitality, Retail and Sport Management, while internships in the university's athletics department and as a State House page gave him insight into the importance of building relationships and reputations.
After graduation he headed to Ohio University where he earned a master's in sports administration and an MBA. Three months after earning his degree, he passed the exam and became a registered NFL agent in August 2015. He knew a law degree would help him in the profession and received a scholarship offer from Southwestern Law School in Los Angeles.
Once again, the timing was just right.
"In the LA market, it's sports, it's entertainment, it's media, it's music, it's everything out here. I felt like it was the place I needed to be. And then the year after I came, the Rams announced they were moving to LA And then the Chargers came, and then LeBron [James] came to the Lakers, and then the Olympics announced that they were coming to Los Angeles. It made sense that LA was a good place to be."
He jumped right into the Southern California scene.
In 2017, while he was still in law school, he represented a Top 100 NFL draft pick, and he was chosen by Front Office Sports as a "Rising 25" sports industry leader. He also added the NBA to his résumé, one of the youngest agents ever to be certified for both professional football and basketball.
He graduated from law school in 2019 and went to work as an agent with the Vanguard Sports Group, a firm that represents athletes including Von Miller, Keenan Allen and D. J. Reader. Henderson now personally represents five NFL players. He also serves as the firm's director of football strategy, meaning he handles football analytics and analyzes contracts. "So that part is not the 'fun stuff,' but it's what you actually do as an agent. That's what you're paid for."
Now 30, he already has a good feel for what it takes to excel as a sports agent — and why he does it.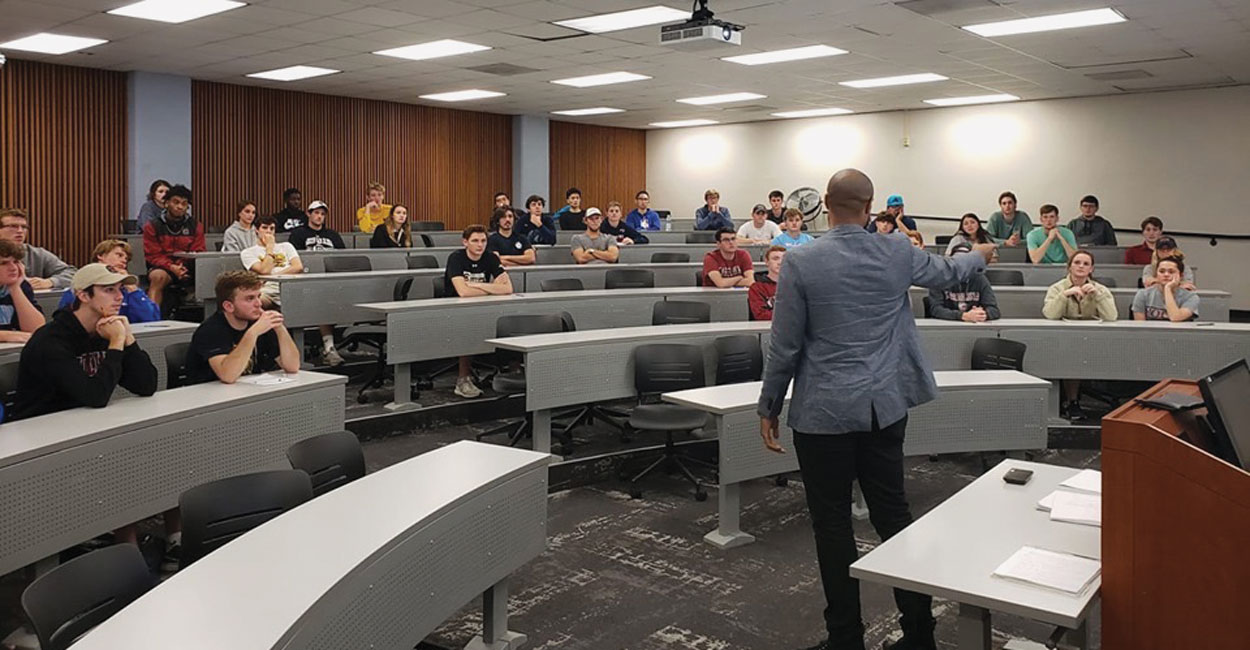 "I think you have to know your 'why.' Why are you really doing this? Because it's not an easy industry to get into. It's not an easy one to stay in. It takes effort, sacrifice and time. A lot of investment of time."
As for explaining his personal "why," he tells the story of a friend who was coaxed to leave school early and declare for the NFL draft. After an agent made promises to the player, he abandoned him just before the draft.
"It really made me angry, to be honest. I just said there's a better way. These guys deserve better," he says. "They put so much on the line for this chance. And then there are so many agents and people coming at them and saying they can do this and that for you. When [athletes] decide to choose you, that's a big responsibility."
And Henderson doesn't take it lightly. He promises the clients he signs that he will represent them fairly and honestly.
"You've got to be honest in this business," he says. "There's a lot of people that like to tell players what they want to hear. And that's something that I've never been a fan of. I'll tell you exactly what you need to hear, whether you like it or not."
He also makes clear the type of clients he wants to represent.
"I tell guys all the time that I want to represent grown men. I'll answer the 4 a.m. phone call, but I need you to know that by 1 a.m. it's time to go home. Because nothing good happens after that. So, those are just the type of guys I will tend to represent. Grown men."
Carolinian Magazine
This article was originally published in the Carolinian, the alumni magazine for the University of South Carolina. Meet more dynamic Carolinians and discover once again what makes our university great.
View the Carolinian