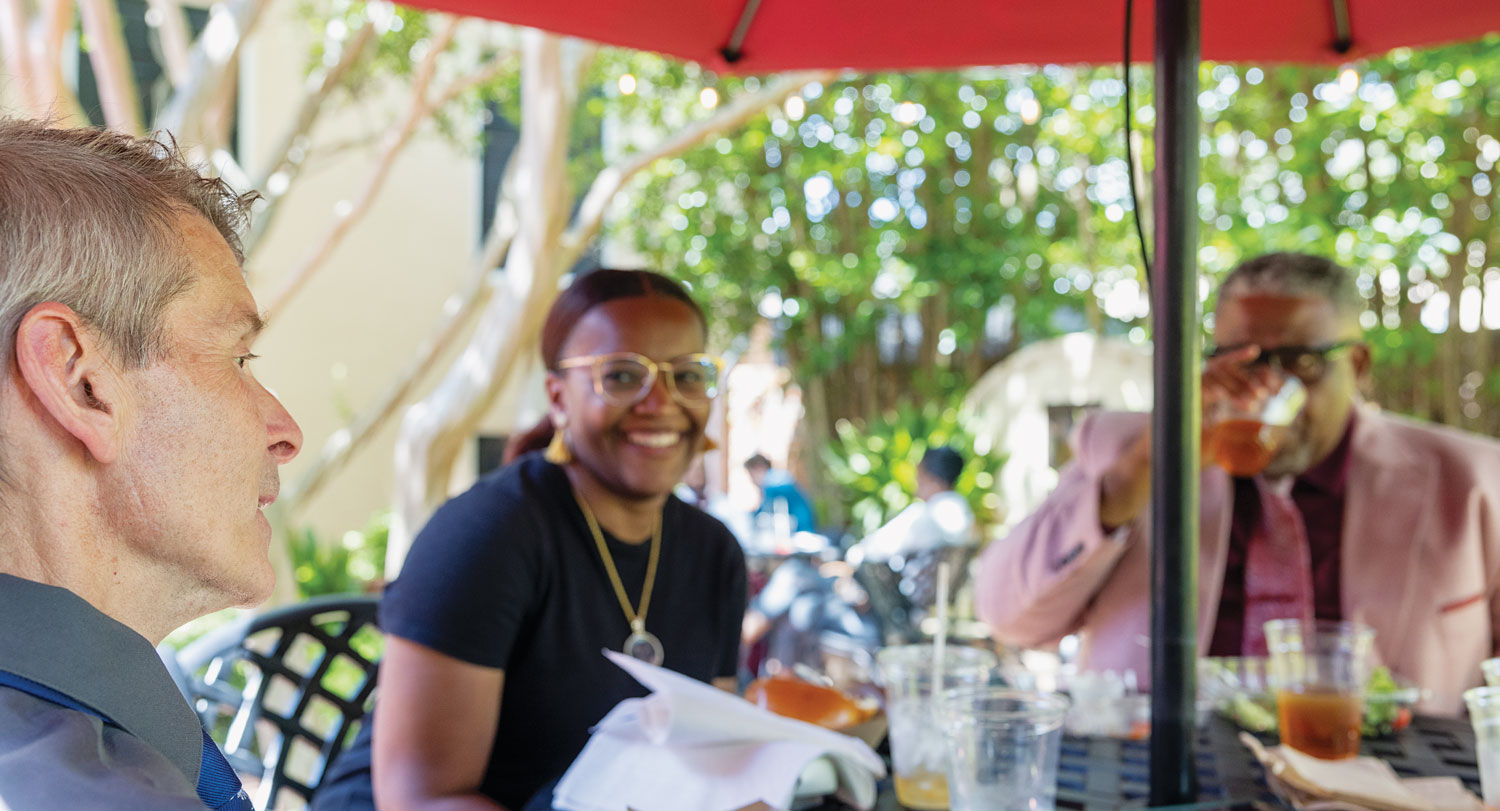 On the last Friday before the end of classes, USC TIMES invited three staff members to lunch at McCutchen House's Garden Grill to discuss how our work lives change — or don't change — over the summer.
George Hendry, director of the McCutchen House and senior lecturer in the School of Hospitality and Tourism Management, shared his thoughts on troubleshooting through teamwork. Jennifer Asouzu, assistant director for special populations and communication with New Student Orientation, talked up partnerships and first impressions. Leroy Sims, a custodial zone manager with Facilities and a member of Staff Senate, discussed employee satisfaction and how to make the USC campus the happiest place on Earth.
---
The spring semester is wrapping up. It's a transition period for students, it's a transition for faculty. It's a little different for staff. We're here pretty much year-round. I'm curious how your jobs change, or don't change, over the summer. George, you're our host. Let's start with you.
George: So, I do the purchasing, food cost, stuff like that. That doesn't change. I also teach. Next week, while the Garden Grill is closed, I'll finish grading papers like everybody else. Then we go right into the Garden Grill again. We hire students during the summer, so they'll get paid as compared to it being a class. We'll run that for eight weeks, all the way to the end of July. So really, the only thing that changes for me is I won't have a class to teach until the fall.
You know, when it gets beastly hot, the Horseshoe can feel like a ghost town. But then you smell the burgers, you hear the music, you come around the corner and there's all these people eating lunch here on the patio. Who's your biggest clientele?
George: Mostly faculty and staff, but we also get prospective students touring campus. They'll be on the Horseshoe and, like you said, they'll smell the burgers, they'll hear the music. And then we get to chance to talk to them and to parents, which is wonderful if you're in hospitality. It's a chance to tell the parents, "It's a great place, your son or your daughter is going to enjoy it here."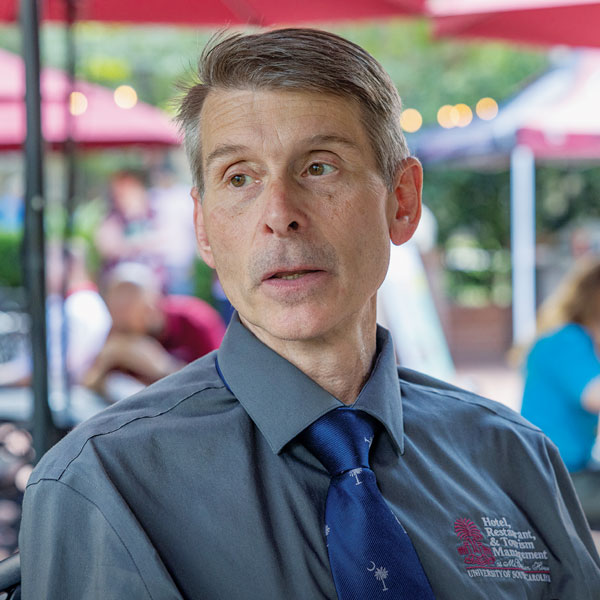 In terms of staff, who do you see the most?
George: We see everybody. Maintenance. Parking lot attendants. Custodial. It's interesting — I don't know what the gentleman does, but in the summertime, he rides his bike from several blocks away. He's here four out of four days, no matter how hot it is. He's a regular. We do see a lot of regulars.
Leroy, it sounds like your office is well represented.
Leroy: The bulk of our supervisors have offices in Byrnes, just up the Horseshoe, because it's imperative that they're in the center of campus and can respond to anything at any time. And they know this area like the back of their hands. They know all the good hangouts.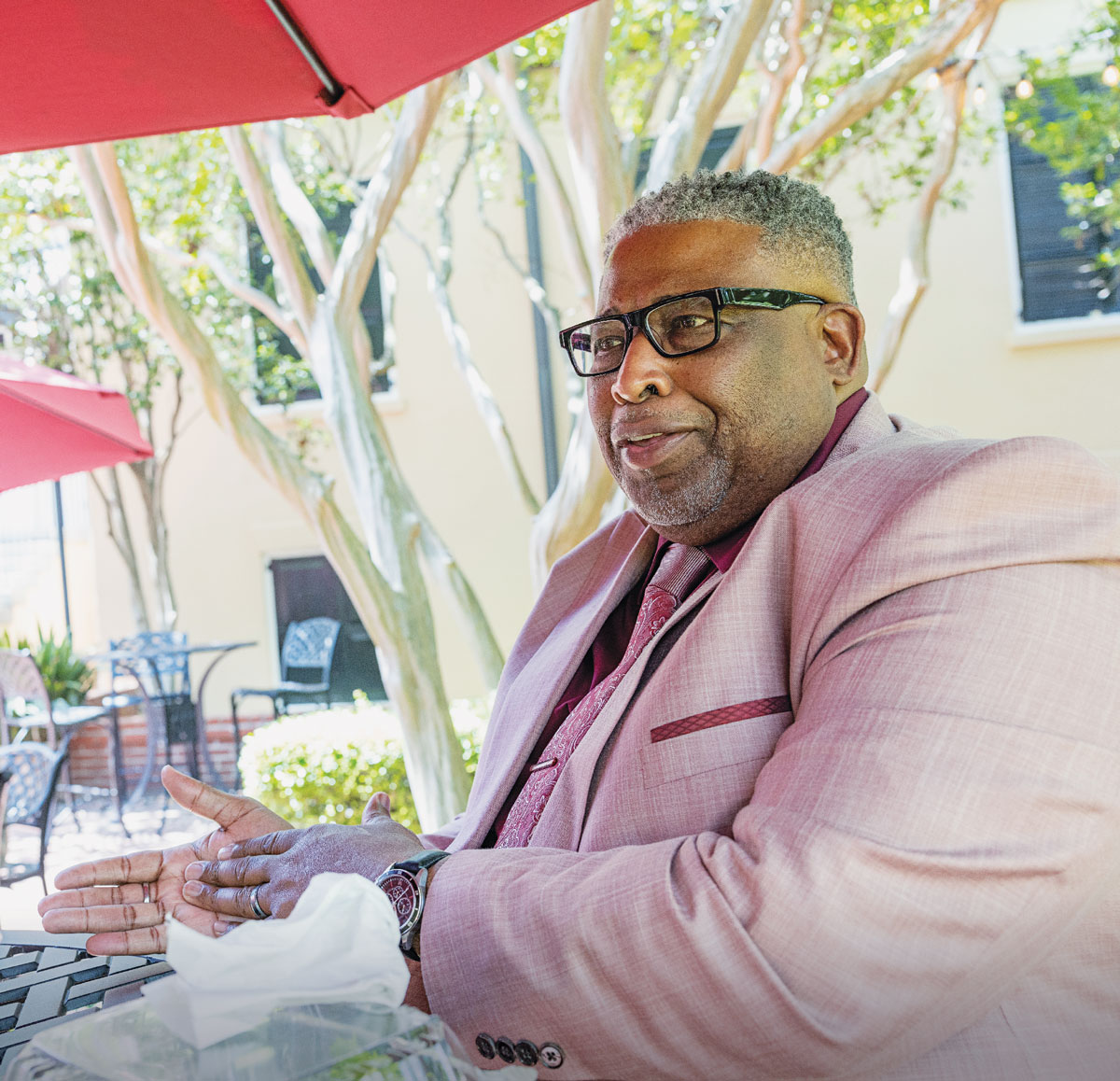 And how about their jobs during the summer? What changes?
Leroy: In the summertime, we're doing carpets, floors, glass, pressure washing — stuff you can't always get done when there are 35,000 students here. And restrooms. We love deep cleaning those during the summer because grout's not easy, you know?
Jennifer, before we sat down you mentioned what a big transition this time of year is at your office.
Jennifer: It's funny. Even though new student orientation takes place in the summer, it really is a yearlong thing. There's a lot of prep. We welcome about 8,500 students and 6,000 family members to campus every summer. We're getting them registered for a session, ordering supplies, creating the schedule. We're working with our campus partners. We work with advising, for example, to figure out how many students they can advise per session. And as soon as orientation ends in August, we're prepping for next year.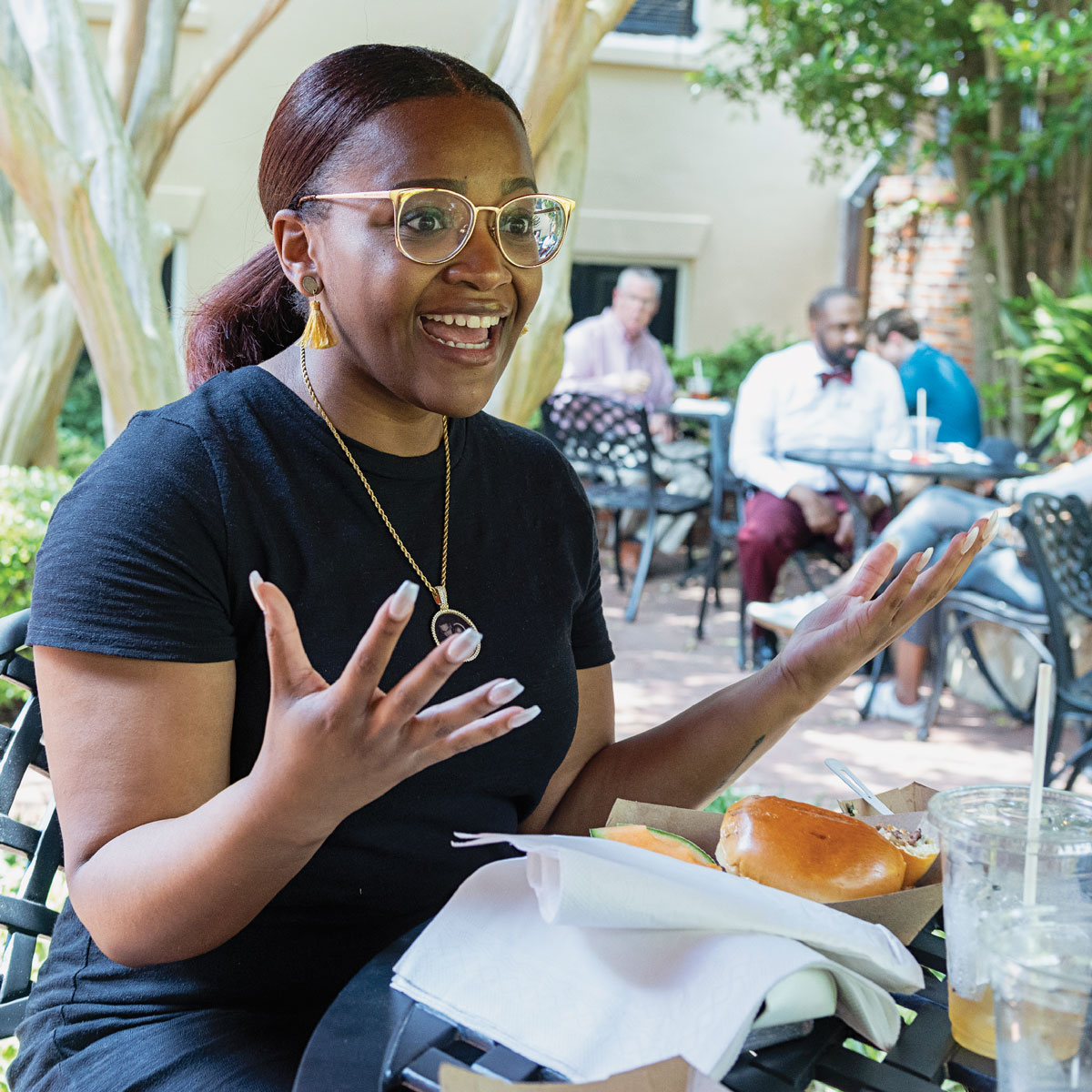 Do you prefer desk time, or is it more fun to get out and meet people?
Jennifer: Our office motto is "Right where you belong." When students come through orientation, our goal is to solidify that feeling that USC is right where they belong. I love that personal piece. I love my job year-round, but there's just nothing like speaking with students. I love speaking with families, too, because a big part of our office is making sure they feel supported as well.
George and Leroy — favorite parts of your jobs?
George: I can honestly say I love coming to work every single day. You might think that every day is the same — same menu, same this, same that. And when I first got here, I thought, "Oh gosh, how am I going to keep myself busy all day?" That lasted day one day. I never asked that question again. Some days are organized chaos, other days are a little bit more relaxed, but that's our industry.
I'm guessing you're someone who enjoys trouble­shooting.
George: If I'm not, I've been in the wrong business for 40-some years! It's constant troubleshooting. But we get some great kids coming through. They hustle. Like the chef on the grill that made your burger. He's in the military, and he's going through school. He's very organized. Students like that really make it worthwhile.
It's hard to explain to people that McCutchen House is a lab; it's not just a restaurant. These are students learning how to manage and troubleshoot, just like you said. They aren't here to learn how to wait tables; they're here to learn in front-of-house. But even if they're going to wear a suit and tie in the hotel business, they need these other experiences.
Do you have a favorite part of your job, Leroy?
Leroy: I tell people when I'm training them: I get to make a difference every day. When you have an office flood, or the roof is leaking, or somebody's trying to get a place clean for a big event that just popped up on the calendar, being able to help makes you very happy. And then there's the people part. I get to help our employees grow. Those things combined make it sort of like Disney World, the happiest place on earth!
You all emphasize preparation, getting your own house in order. How much do you get to interact with other units?
Jennifer: Our office is in charge of orientation, but every person on this campus that welcomes new students is a part of the orientation process. For example, we work with the team in Carolina Food Co. to curate a catering menu and coordinate meals every day for students and families. We work with Housing and Conference Services for the overnight components of our program. In general, we do a lot with campus partners to train our undergraduate staff, and we work with off-campus partners because having 15,000 people come through in a span of three months generates a lot of tourism for Columbia. And, of course, we could not do any of it without Facilities. We have roughly 800 people coming through daily, we ultimately need somewhere to host them.
Leroy: When I did custodial work in the past, before USC, I just took care of cleaning. Everything else was maintained by some mystery person that came overnight and had a magic wand or something, you know? Now, when I look at a building, I'm thinking about everything we can do to make it look better and function better. My partners in Landscaping can put down mulch. We have a team that deals with getting the building pressure washed. I can call Maintenance to unclog a toilet or fix a leak. In Facilities, we're all specialists, but we're also a team.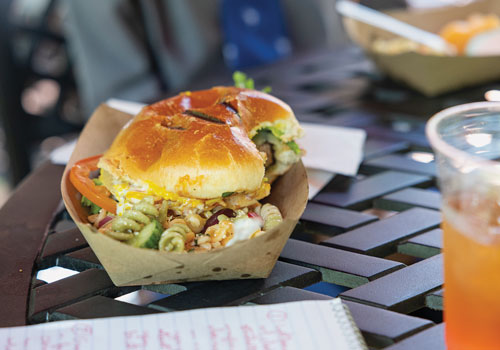 George, in hospitality everybody comes to you instead of the other way around, I guess.
George: That's exactly what I was going to say. A lot of departments come for lunch — they're doing a candidate search or they're doing a special function. But I also have to emphasize Facilities. We had a dishwasher go down two days ago. McCutchen is an old building, so we thought it was a drain. It wasn't a drain. It was the dishwasher. But plumbing was here right away. They fixed our problem and even rerouted the drain so we wouldn't have another problem down the road. The Facilities employees are the best in the world. They always take care of us.
Leroy: That's what we love. But you'd be surprised how many of our employees feel that they aren't valued because of the job they do at an institution of higher learning. They figure that they're the unnoticed, so we encourage them to engage their customers, and we get a lot of great feedback. And think about it: Most employees spend 7.5 hours here. Sometimes they're more engaged with their custodian than they are with their own family.
What else do y'all want the rest of the USC community to know about your job or your office?
Jennifer: I want to emphasize the value of first impressions — every student has to come through our office in order to start classes. And what we're seeing in our assessment data is that 11 percent of students who paid their enrollment deposit are still planning to go to other orientation programs and use this as an opportunity to make a final decision. Even in June, just weeks from starting classes, they're still shopping around for other universities. So, those two days are vital. That's the moment students can finally see themselves at USC.
Leroy: We're the lifeblood. We keep the lights on. We keep the water flowing. We keep the buildings clean, the restrooms. But what I'd really like people to know about is our people. Since I've been in Facilities, I've run into some of the smartest people I've ever met. So many of them are specialists at what they do. They have so much knowledge. My co-workers give me something to aspire to because they make a difference — when the lights aren't on or the water's not working, they get things happening.
George: A lot of different functions go on at McCutchen House. It's not just the restaurant run by the students. There's a lot of catering, for example. Also, the Marriott Lab is also part of the McCutchen House, so Chef Robby [Lybrand], who teaches over at Close-Hipp, is a part of this team. There are times when he'll call us, or we'll call him: "Do you have this? Because we're out."
We just did a hospitality event at the Capitol, and the students here were just too busy to make 300 tomato pies and 300 chocolate walnut pies. Chef Robby said, "Listen, my 270 class is done with our practical. How about I have my Thursday class come knock it out?" It's that teamwork that makes things happen. And we are a team. We laugh together. We work hard together.