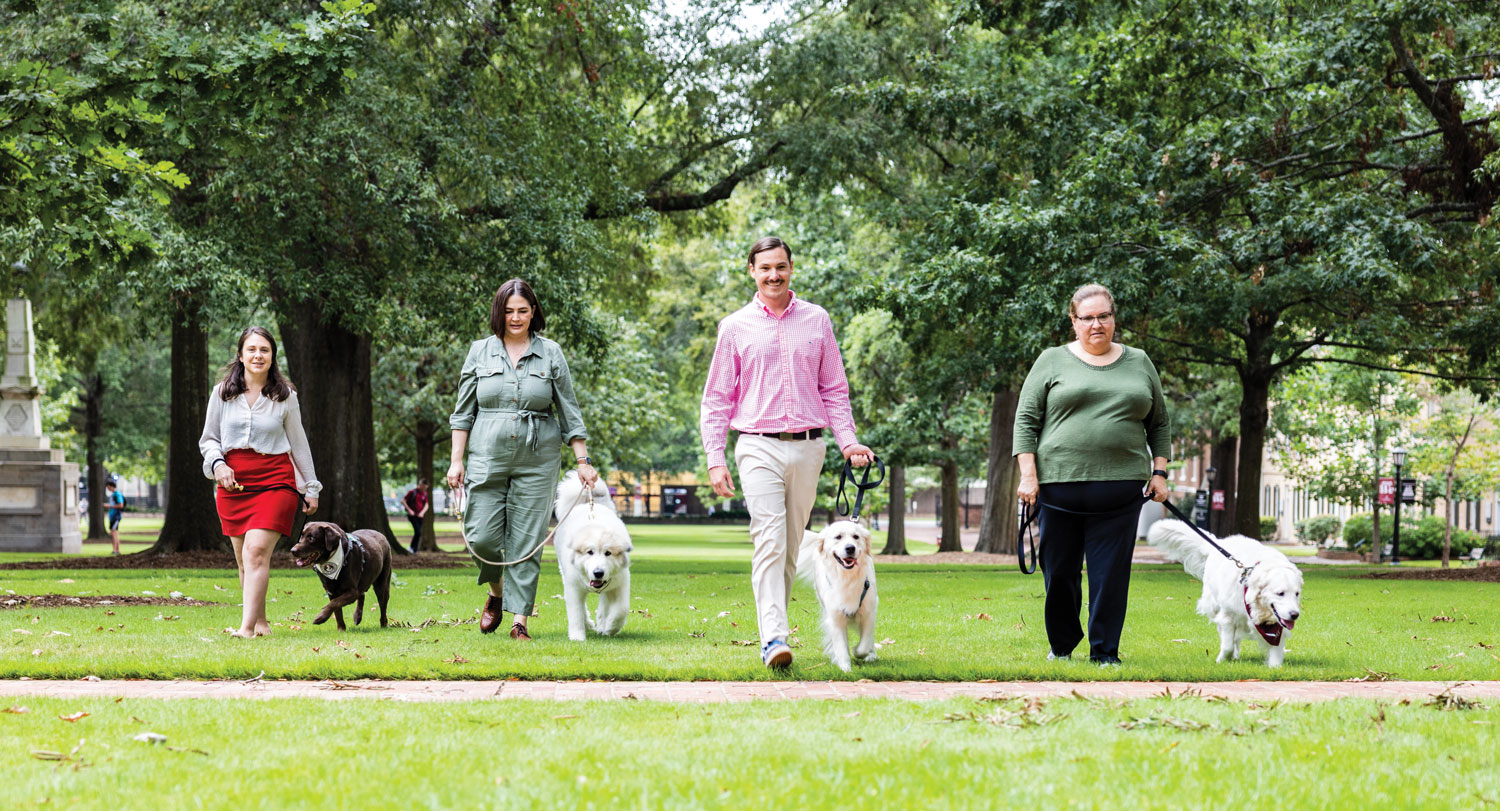 "Arf woof bark, bark bark bark woof," says George, who works at the University of South Carolina Honors College. "Woof woof, woof woof, woof woof woof woof." George is referring, of course, to the impact he's had on students as a registered therapy dog. And across campus, other canines are logging long hours, too. Their goal? To do what dogs do best: spread paw-sitivity. (Sorry, we couldn't help ourselves.) These good boys and girls work like dogs. We met with four of them — and their people — to get a ruff idea of how they're improving life on campus.
George + Louie
King Charles might be the head of the British monarchy, but in the Honors College, George and Louie reign supreme. Stickers of their likenesses emblazon students' water bottles, and they're the unofficial stars of the college's Instagram account.
The two are part of a menagerie of animals owned by Honors College communications director Ryan Dawkins. Her household includes a cat, two chickens, six rabbits and three other dogs, and many of them make guest appearances at Honors College events.
George and Louie are both registered therapy dogs through Pet Partners of the Midlands, a volunteer organization that sends teams of people and their pets across the state to provide animal-assisted therapy. That can mean being brushed by occupational therapy patients who are developing their fine motor skills or coming to work with Dawkins so they can comfort students during high-stress points in the semester.
Louie, a 6-year-old Great Pyrenees, is a bear-sized mountain of tail-wagging, tongue-flopping white fluff with a knack for stealing the show.
"Louie is in it for himself," Dawkins says with a laugh. "He's like, 'Oh, people. People who think I'm handsome. People who think I'm handsome and want to pet me. Yes. That's what I'm here for.'"
George, on the other paw, is in it for the people. Four years ago, he was found blind and abandoned on the side of the road in rural Newberry County. The therapy dog lifestyle has been a natural fit for the gentle brown lab, and even though he can't see the students he meets, he instinctively shifts his body language to give them exactly what they need — a head bump, a full-body lean, a sudden plop in the lap.
"We've had students literally wrapping their arms around his neck and sobbing into his fur because they think they just failed an exam and they miss home and they're stressed," Dawkins says. "It doesn't matter where that student is meeting him or what their state of mind is, he is fully invested in that experience."
Clockwise, from left: Timber, Sunny, George and Louie
We've had students literally wrapping their arms around George's neck and sobbing into his fur because they think they just failed an exam and they miss home and they're stressed. It doesn't matter where that student is meeting him or what their state of mind is, he is fully invested in that experience.

Ryan Dawkins
Sunny
When disaster strikes, Sunny the golden retriever is ready for action. As a FEMA and Red Cross-certified working dog, she has been deployed all over the country to help people cope with traumatic events, including hurricanes and wildfires. But the thing that brings her the most fulfillment is her job in USC's history department, where she holds regular office hours every Tuesday and Thursday in Gambrell Hall.
No, Sunny isn't a history professor, but owner Kathryn "Kay" Edwards is. She's been bringing her therapy dogs to campus for the past decade. Students sometimes confuse them with service dogs and worry they can't pet them, but when they realize the dogs are there to be snuggled, they crowd into her office seven
or eight at a time.
"It helps with homesickness because they may have a dog at home," Edwards says. "It's also just a little bit of normalcy in an environment that to them often feels very un-normal. You forget what it was like when you first went to college and you're in these industrial buildings and dorms. And here's this big, friendly, doofy golden retriever who is quite happy to see you and very happy to take any treats you bring."
She's not kidding. Sunny is "a stomach with four legs" who will eat just about anything she's offered. Watermelon. Pizza. An entire Chick-fil-A sandwich.
But treats or no treats, Sunny loves being around students, and she wiggles with anticipation during her morning ride to campus. Like George and Louie, she's registered to provide therapy services through Pet Partners of the Midlands, so it's second nature to calm students during exams or nuzzle them in Gambrell or Maxcy, where she also holds regular office hours. And when she senses that someone needs a little extra attention, she knows just what to do.
"Every once in a while, she runs into a student who's not happy," Edwards says. "Then you can just see it go across her face. 'Oh, I've got to watch out for this person and make sure he's OK or he's OK, make sure everything is fine.' And she will cuddle up very closely in that situation."
Timber
In summer 2020, behavioral therapist Adam Englert got Timber, a golden retriever puppy, hoping she'd become a registered therapy dog and comfort patients during appointments. But when telehealth sessions replaced face-to-face as the new normal, Timber needed a new purpose. So Englert brought her along to his other job — behavioral health research associate and clinical instructor in the College of Social Work, which is located in Hamilton College. There, she quickly found her niche as the college's unofficial canine mascot, a friendly face who loves nothing more than greeting everyone she meets.
Timber keeps so busy providing emotional support to others that Englert barely sees her during the workday. She often takes walks with the social work faculty and staff. Or plays with the groundskeepers. Or hangs out with Arlo, a Maltipoo who sometimes comes to work with assistant dean for students Sonya Singleton. She bumps into all kinds of people while out and about, including head football coach Shane Beamer, and has even tagged along with someone to a party at the President's House.
"I joke that she kind of makes her own friends and has her own life here," Englert says. "She just comes home with me at the end of the day."
She's the star of her own wall calendar, which can be spotted at desks throughout Hamilton, and has an Instagram account that documents her jaunts across campus and the people she meets along the way.
One reason she's developed an almost cult-like following? She genuinely loves people.
"Even when we go to a dog park, she goes straight to the humans," Englert says with a laugh. "Maybe she's just awkward with the other dogs. Maybe she's the sellout of the bunch."
Throughout the semester, the college hosts Timber Time, sessions between classes when students can toss toys around with her in the grassy area outside Hamilton. But people gravitate to her even when it's not part of a structured event. Sometimes she catches the eye of prospective students and their families on their way to and from the Visitor Center — Englert always jumps at the chance to plug the university. Other times, students ask to pet her while she's out for a walk.
"They bend down and snuggle on her," Englert says. "She loves being hugged. She starts to smile. And they just say, 'Thank you. I really appreciate it.' Sometimes you kind of underestimate the power of something like that."