"The Dance of the Sugar Plum Fairy" or the first act climax of "Defying Gravity" in Wicked are performances that come to mind when you mention the Koger Center for the Arts. Thousands have witnessed those scenes come to life, but the center offers much more on and off the stage throughout the year.
"It surprises people how busy we are," says Nate Terracio, director of the Koger Center for the Arts. "We have a unique event 29 or 30 days out of every month. We offer so many different types of events. The University of South Carolina made a very conscious decision to call the building the Center for the Arts and not the performing arts. We make sure that we stay true to that initial mission statement and have more than just performing arts in the building."
The Columbia destination for theater, dance and music is now also a community venue for visual art and a new outside stage. While the center is most well-known for the 2,256-seat concert hall, it also includes School of Music classroom space, meeting areas and two rehearsal rooms available for events.
Fulfilling a mission
Marketing Director Chip Wade was there the day the center opened 33 years ago. Wade was an undergrad at South Carolina while also working as an usher. Wade came back to earn his master's from the College of Hospitality, Retail and Sport Management in 2019. He says it is remarkable to see the Koger Center fulfill its mission to bring the arts from the world to Columbia.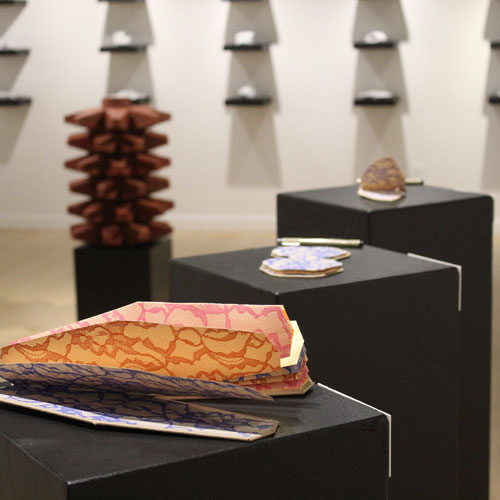 "I don't think I realized back then how lucky I was to be exposed to so many different art forms," says Wade. "I tell students and everyone that when there are unique events here, you should take advantage of them. Sometimes it's amazing that you will leave with a greater appreciation or even a love for something you didn't know if you would like."
The building was built in 1988 and is home to performances from the Columbia City Ballet, the South Carolina Philharmonic, School of Music and a host of vibrant arts and cultural events.
"We have a huge collection of art in the building," says Wade. "It's not uncommon to have people come in and just walk through because they want to see the art."
The Upstairs Gallery gives local artists a place to showcase their work and creates a rich and colorful space for visitors. The Project: A Call for Art is an annual artistic competition created in 2020 to support visual artists. Each year, one winner is awarded a $500 stipend and the gallery space to display their work.
Mary Robinson, professor of art and head of printmaking in the School of Visual Art and Design, was the 2021 winner of The Project art competition. Robinson says she appreciates that the Koger Center is showcasing so many different types of art.
"The people judging the art are just looking at the work," says Robinson. "It really gives opportunity to young artists who haven't had a lot of exhibitions. You end up getting to show a wide range of style and experience."
Nick Brutto graduated in May with his master's from the School of Visual Art and Design. He was named the 2022 winner for his ceramic three dimensional representations. Brutto believes the growing arts hub will help spotlight South Carolina artists.
"They got the word out about the competition, which makes a difference to give all artists access to submit their work," says Brutto. "Having the gallery gives an opportunity for people to experience art when they go to any event at the Koger Center and it may turn them on to some of the other art centers in downtown Columbia. It's great outreach for the entire art community."
Taking arts outside the box
One of the center's newest additions is a family-friendly outdoor performance space called the Plaza Stage, which offers an area for pre-show concerts and stand-alone events. The stage was unveiled with free shows in September.
"Right now, it is just the stage," says Wade, "but we're in the process of adding power and a cover so that we can plan even more events out there."
Education for students of all ages is a key focus for the Koger Center for the Arts. School field trip performances unlock access to the arts and inspire the next generation of stars and creative learners.
The School of Music brings opera, orchestras, choirs, chamber ensembles and guest artist concerts, which are often free for University of South Carolina students. Terracio says performances and education aim to prepare musicians for professional careers and leadership in performance, music teaching and research by offering distinctive immersive experiences.
"There are so many people on campus interested in careers in the arts," says Terracio. "The School of Music has gotten amazing guest artists from the New York Philharmonic come to play with the USC Symphony. It gives people in Columbia an opportunity to see an elite musician they might otherwise only see in New York or Boston. It also gives the students a chance to play with a world-class artist and get to sit right next to them on stage and watch this magic happen."