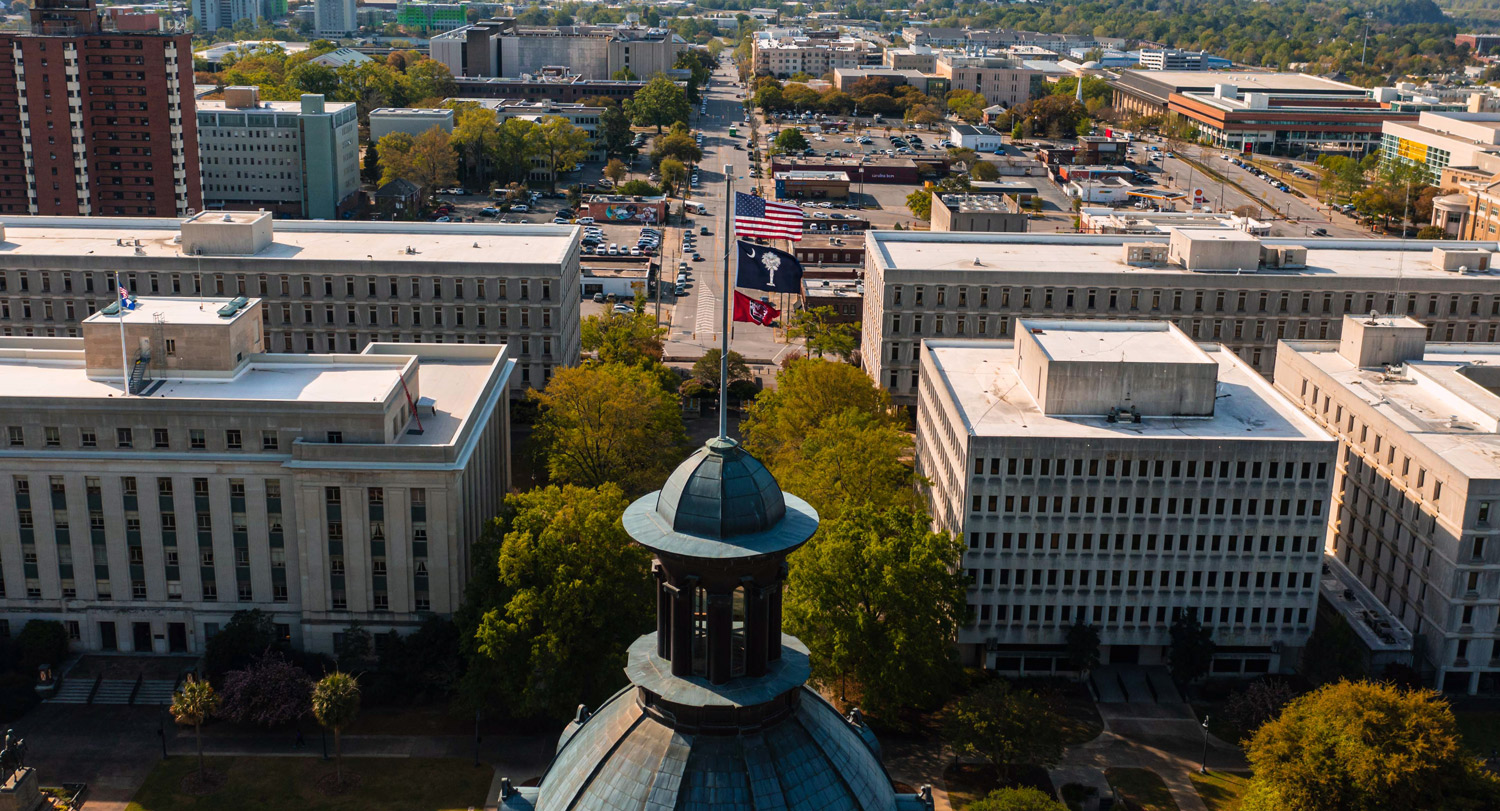 On Feb. 14, University of South Carolina alumni and advocates will come together in support of the university's efforts to build a stronger, healthier state. The Valentine's Day event is a perfect opportunity for supporters to show their love for USC and thank state legislators who have helped the university fulfill its mission to provide an affordable, accessible education.
Thanks to the support of the governor and the General Assembly — and our advocates — the University of South Carolina has held tuition steady across its eight-campus system for four years in a row.
In addition to tuition mitigation, the university is making the case for funds to support a new workforce leadership internship program and a new Rural Health Brain Network, and recurring funds to support degree-to-career programs through the Law School, USC Aiken, USC Beaufort, Palmetto College and iCarolina Labs.
From increasing opportunities for higher education to improving access to health care, the university is committed to fostering the well-being of our state and its citizens. Here are just a few ways in which the University of South Carolina is advancing our state.
Access, diversity and student experience
The university is committed to making a college education accessible and attainable and to providing a world-class student experience.
South Carolina's six-year graduation rate far exceeds the national average, and it ranks in the Top 10 percent nationally for its African American graduation rate.
Approximately 8,500 new undergraduate students enrolled on the Columbia campus in fall 2022, the second-largest group in school history. (The figure includes new freshmen, as well as transfers and international exchange students.)
African American freshman enrollment increased about 33 percent from the previous year and has more than doubled since 2017, and the number of Hispanic freshmen increased by 8 percent.
Every student who sets foot on campus is welcomed warmly into the Gamecock family, as recognized by the university's No. 1 ranking nationwide among public universities for first-year student experience.
Educating tomorrow's workforce
The University of South Carolina plays a pivotal role in advancing the state's economy, forging partnerships with leading industries and helping to develop leaders who are filling the state's growing needs in key sectors.
Systemwide, the university awards nearly 12,000 undergraduate, graduate and professional degrees a year, helping to meet the state's need for 70,000 additional baccalaureate degree holders — beyond current graduation rates — by 2030.
The university is helping to retain the state's most promising students with the nation's best honors college.
USC is developing the state's future health sector workers: The university has more than 18,000 students enrolled in health science programs.
The university's cybersecurity programs are preparing tomorrow's leaders to meet growing challenges in government and industry.
This fall, USC will launch a first of its kind interdisciplinary, undergraduate certificate program in digital studies, giving students the opportunity to gain in-demand digital skills that prepare them for careers in every field.
Building stronger communities
Throughout the state, the university is working to build stronger communities by improving individual access to health care, addressing the state's teacher shortage and researching ways to solve complex public health challenges.
As the population ages and more retirees move to South Carolina, the state's demand for nurses continues to rise. The university system is helping to meet the state's needs by graduating 800 nurses per year.
USC's planned health science campus in the BullStreet District will drive medical innovation in the state and expand the university's capacity to provide health services to rural areas of South Carolina.
The university's College of Education has launched several innovative programs aimed at addressing the state's teacher shortage.
The School of Medicine Columbia ranks No. 1 nationally for the percentage of its graduates who are practicing in health shortage areas.
University faculty members are active in many efforts to improve health outcomes for South Carolinians. From increasing the number of nurse practitioners in rural areas to a wide range of public health outreach efforts throughout the state — initiatives ranging from telehealth to nutrition, communications disorders and aging issues — USC is working to improve the health of South Carolina residents.
---
Spread the word
Faculty and staff members and students are invited to join in Carolina Day by sharing their own stories of how the university has impacted their life. Follow along on Twitter and share your own stories using the hashtag #USCImpact.