Depending on how you want to look at it, the Columbia Museum of Art's exhibition Resurgence and Renaissance: Art of the Catawba Nation Since 1973 could be thought of as a few years, 50 years or a few millennia in the making.
Stroll through the exhibition space for just a few minutes, though, and one thing is clear: The attention that Catawba artists are getting is overdue.
A collaboration between USC Lancaster's Native American Studies Center and the CMA, the exhibition, which runs until Sept. 3, features 82 items — primarily pottery but also quilts, hats, baskets and photos of some of the Catawba potters.
All of the pieces on view are from the collections of the Native American Studies Center, which was established in 2012 for the study of South Carolina's Native American peoples, their histories and their cultures. The center features archaeology, language, and folklore and oral history labs; primary and secondary texts on Native Americans in the Southeast; classes and programs for both students and the public; and, perhaps most notably, the largest collection of Catawba pottery in existence.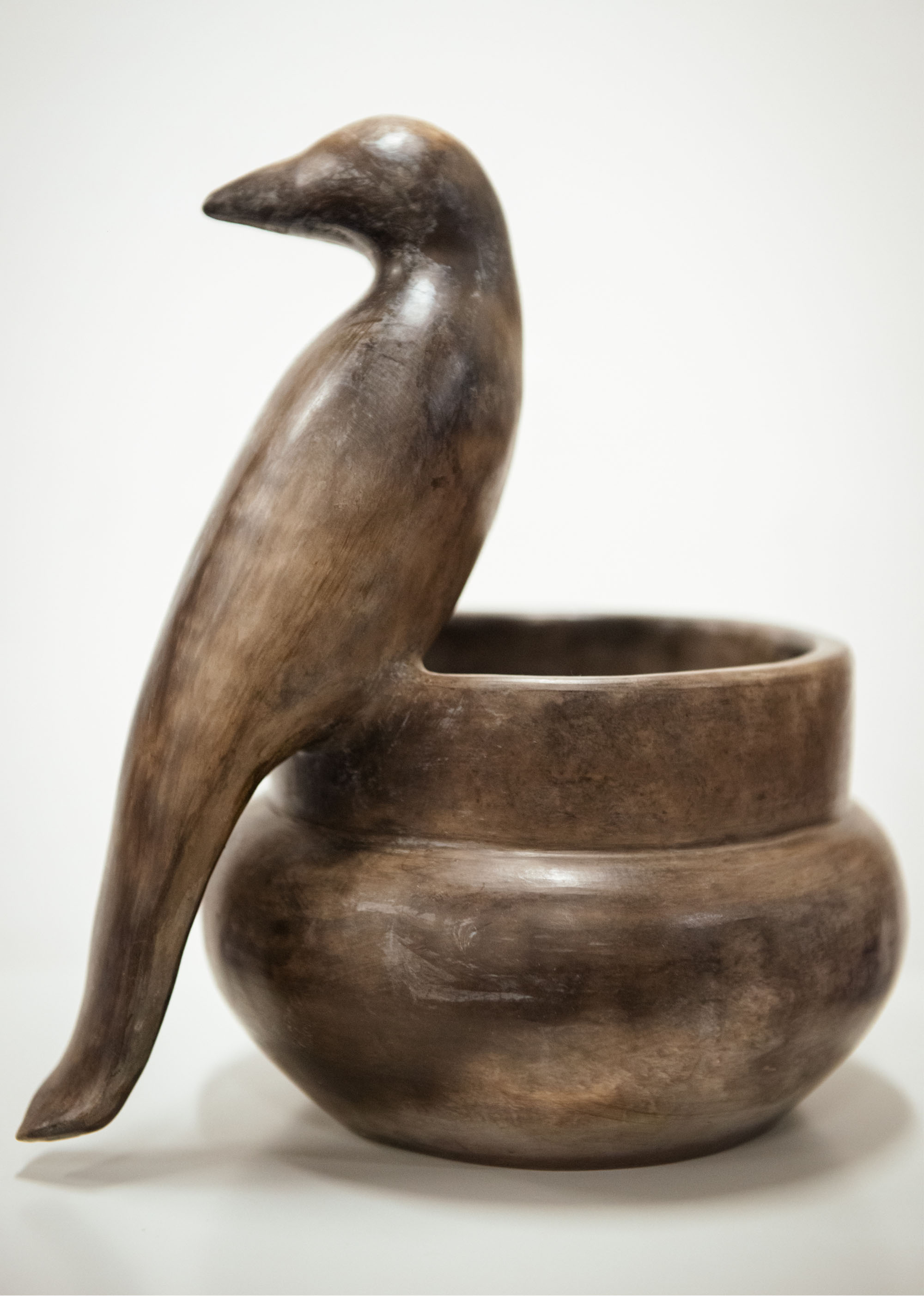 But to understand today's exhibition, one must first look back several decades more, at least. This year marks the 50th anniversary of the museum's first Catawba pottery exhibition, in 1973. It was organized by a USC Columbia graduate student, Steve Baker, who recognized the pottery as a traditional art form.
Stephen Criswell, director of Native American studies, professor of English and folklorist at USC Lancaster, discussed the impact of the 1973 exhibition at a recent lunch and learn conducted by the NASC.
"It was the first time that outsiders began to see Catawba pottery as art, and collectors began to see it as art," Criswell said. "And the price of the pottery reflected that, and the reverence for the pottery began around this time. Potters had been working for, what, 5,000, 6,000, 7,000 years making this pottery. They'd been doing this for generations and generations, and the pottery was sold for very, very meager prices, and often traded for goods or services."
Catawba pottery had been exhibited at museums before, but typically at natural history museums, "sort of exoticizing the Catawba instead of seeing this work as art," Criswell said. But Baker did see it as art.
This marked a monumental shift in attitudes regarding Native American skills and artistry. Presenting the pottery as art changed people's perceptions, and it opened up a market for the Catawba thanks to newfound demand for their craft.
As a result, at a time when some, including Baker, were beginning to wonder how much longer these ancient techniques would survive, production increased, helping to breathe new life into a time-honored tradition.
As evidenced by the pieces featured at the CMA, today's Catawba potters still use the techniques passed down from generation to generation for some 5,000 years or more, even while they explore their own creativity. The pottery is made from traditional clay resources, time-honored fire methods are used, and mostly traditional forms are still seen as well.
Their processes also carry some traits that are distinct from modern pottery making. The elements within the clay used affect the final colors of the art, so there is often distinct coloring that is a result of the firing process and different types of clay. Additionally, Catawba pottery is unglazed, which affects both the creation process and the finished product. The results are fascinating and beautiful.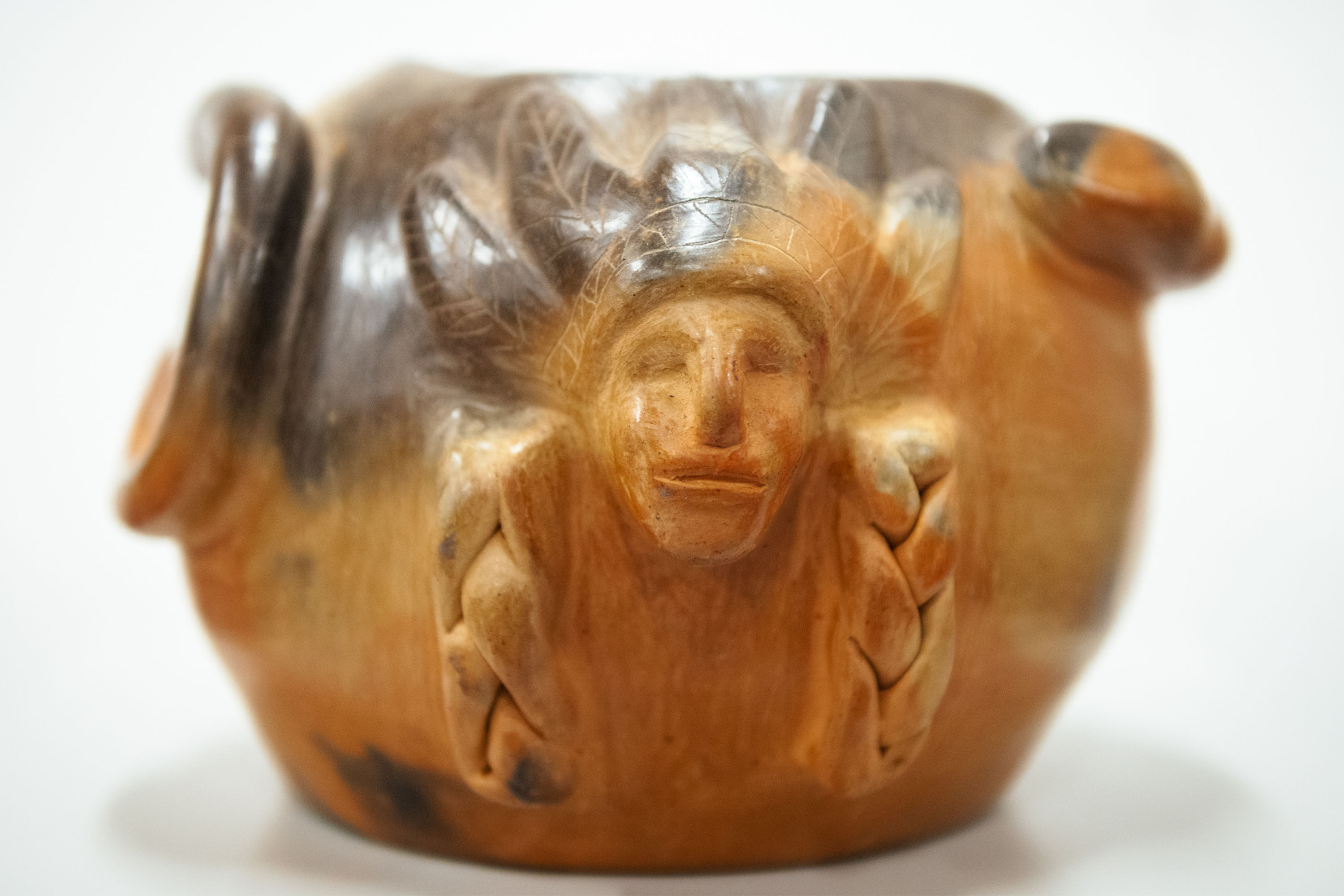 Resurgence and Renaissance, however, is about more than just the pottery, and about more than 1973. "It was important for us to let the experts and the citizens of Catawba Nation take the lead," says Jackie Adams, director of art and learning at the CMA. "We wanted to center Catawba voices not just through the objects, but with the design of the show."
So, in addition to the works of art, elements of storytelling, folklore and language were brought into the exhibition. Even the color of the walls — a rich blue — represents water, specifically the Catawba River. There are also graphic elements to the show created by Alex Osborne, a Catawba citizen, designer and featured artist. Osborne's work includes a large, striking image of a Catawba chief's head and a genealogy tree of artists and potters that goes back generations.
It all makes for a captivating, entertaining and highly educational experience that must be seen in person to be truly appreciated. "I remember Beckee (Garris, NASC program assistant and Catawba artist) said something: 'People still think we walk around in leathers and feathers,' " Adams says. "There are these really perpetual stereotypes that still exist, and we need to counter those. And the show does that."
— Images courtesy of the Columbia Museum of Art
---
If you're going
Resurgence and Renaissance: Art of the Catawba Nation since 1973 is on display at the Columbia Museum of Art, 1515 Main St., through Sept. 3.