It is often said that a student at the University of South Carolina finds their place here, a supportive community they can call home — their family, or familia if they are Hispanic. Denise Garcia Mesa found just that through the Society of Hispanic Professional Engineers.
A first-generation Mexican American student, Garcia Mesa joined the society her sophomore year to connect with her peers and find her USC familia. With its mix of academic and social events, the SHPE (pronounced "ship") proved to be just the community she needed.
Now a senior, she is serving as the College of Engineering and Computing's SHPE chapter president.
"Our values are based on the idea of familia, so we're not only helping you build your dream career, we're also a family."
That family works together to offer engineering expertise at some of USC's most attended events.
Every fall, the organization works with students from the American Society of Mechanical Engineers to erect a 33-foot-tall tiger for Tiger Burn, a long-standing Gamecock tradition that sees the engineered structure burned at a pep rally in the week leading up to the annual rivalry game against Clemson.
SHPE's tight-knit community also serves as a bridge for Hispanic engineering students to collaborate and build meaningful relationships.
The group is responsible for hosting the college's diversity gala, which helps students of color connect and network with professionals, practice interviews and learn from industry leaders. Alumni who've attended have gone on to work as engineers at Boeing, Eaton and Accenture among other major companies.
Serving as financial director of the College of Engineering and Computing's second gala this past April, Garcia Mesa got firsthand experience in helping host an event — one of the college's first post-pandemic, in-person professional events.
Chemical engineering professor and faculty advisor Ivelisse Ortiz-Hernandez credits the group with providing a solid support system for first-generation Latino students.
"They have other students to look up to that not only look like them but have gone through similar experiences," she says. "Culturally, we are very different. It's nice that students have a place to get together with people like themselves."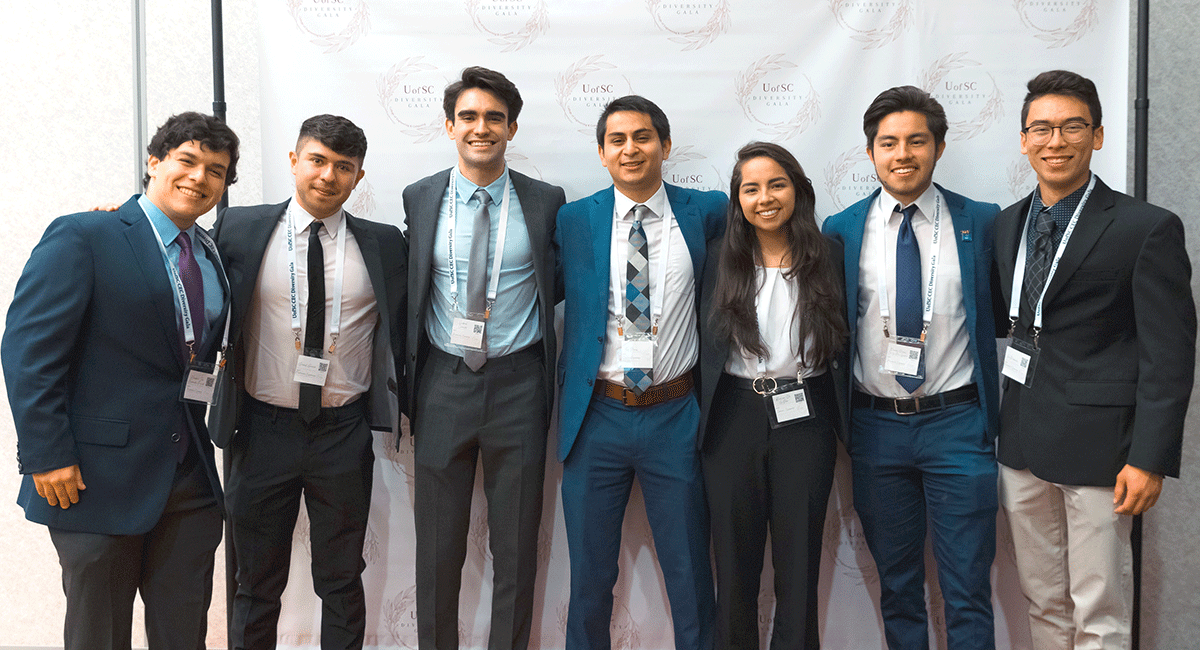 As a chapter of a national organization with a network from coast to coast, the society also works with larger chapters on internships, sharing advice, mentorship programs and more.
One of the organization's first major events of the semester, the national convention is a career fair with several major engineering companies. SHPE helps participating students prepare for the convention by hosting resume and interview workshops.
But like so many campus groups, the SHPE is more than an educational and professional organization.
"In addition to all of the workshops and events we host, we also include social events outside of the engineering school like attending soccer tournaments or trying different Hispanic restaurants," says Garcia Mesa. "It's nice to have that break sometimes with such a supportive community of people."
With more than 20 members this school year, the organization continues to grow and prepare students for an engineering career.
As the CEC's only organization dedicated to Hispanic students, the society is shaping the future of STEM by building a safe space for students and connecting peers from multiple cultures through support, advocacy and education.
Before her involvement in SHPE, Garcia Mesa looked for a home in other student organizations such as Women in Computing and the Latin American Student Organization. She credits SHPE as something special to her.
"What I found so beautiful about SHPE was that it was a combination of other organizations I was a part of. It is such a niche organization," says Garcia Mesa. "Together, we keep pushing different representation in the engineering field."