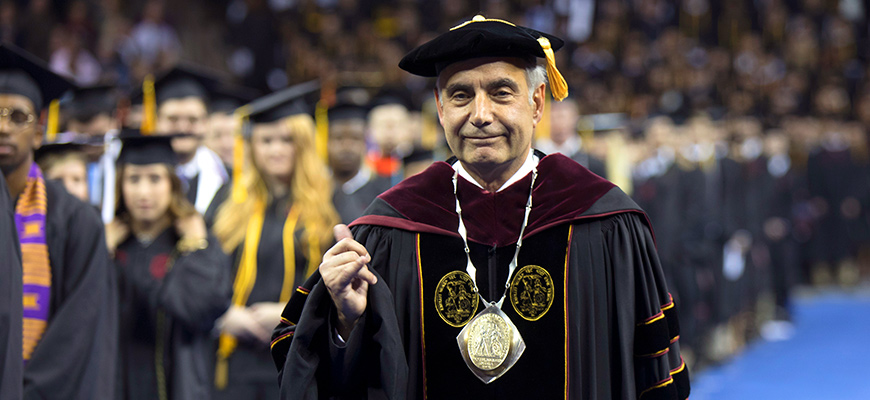 President Pastides marks 10 years at the University
---
By Harris Pastides
---
Earlier this month, I celebrated my tenth anniversary as the 28th president of the University of South Carolina. No one should expect the good fortune to serve in any position for ten years — it's a significant amount of time in any person's journey, let alone for a university president in turbulent times.
Despite not knowing how far or where this path would lead, I've never taken a moment of it for granted. And despite opportunities from distant shores, I've never wavered from the special calling with our state and its flagship university to provide a higher standard of living and better way of life for every South Carolinian.
Of course, I am so gratified that the work of our faculty, scholars and researchers has received unprecedented acclaim throughout the nation and abroad. We are truly a global research university of distinction.
I am proud that Palmetto College provides all South Carolinians a pathway to the most affordable four-year degree in the state. And I am proud of our major affordability initiative called on your time, which significantly reduces unnecessary tuition and costs by supporting student efforts to graduate in four years or less.
Correspondingly, we've taken major steps over the last decade to mitigate tuition increases, marking historical lows in comparison to state and national trends. As chair of South Carolina's council of presidents, I am committed to working with our state's public university leaders to further curtail tuition and costs for all students.
As a result of greater system-wide coordination, we've also worked to ensure that the threads across our 8 campuses and 19 locations are tightly woven, helping the communities we serve continue to grow and renew — from our stellar, comprehensive four-year campuses in Aiken, Beaufort and Spartanburg, our two-year Palmetto College campuses in Lancaster, Salkehatchie, Sumter and Union and our newest school of medicine in Greenville, which is addressing a critical shortage of primary care physicians across the state. It's this broad tapestry that makes us one University of South Carolina.
In view of these efforts, our work has ultimately sought to uphold the ideal set by one of our founders, South Carolina governor John Drayton, who was inspired by his contemporary, Thomas Jefferson. Drayton noted in his 1802 book view of South Carolina, "we hope the south-Carolina college will rise as an ornament to the town; respectable from its establishment; but still more from the learning and friendship, which a national institution, like this, cannot fail to promote among the youth from all parts of the state; an object, particularly desirable to all true lovers of their country." I am confident that our collective work has honored this charge.
Hence, I am more hopeful today than I was on August 1, 2008, a hope largely owed to those that Patricia and I are committed to serve — our students. Living among them on our historic horseshoe, we get to experience their energy, drive and resilience on a daily basis. We hear their concerns and stresses and relish in their spirit and victories. These interactions inspire and rejuvenate us and keep us moving forward. I've learned so much from these experiences, and they've made me a better president and a better person.
It's because of them that South Carolina's best days lie ahead.
---
Share this Story! Let friends in your social network know what you are reading about
---