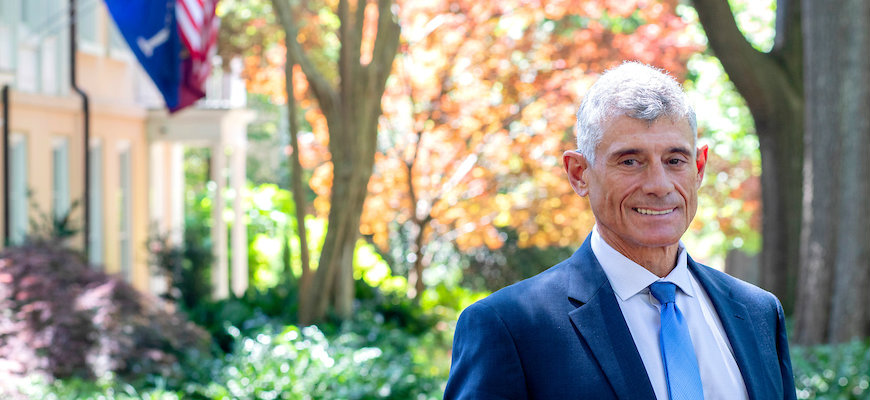 Students are my priority at the University of South Carolina
---
By Bob Caslen
---
I'm humbled and honored to serve as the University of South Carolina's 29th president. I do not take lightly the trust and confidence the Board of Trustees have placed in me, and I pledge to serve the 50,000 students enrolled in our university system with enthusiasm and unwavering commitment.
Many have asked why I want to be the president of a large public research university, which is admittedly a departure from my previous tenure as superintendent of  West Point. The truth is simple: I'm inspired by this generation of students and want to help them achieve success, whether in the classroom, laboratory, on the stage or on the field. Students today want to engage the world in a tangible way, take on global challenges and make a difference in their own communities. Education is the key to making those dreams possible, and being a part of that inspires me.
I am incredibly fortunate to begin my service at a time when the University of South Carolina, thanks to the tremendous leadership of President Harris Pastides, is well positioned to be the preeminent institution of higher learning in the nation. The University of South Carolina system today has an enormous economic and cultural impact on our state, serving students from all walks of life, giving them the opportunity to return to their communities as educators, health professionals, public servants, entrepreneurs, researchers and more.
My goal as president is to serve as a tireless advocate for our students, helping to ensure they have the resources, programs and support they need to reach their full potential in work and in life once they leave our campuses as graduates.
While I still have much to learn about the university, I've outlined three areas I intend to prioritize in my administration: academic excellence, research, and diversity and inclusion.
Academics are the backbone of any institution of higher learning, and I want to make sure the University of South Carolina continues to attract top scholars to spend their careers here and contribute through teaching.
With regard to research, we will build from existing strengths by securing additional research funding in critical areas. We have a number of large domestic and international companies in the state. We also have four large military installations and, as a university, we have the No. 1 international business program in the country, as well as strength in disciplines from the sciences and engineering to psychology and public health.
I have always valued diversity and inclusion on both moral and practical grounds, because different perspectives lead to better decisions and a greater understanding of the world beyond our own experiences. To underscore that importance, the university's Office of Diversity and Inclusion will report directly to me. We will strive to build a more diverse faculty, staff and student population while creating an environment where differences are not simply tolerated, but celebrated.
I am keenly aware that modern college life is not always easy for students, and families place great trust in institutions like ours. I will work to ensure that the principles of excellence, integrity, duty, respect, selfless service and safety are reinforced and woven into the fabric of university life.
Maintaining a healthy campus climate also means taking on larger societal problems like sexual assault and mental health challenges. As the former co-chair of the NCAA committee on sexual abuse, I did not shy away from open conversations with students and political leaders and will continue to address critical issues affecting safety and well-being at this university.
Over the past week I have met with groups of students, faculty, staff, community members and elected officials to engage in candid conversations, listen to their concerns and seek their advice for the university's future. They have shown my wife, Shelly, and me great warmth and kindness as we arrived in this great state and its flagship university, and for that we are grateful. Leadership is not only about taking action, but about listening, questioning, learning, collaborating and building teams. That's how we will continue to engage as we work together to advance the important mission of this great university.
Finally, I acknowledge the trust and confidence many of you have placed in me, and I also acknowledge the trust and confidence I must still earn. I will do that. I am eager to meet with you while Shelly and I are around the University of South Carolina system and your communities, and I look forward to hearing your thoughts and advice.
Forever to thee.
As published in The Post and Courier on July 27, 2019.
---
Share this Story! Let friends in your social network know what you are reading about
---