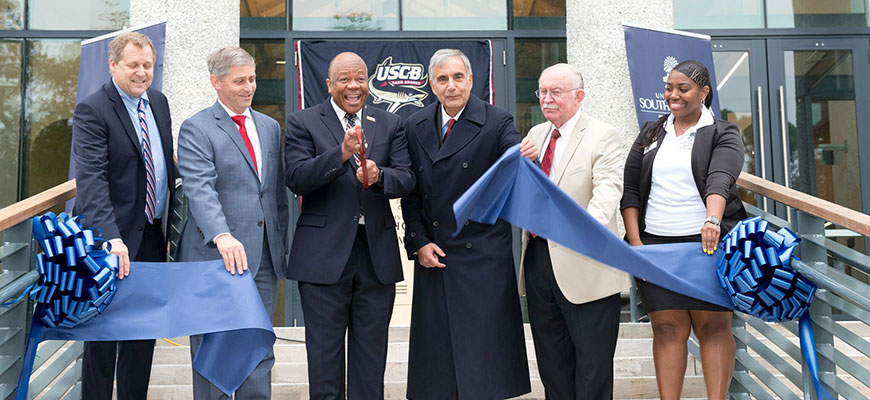 USC Addresses Workforce Demand with New Hilton Head Island Campus
---
By Harris Pastides
---
Hospitality and tourism are the lifeblood of South Carolina. Our beaches, historical sites and leading cultural and sporting events are directly responsible for this growing $21 billion industry cluster, as well as employment for one in every ten South Carolinians, more than any other industry outside of government.
The hospitality sector is expanding by thousands of jobs a month across the Palmetto State. And as it has for over three and a half centuries, Hilton Head Island's treasured coast is leading this charge. With more than two million visitors a year, the island continues its rich historical legacy as a bedrock of exploration, innovation and hospitality. It's also no surprise that the accolades continue to roll in, like the recent distinction by Travel + Leisure Magazine as the number one island in the continental United States for the third year in a row.
The University of South Carolina Beaufort is taking important steps to help drive this exciting future. On November 14, university and local officials joined together to cut the ribbon on a new Hilton Head Island campus. This new location will provide students of the Lowcountry and across South Carolina the unique opportunity to study hotel, restaurant and tourism management in state-of-the-art classrooms and facilities, while opening doors and relationships with industry leaders to provide real-world training and experiences that nurture their talent. These hands-on internship and employment opportunities include leading resorts, gated club communities and restaurant groups. The new campus will also serve as a central point in the community for industry leaders to engage with students and faculty beginning in the spring of 2019.
By supporting this important workforce need, the University of South Carolina Beaufort is providing opportunities for higher educational attainment and quality of life in the Lowcountry. For example, in every county in the state, Carolina graduates earn significantly more than those without a degree. Four-year degree holders make on average $15,000 more per year and $1 million more over a lifetime than those without a baccalaureate degree. Statistically speaking, the communities in which degree holders reside have lower crime rates, better health and greater civic participation. Not to mention, these same areas attract employers that pay competitive wages, enticing greater economic development to the region. Accordingly, the University of South Carolina's investment in the Lowcountry will only enhance the region's position as a great place to live, work and call home.
The new Hilton Head Island location is the most recent addition to the University of South Carolina Beaufort's comprehensive four-year campus, joining Bluffton and Beaufort, and represents the University of South Carolina's 20th location statewide. The new location also joins 17 others across USC's statewide constellation from our stellar, comprehensive universities in Aiken, Columbia and Spartanburg, our two-year Palmetto College campuses in Lancaster, Salkehatchie, Sumter and Union, and most recently, our USC School of Medicine in Greenville, which was established in 2012 to address the critical shortage of primary care physicians across the state.
It's this broad tapestry that positively impacts all South Carolinians, particularly in advancing our overall $5.5 billion economic impact and the 1 in 35 jobs we support throughout the state. It's also what makes us one University of South Carolina.
---
Share this Story! Let friends in your social network know what you are reading about
---