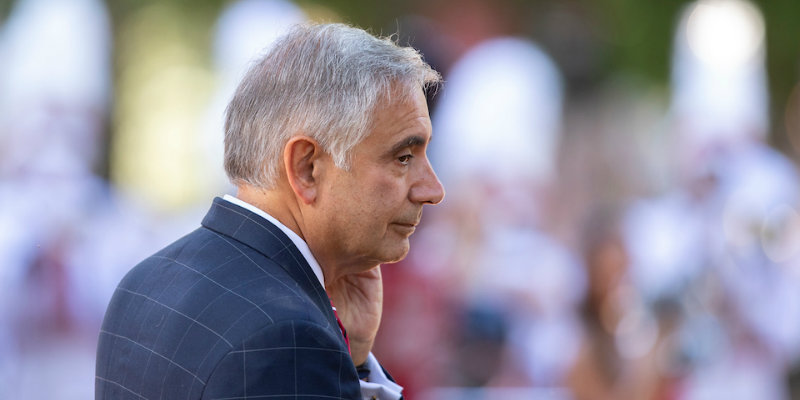 It's time to invest in higher education
---
By Harris Pastides
---
Voicing support for higher education in South Carolina is more necessary than ever. Rising student costs and deteriorating campus facilities threaten our economic future – a future requiring an additional 70,000 additional baccalaureate degree holders above current graduation rates by 2030. In order to truly unlock a future worthy of our citizens, a shared commitment between South Carolina's public colleges and universities and the state is essential.
The University of South Carolina is doing everything possible to meet this moment. We're keeping student debt low; on our Columbia campus alone, half of our undergraduates graduate debt free, and across our system, student debt is 35 percent lower than the national average.
We've achieved this success through programs like "On Your Time," which stress the importance of graduating in four years or less, and provide important savings to students and families. We've launched innovative three-year degree plans, and "plus one" master's programs that streamline the time to get a bachelor's and a graduate degree. We continue to emphasize the importance of not changing academic majors; the average undergraduate changes majors three or more times, which often prolongs graduation and cost. We've also encouraged dual-enrollment credit hours, which have more than doubled over the last five years across our Palmetto College campuses, saving South Carolina families nearly $50 million in tuition costs.
In addition, last fall, we established 3+2 programs with Claflin and South Carolina State to provide important pathways for students to achieve dual-bachelor's degrees in STEM fields. This follows a cooperation agreement with Midlands Tech to transfer into our BSE programs in Chemical, Civil, Electrical, and Mechanical Engineering, as well as an earlier agreement to transfer into bachelor degree programs in early childhood, elementary, or middle-level education through our College of Education.
Not to mention, in 2013, we created the most affordable bachelor's degree in the state, by giving our students the option to attend one of our regional campuses or another two-year option, and then finish their degree online through Palmetto College. These latest collaborations build upon our established commitment to innovative pathways and scholarships, such as University of Possibilities, Gamecock Guarantee and Opportunity Scholars to support first generation and low-income students.
In these ways and others, we've tightened our belts and innovated to achieve greater savings for South Carolina's students and families. But in order for our state to have the most cost-efficient and cost-effective higher education sector in the nation, we need a renewed partnership with the state.
In this spirit, I am more hopeful than I have been in a long while that the stars may be aligned. Last year, thanks to a modest increase in state funding from the General Assembly, UofSC was able to enact its lowest tuition increase in 20 years. This year, Gov. McMaster's budget recognizes that there's a real connection between state appropriations and tuition, and the House of Representatives seems poised to invest even more funds into higher education this year than last.
An emerging partnership with the South Carolina Commission on Higher Education is very encouraging, particularly the opportunity to work with Chairman Wes Hayes and Interim President and Executive Director Michael LeFever in support of higher education in our state.
I am also excited about the momentum that is building behind a more long-term solution to college access and affordability. The culmination of bipartisan discussions among Senate leaders, the Higher Education Opportunity Act (HEOA) was recently introduced by Senate President Harvey Peeler and Sen. Vincent Sheheen along with a bipartisan group of seven other senators. The bill would establish something that has never before existed in our state: a dedicated and permanent source of funding for higher education – all without raising taxes.
The HEOA recognizes that there is a connection between state support and tuition prices. In fact, had the HEOA been in place over the last decade, even the most conservative calculations indicate that tuition would have risen almost 40 percent slower than it otherwise did during that period of deep state funding cuts. The HEOA can't erase the past, but what it will do is capture these substantial savings – and more – for our students today and of tomorrow.
The bill also serves three other critical areas. First, it would modernize the state's scholarship offerings by ensuring the sustainability of current merit-based scholarship programs, while focusing more state resources on assisting students with financial need. Second, similar to provisions within the Higher Education Efficiency Act, it would also reduce duplicative bureaucratic regulation, which would markedly help reduce costs driven up by layers of red tape. Lastly, it would establish funding dedicated entirely to repairing our public colleges' aging and crumbling campus facilities, infrastructure and equipment – funding that is sorely needed since South Carolina has not passed a capital improvement bond bill for Higher Education in 20 years.
So, today, on this Carolina Day at the State House, we pause to recognize that the path to greater access, affordability and excellence in public higher education across South Carolina is within reach. To this end, we call on our state government leaders to enact the thoughtful and long-term reforms contemplated under the HEOA. We can do no less for our public colleges and universities – and we can do no less for the students of South Carolina.
As published in The State on January 30, 2019.
---
Share this Story! Let friends in your social network know what you are reading about
---