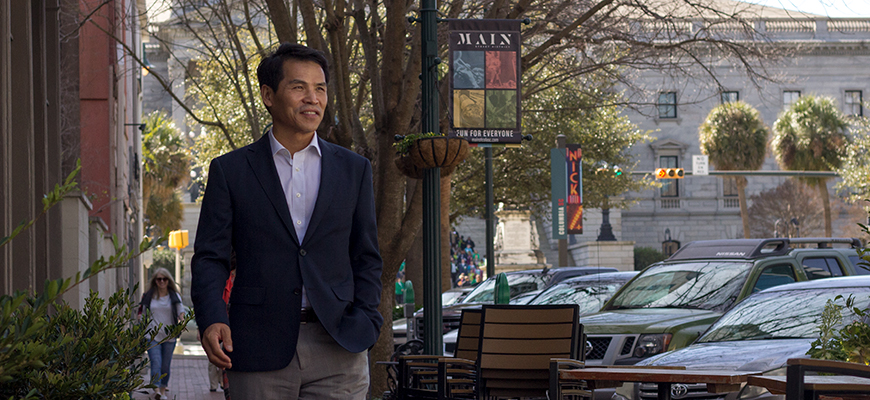 Building a Vibrant Future for South Carolina
---
---
Customer experience industries are the lifeblood of South Carolina and the foundation for vibrant economies and communities across the state. From the coast to the mountains, tourism, retail, hospitality and entertainment create jobs and business opportunities in the Palmetto State. And, they define how residents and visitors experience and remember South Carolina.
At the heart of this powerful economic and societal ecosystem, the University of South Carolina's College of Hospitality, Retail and Sport Management (HRSM) is working to support and grow the positive impact of customer experience industries across South Carolina.
Hospitality sounds like fun and relaxation, but it's also in the serious business of leading South Carolina's job growth over the past three years. In 2017, South Carolina tourism marked a record economic impact of $22.6 billion, an increase of $1.4 billion from 2016, according to new data released at the 2019 Governor's Conference on Tourism and Travel.
Additionally, customer experience industries such as retail, sport and entertainment, and hospitality support approximately 500,000 jobs in the Palmetto State and more than 56,000 businesses. The economic impact is felt around the state, including a $724.7 million economic impact from golf course operations, $224.8 million from Charlotte pro-sport teams and venues, and $263.2 million from University of South Carolina Athletics. The state's signature sport and entertainment venues and events only add to the economic impact, such as $50.1 million generated by Darlington Raceway, $34.4 million by the Volvo Car Open and $6.5 million by the Carolina Cup and more.
Expanding capacity and excellence in customer experience industries makes more than money—it makes good sense for sustainable community health. Customer experience industries have the ability to spark enjoyment and relieve stress, which can have direct health and quality of life benefits for all ages.
For example, a recent study by Nationwide Children's Hospital in Columbus, Ohio found that children with life-threatening illnesses who received a "wish" from the Make-a-Wish Foundation were at least 2.5 times more likely to have a drop in emergency room visits. Many wishes include things like a trip to Disney World, a shopping spree, getting to meet their favorite athlete, or going to a concert. These types of experiences allow people to feel like more than a circumstance or statistic, and instead feel like a happy person.
Helping people lead a healthy and happy life is in the DNA of the HRSM College. One innovation in progress is the expansion of curricula in response to the growing senior living industry in the state. South Carolina shares more than 10 percent of all senior living facilities in the nation, and Governor McMaster recently announced the state's plan to further invest in growing this sector of state economy. We are forming a powerful consortium among several colleges at UofSC to fuel the shared intent among the government, industry and academics.
It's no secret that South Carolina is all about Southern hospitality, and our cuisine, culture and beautiful environment make a perfect place for businesses, families, retirees and travelers. But how do we elevate our position to become the national capital of customer experience industries? The answer lies in the state's most valuable resource – its people.
HRSM's vision is to create a powerful learning arena where passionate students, innovative teachers and industry leaders come together to advance the world's customer experience industries. With enrollment growing by 16.5 percent over the past three years, the College of HRSM seeks to propel the state's job market by providing a high-quality work force trained in world-renowned degree programs that are embedded in strong industry collaboration and applicable research, igniting opportunities for career-ready graduates and growing enterprises.
Just this week, our SmartState Center of Economic Excellence in Tourism was awarded a new federal research grant to develop a tourism and hospitality employment plan for South Carolina. During the next 12 months, the team of researchers will be producing valuable resources for employers and employees to optimize workforce development and success. It is this kind of work that is moving our state and its communities forward and bringing our vision to life.
In addition to the College of HRSM at UofSC-Columbia, the university has expanded tourism and hospitality training facilities throughout the university system. With this academic pillar achieving sustained and unprecedented growth, UofSC is perfectly positioned to help South Carolina continue to build a vibrant future as a premier leader in hospitality, retail, sport and entertainment management. As we look toward the bright horizon for our state, I am excited to work together with community, business and academic partners to innovate and thrive.
---
Share this Story! Let friends in your social network know what you are reading about
---