A core component of USC's strategic priorities includes attracting and fostering a diverse faculty who excel in teaching. Students at USC often express their gratitude towards instructors who have a profound impact on their learning experiences. In recognition of these instructors who challenge and inspire their students, the Center for Teaching Excellence (CTE) introduced the "Thank a Teacher Program" in the Fall of 2022.
Nate Carnes, Interim Director of the Center of Teaching Excellence, stated,
Students are encouraged to express gratitude to an instructor or TA who had a positive impact on their academic experience. Multiple instructors can be thanked by a student. A formal letter, including the student note and a certificate of appreciation, is sent to the selected individuals.
Aisha Haynes, Assistant Director of the Center for Teaching Excellence, stated,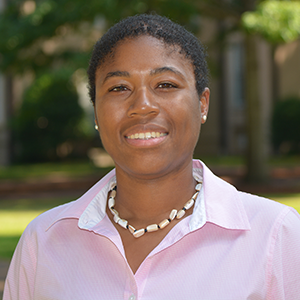 In Fall 2022, the "Thank a Teacher Program" received 451 notes of gratitude recognizing 316 faculty members and TAs from 12 colleges/schools, University 101 Programs, and the Palmetto College campuses. The program will begin accepting thank you notes for the Spring 2023 semester starting Monday, April 3, 2023. Students can submit their notes on the Thank a Teacher web page.
Below is a sample of the thank you notes received during the Fall 2022 semester. To view the full list of recipients from Fall 2022, visit the Thank a Teacher recognition page.
Instructor: Nicole Cooke
Student: Anonymous
ISCI 782
College of Information and Communications
"Thank you for providing an informative, dynamic graduate course that is meaningful and offers learning in a new way that breaks away from the traditional confinements. This learning is more natural, intuitive, and profound - I wish all other graduate professors were like you; you have been the most amazing professor I've had! Thank you for understanding how to facilitate learning in a contemporary, intentional way!"
Instructor: Elizabeth Currin
Student: Jason Sox
EDCS 899
College of Education
"Dr. Currin is the best advisor that anyone could have in this program. Her insights and knowledge have made my dissertation a better research study as her critical feedback is both constructive and encouraging. The amount of time that she dedicates to her students is incredible, and what sets her apart and above her peers. The amount of time that she takes with each and every one is a testament to her level of dedication and passion she has as an educator. Her work ensures that all of her students are well prepared for the next steps in our program. The University of South Carolina is lucky to have such a talented and knowledgeable instructor as part of their faculty as she is a wonderful ambassador for the EdD program. You are simply the best Dr. Currin!"
Instructor: Brie Dunn
Student: Caleb Wahdan
PHMY 722/772
College of Pharmacy
"Dr. Dunn is an incredible teacher and does so well to explain complicated subjects very clearly. She constantly challenges us in class with in-class questions, Kahoots, and other practice opportunities. She has even gone out of her way to make study guides, practice quizzes, and Quizlets for her students which have been instrumental in my learning process. She always checks in on her students, whether it be in the few minutes before class or in the hallway or in the student lounge, always offering her help or answer any questions we may have. She is also heavily available outside of the classroom and always answers email with questions or responds to discussion post questions very quickly. She also offers review sessions outside of class and allows students to come to her office to get any questions we may have answered. She goes out of her way again to know the names of her students, which really adds a certain personal aspect to her teaching. When responding to a question in class, she always addresses the student by name and personally acknowledges and encourage student participation. She is just the kindest professor I have ever had and am honored to be in her class. She cares so much about her students, and it really shows. I can't wait to see how much more I will grow and learn because of her."
Instructor: Woody Holton
Student: Kaylen Pritchard
HIST 111
College of Arts and Sciences
"Dr. Holton, I will be forever grateful that I took your class. I came to Carolina knowing that I wanted to pursue a career in academia, and I have been on the fence about a few possible degree paths I could take. I had planned on being an English major for as long as I could remember, but while studying both traditional literature in my English classes and primary source documents in your class, I realized that I have a particular passion for history. I'm so excited to say that my outstanding semester with you and Mr. Cerise helped make this decision easier than I ever thought it would be - as of this week, I am officially a history major. Thank you from the bottom of my heart, and I hope to work with you more in the future."
Instructor: Jeremy Lewis
Student: Ali Tehranie
CSCE 240
College of Engineering and Computing
"Dr. Lewis, I feel I owe you more than a mere thank you. No matter what someone does in life, there is always something we can glean from talking with them-- and I am pleased to have had the opportunity to be able to ask you questions regarding my aspirations, fears and whims. Your character speaks loudly, as you were willing to go the extra mile to ensure your students walked away from class with something new and bridging the gap between lectures and the real world. I thank you for reinforcing that no student is left behind, especially since your course was one of the hardest I'd taken at that point, accommodating students at any level of programming. I'm very grateful to have been able to work with you!"
Instructor: Sara McConville
Student: Carli Mendelow
UNIV 101
University 101 Programs
"When I came to college, I was nervous. I was nervous to find my people, nervous to get the hang of a routine, nervous to make connections with my instructors. Until I met you.
You have the best energy at 8:30 in the morning, not to mention the best laugh. You are worldly, kind, and compassionate toward all people you meet. You are a hard worker, and an inspiration. You are pure fire. Never waning, bright with love and resilience.
Thank you for illuminating my life down here in Carolina (or what you would say the armpit of the south). Every step I take is lighter and stronger because of the countless times you have held me up, even when I didn't believe I could stand.
I feel this quote relates to us: "Our roots say we are friends, our hearts say we are sisters."
You are my sister, and I am forever grateful for your impact on my first semester.
Thank you for all of your wisdom on my education in school and in life."
Instructor: Natalie Peterson
Student: Rachel Brasell
SOWK 779
College of Social Work
"Dr. Peterson, I just wanted to take an opportunity to thank you for the work you put into this class. I know it wasn't easy, but you asked for feedback and integrated it into your practice. I saw how you listened and responded with kindness, grace, and good boundaries. I have personal experience with how hard it is to attempt something new, especially after having had an already successful career. I think you are an inspiration for deciding to take on this challenge of teaching. Thank you for your experience, strength, and tenacity. Thank you for hanging in there with this class."
Instructor: Loren Tharp
Student: Abby Romosca
PSYC 526
College of Arts and Sciences
"I have nothing but compliments for Dr. Tharp. If I grow up to be half of the woman that she is, I will be so fortunate. I admire how passionate Dr. Tharp is about the content that she teaches and how she goes out of her way to make it engaging for the class. I am thankful that Dr. Tharp is so open and honest with us, and the rapport that she's established has gone beyond the normal professor/student relationship - she makes all of us feel like an invaluable member of the class and gives all of us a voice. She has created a safe space for us to process through challenging material and does a great job handling those challenges with grace. Dr. Tharp goes an extra 10 miles for us by pulling in an abundance of real-world resources, which shows that she genuinely wants us to be successful. I'm thankful for Dr. Tharp because I have actually learned a lot about myself through listening to her. She has done an amazing job relating what we discuss in the classroom to what's going on in the real world, which is not something that many professors take the time to do. I am confident that this real-life application has been crucial in preparing me for my future career. I'm so thankful for the person that Dr. Tharp is and how willing she is to show that to her students, and I know we have all benefited because of it."
Instructor: Aaron Zimbelman
Student: Omar Holmes
ACCT 406
Darla Moore School of Business
"I just wanted to say thank you for everything you have done for me. You helped me with so much more than I could've ever expected, with my academics and my personal growth. Many of the teachers I had were amazing however, they didn't teach me much about managing life outside of school. Your class has not only made me more sure about my passion for auditing but reminded me that there really is more to life than school. You really couldn't have come at a better time considering this is my last semester, and I now feel one huge step closer to successfully managing adulthood. I really hope that you continue to inspire more students from this point moving forward. Thank you again, great rest of your year! :)"