Congratulations to Dr. Nathan Senner
Congratulations to Dr Nathan Senner and his lab for his quote in the NYT today article focusing on new instrumentation for tracking bird migrations. See article .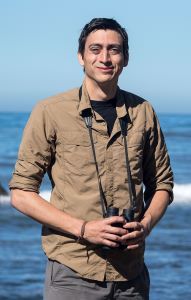 ---
BIOLOGY UNDERGRAD WINS SCHC MOULD AWARD
Elizabeth S. Davenport has been named the winner of the William A. Mould Award by the South Carolina Honors College. William A. Mould was the founding Dean of the SCHC, and a strong proponent of the senior thesis requirement. Each year, the award is given to recognize the research, creativity, and impact of the best honors thesis submitted to the SCHC. Davenport completed her thesis, "The Temperature-Dependent Effects of Spontaneous Mutations on Life-History Traits," in the lab of Biology professor Jeff Dudycha with the help of more than 100,000 individuals of the microcrustacean species Daphnia pulex. Her thesis juxtaposed evolutionary biology, genetics, and climate change, testing whether mutations have more negative effects on fitness when expressed in warmer environments. She will be continuing her studies of evolutionary biology using Daphnia this coming Fall as a Ph.D. student in the Department of Ecology & Evolutionary Biology at the University of Michigan.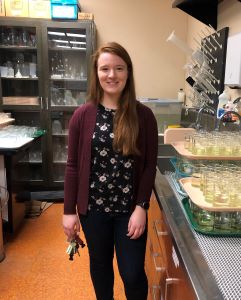 ---
TWO FACULTY WIN UNDERGRADUATE MENTORING AWARD
The Office of Undergraduate Research announced that two faculty in Biological Sciences, Dr. Dan Speiser and Dr. Jeff Dudycha are co-recipients of the 2020 Distinguished Undergraduate Research Mentor Award. The Speiser Lab operates at the intersection of physiology, evolutionary biology, and neuroscience to understand how complex visual systems evolve. The Dudycha Lab studies evolutionary processes using a combination of genetic and ecological approaches to understand diverse topics including reproduction, phenotypic plasticity, photosynthesis, and vision.
Previous Biology faculty to win the DURMA include Deanna Smith (2019), Jerry Hilbish (2017), Ryan Rykaczewski (2016), Joe Quattro (2013), David Reisman (2010), and Rekha Patel (2008). More Biology faculty have won the DURMA than any other department at USC.
---
Congratulations to
Georgina Anderson
Congratulations to Georgina Anderson for being awarded the Dean's Award for Excellence in Leadership. The award is given to graduate students who demonstrate leadership, on campus, in their academic discipline or in the community.
---
Congratulations to Dr. Hexin Chen
Congratulations to Dr. Hexin Chen and the Chen Lab for receiving a National Cancer Institute (NCI)/NIH grant for their upcoming study on "Nanoparticle-delivered miR-489 rejuvenates anthracycline-based chemotherapy." The award is for $115,045.00.
---
Graduate students honored with awards
---
Congratulations to Professor David Reisman
Congratulations to Professor David Reisman who was awarded a grant, entitled "Mechanism of Action of a p53 Intron-encoded lncRNA in Myeloid Leukemia Cell Differentiation", from the the Children's Leukemia Research Association!