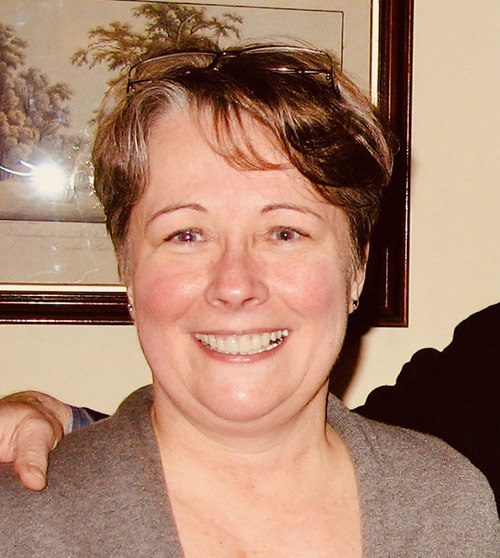 On February 9, the Department of Languages, Literatures and Cultures lost a cherished former faculty member, Carolyn L. Hansen, who taught Spanish at the University for more than thirty years. Carolyn was hired as a Teaching Associate in 1977, promoted to the rank full-time Instructor in 1981, and served as a Senior Instructor from 1984 until her retirement in 2010.
Carolyn Louise Hansen was born on February 18, 1950, in Ord, Nebraska, the first child of Hans and Helen Hansen. She is survived by a sister, Chris Hansen (Jim), a brother, Michael (Loree) as well a nephew, Matt, and a niece, Meagan (Chris).
In 1968, Carolyn began preparation for a teaching career at Kearney State College (now University of Nebraska at Kearney), with a double major in Spanish and French. Upon earning a B.A. in Education, magna cum laude, from Kearney in 1972, Carolyn enrolled in a summer abroad program at the University of Valencia, where she honed her listening and speaking skills in Spanish.
From 1972 to 1975, Prof. Hansen successfully pursued a Master's degree in Spanish at the University of Kansas, where she held the title of Assistant Instructor. The next two years found Carolyn at Southwest Missouri State as a Spanish Instructor, setting the stage for her next and final destination, Columbia, SC.
During her more than three decades as a member of the Department, Carolyn taught four Spanish courses per semester while also making significant contributions in the areas of student advisement, course coordination, technology, and active involvement in several professional organizations.
These are some of her professional accomplishments.
SCOLT (Southern Conference on Language Teaching)
Exhibits and Publicity Chair, 1997-2000
Board of Directors, 1997-2001
Vice-President, 1999–2000
President, 2000-01
Past-President, 2001-02
SCCTFL (South Carolina Foreign Language Teachers Association)
Executive Director, (1994-2010)
Editor and Publisher, The Crescent Newsletter, 1994-2004
University Faculty Consultant to ETS, Advanced Placement Spanish Language Exam Evaluator, San Antonio, Texas; 2006, 2007.
AATSP (American Association of Teachers of Spanish and Portuguese)
ACTFL (American Council on the Teaching of Foreign Languages)
Sigma Delta Pi (National Honor Society); University of South Carolina, Advisor
Co-director, USC Summer Program in Cuernavaca, 1989, 1990
Coordinator of Spanish 201-202 (1980-88); Spanish 101-102 (1988-90)
Consultant, Sin duda, Heinle and Heinle, 1993
Consultant, Puentes Testing Program, Heinle and Heinle, 1994
Consultant, Pasajes, Intermediate Spanish textbook series, Sixth Edition, McGraw-Hill, 2006
Conference Presentations:
"Developing Functional Proficiency in Writing," SCOLT Conference, Birmingham, AL, 1985
"A New Approach Toward Foreign Language TA Supervision," SCOLT Conference, Little Rock, AR, 1990
"Using Student Feedback to Reinforce Learning," SCOLT/FLANC Conference, Research Triangle, NC, 1991
"Cycling Toward Competency: Composition as the Unifying Element," SCOLT/SCFLTA Conference, Myrtle Beach, SC, 1997
"Language Levels and Student Skills Levels: Intensive Programs for Spanish," Faculty Development of International Business Seminar, USC Columbia, 1997
Those who were fortunate enough to interact regularly with Carolyn will remember her enthusiasm for teaching; she was a dedicated and demanding professional, with a bright smile and an impish sense of humor, reminiscent of Betty White's.
Carolyn, always a hugger, had a great deal of love to share. Although she never had children or pets of her own, she always showered the children and pets of her friends and colleagues with an abundance of affection—and sometimes chocolate for the humans.
She was also a big fan of the Lady Gamecocks basketball team as well as the men's football squad. For the last ten years or so, she regularly visited the home of Ginny and Ed Aylward on football Saturdays for a tailgating party. Needless to say, on those occasions Carolyn often enhanced her pleasure by consuming a few margaritas, with salt on the rim of the glass.
Let us remember her that way.