Submissions
Submissions for the sixth annual South Carolina High School Writing Contest are now being accepted. The contest is open to South Carolina high school juniors and seniors. Students must be residents of South Carolina. The deadline is Monday, October 29.
How it works
In 750 words or less, writing in any genre or combination of genres (essay, short story, poem, play, etc.), answer this question: "How should we improve the state of South Carolina?"
Submissions are evaluated based on originality of response and quality of writing. First-Round Winners, selected from the initial submissions, will be invited to the University of South Carolina Columbia campus to participate in the Second Round Competition. The Second Round will consist of an impromptu 40-minute essay response to be written that day.
Awards
Cash prizes will be awarded to the first, second, and third place winners. The entries of finalists and winners will be published in a young writers anthology published by the South Carolina Honors College.


To see how previous finalists responded to our prompt, pick up a copy of volume three of Writing South Carolina: Selections from the High School Writing Contest.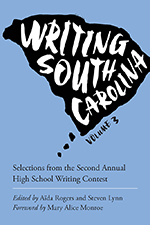 Click here to download the USC Press Order Form. You can also call the USC Press at 1-800-768-2500, or check your local/school library.


FAQ
Do the submissions have to be traditional essays?
No. We accept poetry, fiction, drama, short stories, and combinations of those genres. Some students have chosen to submit entries written as letters and diary entries. But essays are acceptable as well.
How are the entries judged?
Submissions will be judged for their originality, creativity, and writing style.
After I submit my entry, how long will it be before I hear results?
We hope to have results about which students are finalists in January 2019. We will let each of you know personally, by email, whether or not your work was chosen.
Are there prizes?
Yes, in both the junior and senior categories combined. The first-place winner (chosen from the junior and senior classes) will receive the Walter Edgar Award, which includes $1,000. The prize is generously funded by South Carolina Honors College alumnus Thad Westbrook and named for the well-known University of South Carolina history professor and author. The second-place winner (chosen from the junior and senior classes) will receive the Dorothy Skelton Williams award, which includes $500. The award is named for the late upstate educator and funded by an anonymous donor. The third-place winner (chosen from the junior and senior classes) will receive the Hortense "Tensie" Skelton award, which includes $250. Honorable Mentions also will be given. There are no cash awards for Honorable Mentions.
If I win or place in the contest, am I supposed to use the award for college?
No. The money is yours to do with as you wish.
Who presents the contest?
The contest is a partnership presented by the South Carolina Honors College at the University of South Carolina and the University of South Carolina School of Library and Information Sciences.
I am not applying to the South Carolina Honors College. Can I still enter?
Yes. You do not have to be college-bound at all.
Can I submit a spoken word poetry video?
No. While we recognize the value of spoken word literature, the contest is based on writing skills. Perhaps your spoken word work can be written.
If I include very specific details in my essay, do I need to cite my sources as if it were a research paper?
Yes. Otherwise we have no idea if the writer is making up facts. Rather than using footnotes, we suggest a more reader-friendly method, i.e., South Carolina has more rabid wild animals prowling its neighborhoods—44 percent more—than any other state, according to a 2014 report from the U.S. Rabid Wild Animal Department.
How do contest judges know if others wrote the submissions and not the students?
We don't. That's why the contest includes a second round with an impromptu writing contest. Round 2 takes place on the USC campus in Columbia. Those students whose work is judged the best are invited to participate. They are the contest finalists.
What else happens at Round 2?
Round 2 also includes book signings by South Carolina authors, a tour of the university's library "treasures," and a talk by the contest judge. Judges are respected, acclaimed writers who live in or grew up in South Carolina.
Depending on space limitations, adults who may be driving student finalists to the USC campus are welcome to attend as well. We've had parents, guardians, and teachers.
Can I ask my teacher to review my submission for grammar before I enter it?
It is okay for your teacher to proofread your work, but you should indicate following your submission that you received the help. This is a writing contest, not an editing or grammar contest. We are interested in hearing your voice and your response to the prompt. You can simply write: "I want to thank Ms. Laura Ingalls Wilder, my English teacher, for proofreading my final draft." Or, "I want to thank Mr. Atticus Finch, my government teacher, for encouraging me to revise the ending." If your submitted work is entirely your own production, you may indicate that at the end: "I received no proofreading or editing assistance. This submission is entirely my own work."
Who is judging this year's contest?
Walter Edgar, a renowned South Carolina historian, professor, author, and public radio host.
Previous judges include acclaimed short story writer Pam Durban; Nikky Finney, winner of the 2011 National Book Award for Poetry; New York Times bestselling author Mary Alice Monroe, the late Pat Conroy of Beaufort, an internationally known novelist; Marjory Wentworth, South Carolina Poet Laureate, and Sam Amadon, poet and professor at the University of South Carolina.
After Round 2, how long will it take to learn results of who won?
It can take up to five or six months. We ask finalists to be patient and understanding of the judge's busy writing, teaching, and touring schedules. We will keep in touch with you by email throughout the process.
What format and font should I use to submit my entry?
We prefer Word documents and have no preference about fonts, though one that is easy to read is helpful.
Do I need to submit a cover page?
No. The form you complete online will serve as your cover page. It's nice, but not necessary, to have your byline at the top of your submission.