The Ultrasound Institute at the School of Medicine Columbia hosted a set of high school students last week as a part of the Carolina Master Scholars Adventure series.
The University of South Carolina School of Medicine Columbia Ultrasound Institute recently hosted students in grades rising 9-12 as part of the Carolina Master Scholars Adventures series. The Series features week-long educational courses taught by USC faculty, staff and experts, and is held on campus in Columbia. The Ultrasound Institute hosted students June 18-23.
National leaders: From the start of their medical studies, students in the School of Medicine Columbia begin learning to use ultrasound, which can image all major organs, as well as joints and blood vessels, at the bedside. It's one of the school's distinctions, being the first institution in the nation to integrate ultrasound instruction into all four years of its medical degree curriculum.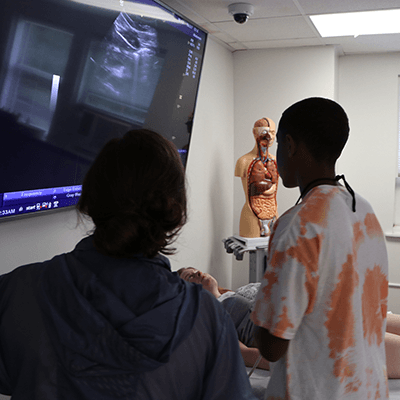 Unique educational opportunity: During the Adventure Series stop at the Ultrasound Institute, participating students learned the ins and outs of the handheld ultrasound, practicing on real-life simulators and current School of Medicine Columbia students. On the last day of camp, students had the opportunity to show their family what they learned on the ultrasound.
What they're saying: Robert Haddad, director of ultrasound education at the Ultrasound Institute, who, along with Dr. Tripp Bell, and Ms. Dina Brown, served as one of the instructors of the Adventure Series camp says: "I see the Ultrasound Summer Camp as a symphony of sound and discovery, where students' curiosities intermingle with technology's diagnostic power. It's an experience where pictures unveil hidden mysteries, and a place where like-minded young explorers come to be inspired and forge blossoming friendships."
Madeline Rutherford, camp participant says: "I had a wonderful time at camp. I got to use the ultrasound and do different things that I normally wouldn't be able to do because that is not very accessible technology. I definitely want to go into the medical field. I don't know exactly which specialty I want to do yet, but this has definitely helped open my eyes to different possibilities.