Training with exceptional mentors and surrounded by her supportive School of Medicine Columbia family, Ph.D. student Hannah Burzynski found her passion and path to a career in research at the University of South Carolina.
An introduction to research during a summer internship at Syracuse University piqued Burzynski's interest, and following completion of her undergraduate degree from the University of Buffalo, she joined the integrated biomedical sciences program at the School of Medicine. This interdisciplinary program provides an opportunity for future scientists to work with departments across the university and prepares them for a career in biomedical research.
Ultimately Burzynski would find her home at USC in the lab of Larry Reagan, Ph.D., professor and vice chair of the School of Medicine Columbia Department of Pharmacology, Physiology and Neuroscience. There, she focused her studies on Gulf War Illness and the vagus nerve, the main nerves of the parasympathetic nervous system, which control specific involuntary body functions.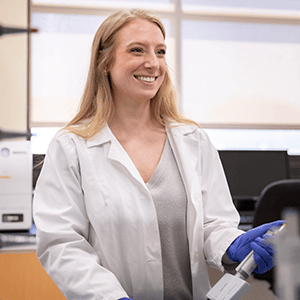 During her time at USC, Burzynski has earned several recognitions for her research work, such as being named a 2023 Breakthrough Graduate Scholar from the USC Office of the Vice President for Research, and she also received the George M. Reeves Fellowship from The Graduate School. She has also had success with external funding opportunities through the NIH, including a highly competitive F-31 grant, and an OSNAP (Outstanding Scholars in Neuroscience Award Program) award.
As Burzynski prepares to graduate from USC this December, she looks ahead to an exciting post-doctoral appointment with Binghamton University's Developmental Exposure Alcohol Research Center where she will study the effects of alcohol on neuroinflammation.
Though she is moving on from USC, Burzynski is forever thankful for her School of Medicine family.
"When I think of my time at USC, I'm just so incredibly grateful for the mentorship I've received, and how people dedicate so much of their time and energy into the student's success."