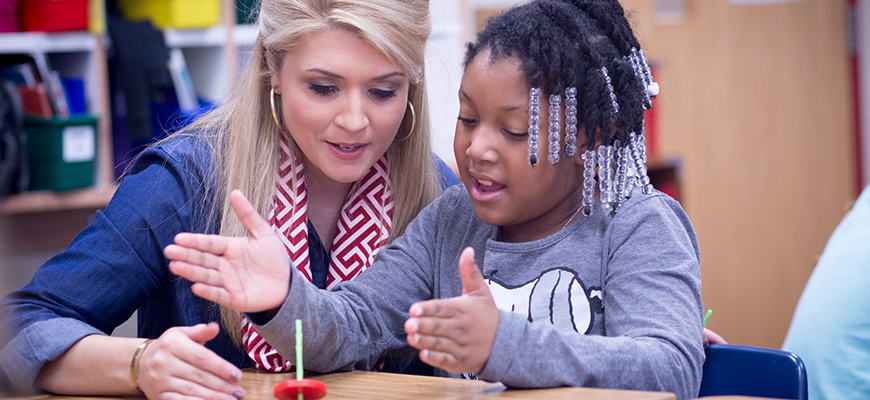 The classroom is calling
A career change leads alumna back to Carolina and towards her true passion
---
By Kathryn McPhail,
mcphailk@mailbox.sc.edu
, 803-777-8841
---
Just months after graduating from the University of South Carolina and starting her first job as a television producer, Amanda Bishop realized she had missed her true calling.
"The newsroom, and that life, just wasn't what I expected," says Bishop. "I couldn't stop thinking about teaching."
Teaching, like her welcoming Southern drawl, was always part of who she was — ingrained in her since childhood. She grew up in Greer, South Carolina, in a family of teachers.
"I come from a long line of teachers. There are about eight teachers in my immediate family," Bishop says with a laugh. "But, I just didn't think I wanted to become a teacher. Honestly, I'm not even sure why now."
Maybe it was because she was daring to be different or likely because she enjoyed hosting her school's television newscast and writing and telling stories. As a two-time contestant in the Miss South Carolina pageant, she also loved performing and public speaking.
"I thought if I majored in journalism, I could become a reporter which would allow me to work with people and write," Bishop says. "But I think I always knew, in my heart, that I loved teaching and working with children."
So, just over a year ago, Bishop made the decision to come back to Carolina and enroll in the Master of Teaching program, which is designed for career-changers and others who already have an undergraduate degree in an area outside education.
"The College of Education accepted most of my undergraduate credits, and I only had to take a semester of education and prerequisite courses before I was able to start my student teaching. So in just a year and a half, I will be able to graduate with a master's degree."
Bishop spent much of this school year working as a student teacher at Oak Pointe Elementary in Irmo, one of 16 Professional Development Schools that partner with the College of Education to prepare the next generation of teachers.
I think I always knew in my heart that I loved teaching and working with children.

Amanda Bishop
"Just like the full-time teachers, I get to develop and implement lesson plans. I am able to work with students, other teachers, the administration and even parents. I feel very well prepared to start my career after I graduate."
Bishop already has a job lined up as a fifth-grade teacher in Florence, South Carolina, where she will soon move to join her fiancé Ethan Grainger who graduated in December from Carolina. He is now working as a mechanical engineer at Honda in Florence.
"I know teaching is what I'm supposed to be doing. God has put everything in place for me," says Bishop. "When my students have their a-ha moment, then I have my a-ha moment. It just helps me to know that I made the right decision — the classroom is where I am supposed to be. I'm able to make a difference."
The desire to make a difference also led Bishop to serve as a dormitory resident advisor for CarolinaLIFE, an inclusive certificate program for students with diverse learning needs, including developmental and intellectual disabilities.
"Working with CarolinaLIFE gives me valuable experience in dealing with students with learning differences. I have always been passionate about helping all students learn and grow in an inclusive setting. My work with this program will definitely help me be a better teacher," Bishop says.
Becoming the best teacher possible is Bishop's next stop but not her final destination.
"After a few years in the classroom, I think I want to continue my education and maybe become a principal."
And as she continues down what she calls the "right" path for her career, she proves that though her road to teaching wasn't a straight line, she will use the lessons she learned while earning both of her degrees to succeed as an educator.
---
Share this Story! Let friends in your social network know what you are reading about
---