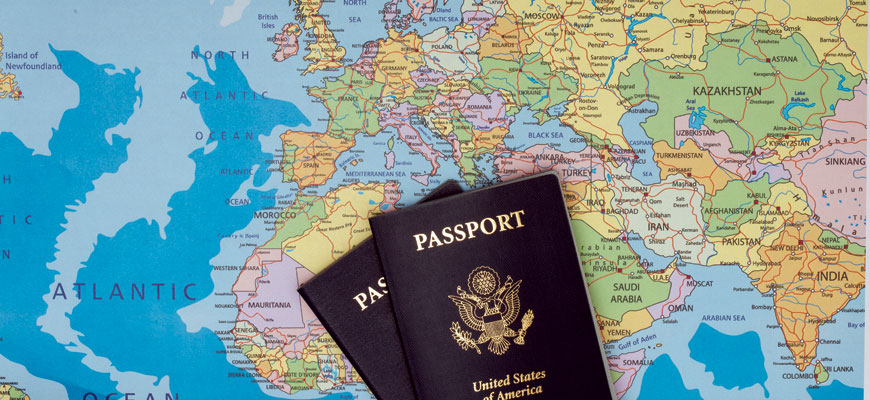 Age of discovery
Faculty and staff reflect on their own study abroad experiences
---
By Craig Brandhorst,
craigb1@mailbox.sc.edu
, 803-777-3681
---
Study abroad can be a revelatory experience, and the rewards only increase with the passage of time. USC Times tracked down several USC faculty and staff members who studied abroad when they were students and asked them to reflect on what they learned — not just about the world but about themselves.
Saskia Coenen Snyder, associate professor, history
I was born in the Netherlands and went to the University of Utrecht to study English language and literature. A subdivision of that was American studies, and part of that program was to do study abroad in the United States. That took me and two other women to Laramie, Wyo., in 1996. We were part of a project digitizing photographs of 1930s America at the American Heritage Center, which documents American culture.
We were in Wyoming for three months, into April — so, the coldest months in Wyoming — and we went from one of the most densely populated countries in Europe to one of the most sparsely populated places in the United States. It was not only an amazing cultural experience, seeing how people live and work in a different part of the world, but also, geographically, it was unlike anything we had ever seen. We were used to seeing people everywhere. That you could drive for two hours in Wyoming and not see a soul was eye-opening.
We arrived probably around midnight in Laramie, but because of jet lag I woke up around five in the morning, and I distinctly remember I saw the sunrise. We were high up, and I looked out and saw the most spectacular sunrise I'd ever seen. In Holland, you don't see that. I saw the mountains, I saw the sunrise, and I thought, "Oh — this is awesome." I forgot my jet lag almost instantly.
It was very romantic, the image that we had of America. It was very much shaped by pop culture, movies and music, Coca-Cola and McDonalds. But also, most Europeans, including my own family, have a cultural image of Americans as political bullies, and of course we brought those expectations with us. But once you are in the country, that whole stereotype is immediately shattered. We discovered that the vast majority of Americans are generous and kind, very hospitable. People talk about America as if it's this one homogeneous place. There are thousands of different versions of America.
The really cool thing was that the director of the center looked at us and said, "You're students in American studies, and you're in America. We're not going to stick you in an office for three months. Go rent a car, and I'll see you in a couple weeks." He basically told us, "Go have your own experience," which was fantastic.
We went to Utah, Colorado, the Dakotas, Arizona. One of my friends, Anette, had this winter coat that was so yellow it almost lit up in the dark. Nobody in Wyoming wears something like that, so when we walked into a diner people turned as if to say, "What the — you're not from here!" But all of that was an adventure. It was the way an internship should be, I think. We got work done, but we also saw a lot, met a lot of people and made connections.
Anette went back a year later to study in Laramie. And I met people there. I met my husband there (David Snyder, senior lecturer in history and faculty principal of Carolina International House at Maxcy College). We were friends then. When I decided I wanted to come back to the U.S. for graduate school, he put me in touch with the professors. I would never have become an academic had it not been for Wyoming. I can say that for sure. Without those connections, I don't know — I sometimes wonder where I would be. But I know it enriched me. I knew I wanted to be here.
People ask me, "Do you want to go back to the Netherlands?" We're going back for a year next year, and I miss it sometimes, of course, but I don't think I want to live there anymore. I've become used to the space here. I no longer "go home" to the Netherlands. I've become a visitor there. This is home now.
---
Nancy Buchan, associate dean, undergraduate programs, Darla Moore School of Business; associate professor, international business
I was an international relations and economics major at the University of Wisconsin - Madison, but I went to Sophia University in Tokyo for a year abroad, and I liked it so much I stayed for two.
At that time, in the mid-80s, Japan was booming. It was the country to emulate in business, everybody was talking about consensus style management. But also, personally, my mother is Japanese. I had never been there, so I decided to take Japanese in college because I wanted to learn more about her culture. Before that, I couldn't really speak Japanese. I knew the names of some foods, I could count to 10.
Although there is a lot of English in Tokyo, when you first arrive it doesn't necessarily feel like that. It's like being in the deep end of a pool, and not only is it deep, but the water is murky. You don't really know where the boundaries are. You don't know how to buy a subway ticket. You don't know how to get food. The best word to describe it is "overwhelming." You have so much stimuli coming at you, and you're continually having to process it; you're psychologically tired.
But Sophia at the time had a second campus for foreigners that was about a five-minute walk away from the main campus, so I went from a campus of 55,000 students to one building. We were from all over the world, which made it really, really fun. I had friends from France, Australia, China and Germany. My best friend was from Singapore. Everybody was just as lost and overwhelmed and just as excited.
Everybody rode the trains. You hear about the Japanese trains running on time, down to the nanosecond, and that's absolutely true. You also learn that during rush hour they have pushers to push you on. You cannot breathe. I had one friend who fainted. Just riding your bike to the subway station was interesting. Thousands of bikes looked exactly the same and nobody locked them, which to an American was really confusing.
Everything I did was a learning experience. I had a modeling job; Americans at the time were viewed as glamorous. I had two different teaching jobs. This was the height of the boom, so I taught English to Japanese businessmen for $100 an hour. I also taught kindergarten in a part of Tokyo that I had never explored before. I had them draw pictures of the different body parts, so they drew monsters — with five legs, or three eyes, or six ears — and labeled them in English. I still have those. They are the cutest things.
Of course, I was also taking great classes and had phenomenal professors. One of my professors, an Italian banker, became a mentor, and we were in contact for many years.
I originally thought I would go into political science, and he set me on the course toward business, so it really changed my life.
The other thing was, I got to know my family. There was this whole side of my family from my mother's side that I had never met. My grandmother died while I was there, and at the funeral I met everybody. I really had the best of both worlds, life as a gaijin, or foreigner, but also, I could get deep into Japanese culture because of the window that my own family provided me.
I went to stay with an uncle, who had children about the same age as me, so I got to experience family life, and what holidays are like in Japan. They lived in a resort town called Atami, which is not far from Yokohama. It was the town where my mother grew up, so my uncle would tell me, "This is where your mom and I would do this or do that." One morning there was an octopus
in the sink, and he was like, "Oh, your mother and I used to go diving for these all the time."
I just learned so much about my mother. It absolutely changed our relationship. So much of who she is is culturally laden with Japanese values that I did not understand before I went. What's funny, though, is we never really speak to each other in Japanese, just a few phrases sometimes. Because I grew up only speaking English, our relationship is based on English. Still, once in a while, she'll say something that only a Japanese word or phrase can capture, and I understand exactly what she means.
---
David Simmons, associate professor, anthropology
Thousands of termites rise and fall, hitting my neck and face, crawling under my shirt, falling in my beer. I'm sitting in the front parlor of a friend's house, and I'm struck that no one else seems to think this is a big deal.
This was 1993, during my first experience with research abroad. I was doing fieldwork in Ara, Osun State, Nigeria, for my masters thesis at Iowa State University, working through an affiliation with the University of Ibadan. While I'd traveled to Europe before, West Africa was a radically different experience. Nothing in Iowa could have prepared me for it.
The rainy season in Nigeria is the time when termites migrate, filling the skies in great clouds. In smaller cities and towns, people stand beneath streetlights at night with buckets as termites plummet to the pavement. The insects are a great source of protein. As utterly different as this seemed to me, my experience with bugs was only one of many that challenged my deeply ingrained cultural assumptions about the way the world works.
Take male friendship. If you visit a disco in Nigeria, it's common to see men dancing with men. Best male friends will typically walk down the street holding hands — with their girlfriends or wives walking behind them. In the United States, we would find such behavior highly questionable. Most American men would jump out of their skins if another man tried to hold their hands or asked them to dance. But in Nigeria, touch and physical proximity are normal functions of male friendship. It's what real men do. And it revealed to me that there are other models of masculinity, of friendship, that challenge and expand the accepted models that I grew up with in the United States.
Ideas about illness and misfortune require close attention there, too. My host father, who was also a barber, cut my hair every couple of weeks. One time, I followed him to the back of the family compound after he'd swept up my cut hair. There, he put it in a neat pile and proceeded to burn it. Unsure of why he'd set fire to my cut hair, I asked him about it. He said it was his way of protecting me. "From what?" I asked, incredulous. "From bewitchment," he responded matter-of-factly. His concern was real. Anyone who was jealous or envious of me, he explained, could use my hair to cast a spell on me. My initial concern over him burning my hair melted away, but it was replaced by a new one: did I need to worry about bewitchment?
By the end of my abroad experience, a few months later, I had more questions than answers. How could I and my fellow human beings have such drastically different worldviews and ways of interpreting reality? What accounted for these differences? Fortunately for me, I belong to a discipline, anthropology, that devotes itself to answering these big questions. And little did I know that this initial experience in Nigeria would lead to a lifetime in study abroad.
Now, as a professor in USC's Global Health in Costa Rica program, and as faculty principal for the Galen Health Fellows Living/Learning Community, I have the unique opportunity to share my love of studying and living abroad, and my love of health sciences, directly with my students.
---
Share this Story! Let friends in your social network know what you are reading about
---