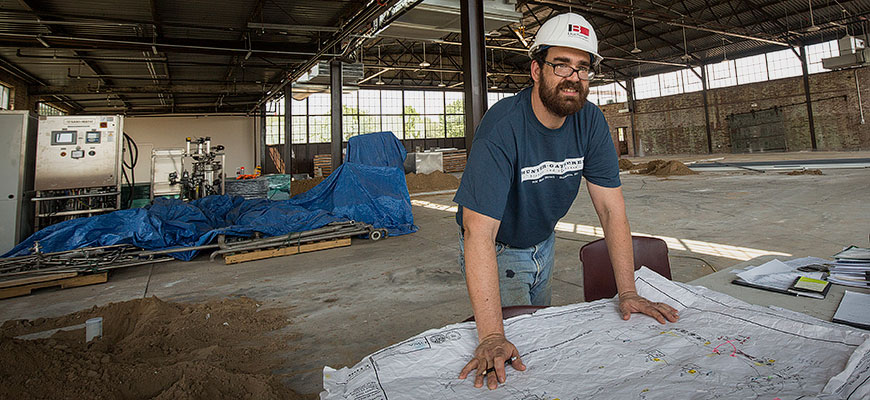 Brew it yourself
Kevin Varner opened one of S.C.'s first brewpubs 25 years ago; round 2 is now on tap.
---
By Craig Brandhorst,
craigb1@mailbox.sc.edu
, 803-777-3681
---
Before he finished college, Kevin Varner, '93, was working in a brewery. By his mid-20s, he had started one himself. Now, a quarter century later, the founder of Columbia's Hunter-Gatherer Brewery and Ale House is back at it, opening a second brewery, this one so big you could fly a plane through the front door — or at least taxi in.
The new Hunter-Gatherer at the Curtiss-Wright Hangar sits on a two-acre property adjacent Columbia's Jim Hamilton-L.B. Owens Airport. It's the culmination of several years' work and a lifetime of experience. When it opens this fall, though, Varner wants visitors to feel it's even older.
"A few years ago, I was trying to decide what I wanted to do next, so I went back to England and visited the oldest breweries I could find, powered by water, powered by steam engines," says the former history major, who started homebrewing in the late '80s after a study abroad trip to Scotland. "Ideally, I would open 
a 500-year-old brewery, but obviously you can't do that."
So Varner did the next best thing. He bought a stylish German brewing system from a defunct Japanese brewery and started hunting for a home. After a couple of sites fell through, he heard about an abandoned 13,000-square-foot airplane hangar on the National Register of Historic Places — and an old USC classmate determined to fix it up.
Developer, pilot and former Five Points bar owner Scott Linaberry had been trying to redevelop the hangar for years when a tax credit attorney with his company, Hangar Preservation Development, mentioned Varner. "I've known Kevin since my freshman year," says Linaberry, '95. "It just turned out we were looking for a tenant, and he was looking for space."
But not just any space — a space both functional and timeless. "I want it to feel like everything has just always been there, that it's supposed to be there," says Varner. "To me, the aesthetics of the brewery, the tap room, the feeling you get when you walk into a place — that stuff is as important as the beer."
Beer school
Make no mistake, the beer matters and has since Varner brewed his first batch using a small homebrewing kit picked up on a study abroad semester in Edinburgh. "You could buy these things at the Scottish equivalent of Target," he says. "It wasn't a fad or anything, no one really talked about it back then, but I thought 
it was cool, so I bought one and started the week I got home."
He read up on the subject and before long had a 20-gallon system in his Gibbes Court apartment. He also started corresponding with brewers, including a brewpub operator in Yakima, Wash., who Varner swears offered him a summer job. "The guy was very casual about it," he says with a shrug, "but I really thought I had one."
Ideally, I would open 
a 500-year-old brewery, but obviously you can't do that.

Kevin Varner
The fact that he didn't was hardly a deterrent. Varner hit the pavement, first in Portland, then in Seattle. He tried Widmer, Rogue and Red Hook. He tried other small breweries that have long since vanished. "At that point, I absolutely knew that I wanted to open a brewery," he explains. "I knocked on pretty much every door of every brewery in Oregon and Washington. Now these people are rock stars, people like John Maier at Rogue, but back then, that was probably his first day at work, too!"
Eventually, Varner had his own first day — at a failing brewpub in a downtown Seattle mall where the owner hired 
him for a pittance. "I basically got a cappuccino in the morning, lunch, and I could stay at his house," he says.
Then he met Mike Hale, owner of Hale's Ales, one of craft brewing's pioneers. At the time, Hale operated two locations, one in Seattle, another in Colville, Wash., but he was opening a third brewery in an old school house in Spokane. He offered Varner a job, not just brewing beer but helping build the new place.
"That's the kind of thing I'm interested in, this hands-on approach," says Varner. "Half the time I was in Spokane, tearing out this old school house, half the time I was going to Colville, an hour away, to work in the brewery. He let me stay in this little apartment in Colville. In Spokane, I just slept in the school."
Raising the bar
Varner worked at Hale's another three years (and finished his senior thesis on the fly), but he kept an eye on the legislature back home, which was debating a bill to legalize brewpubs in the Palmetto State. "Columbia had always been my intention," says the Greenville native. "I'd gone to school here, I'm from South Carolina —and really, a university town would be the logical 
first place to build a brewpub."
He purchased a secondhand system before the bill's fate was certain — "I kind of jumped the gun," he admits — but when it finally did pass, in the summer of 1994, he was poised to open one of the first breweries in South Carolina. Backed by a $100,000 loan from the Small Business Administration, he looked at sites in Columbia's emerging Vista district and in Five Points before finding a modest space at the corner of College and Main, across from USC's College of Education.
That was February 1995. He poured his first pint that October. A quarter century later, the Hunter-Gatherer has become a sort of unofficial campus watering hole for USC faculty, staff and graduate students, and destination dining for folks wanting more than standard bar fare. But the now-familiar Hunter-Gatherer vibe didn't come with the lease.
Formerly home to dive bars, restaurants, even a fire station, the brick building at 900 Main had taken a beating. It was also on the small side of what Varner envisioned. "It really was just big enough, and it was a wreck," he says. "There were 2x4 floors upstairs that bounced like crazy, there was Astroturf carpet, there was brown popcorn on the ceiling, the outside was painted this awful lime green. We pressure washed for weeks."
By "we" Varner means his older brother, Dean, and a few friends — "No general contractor, no architect, no plans," he says. "We eventually got an electrician and a plumber, but we 
did 99 percent of the rest ourselves." The materials, meanwhile, came from all over.
"We'd salvage wood out of a house in North Carolina or a house in Florence," says Varner. "The bar was in a mobile home in Travelers Rest — it had been a counter from a general store, but it wasn't tall enough so we made it taller, and the top was rotted off so we replaced it. I was way into that kind of thing."
Looking up
At first blush, the Curtiss-Wright Hangar looked even rougher than 900 Main did in 1995, but apart from a collapsing roof and some busted windows, things weren't quite as bad as they appeared. A structural analysis by Chao and Associates, a Columbia-based engineering firm, determined that the trusses, foundation and iconic sliding doors were all in good shape.
"The building is solid as can be," says Linaberry. "The concrete was unbelievable. After 80-something years, there was not one crack that wasn't supposed to be there." The challenge was to update the structure without destroying its historic appeal — starting with that precarious barrel-vaulted roof. "If you're in the hangar looking up, it looks like a one-layer roof, but that's actually the decking layer, then there's another four-inch piece of insulation, then the roof. That was a bit of a trick."
The same attention to detail went into the windows, all 1,644 of which were replaced with double-paned, argon-filled, low-e glass. Designed to meet preservation guidelines as well as modern efficiency standards, the windows also allow light to pour onto the hangar's centerpiece, a 527-gallon capacity brewhouse situated in the middle of the room.
"At a production brewery, I think you should see the brewery," says Varner. "Right now, I don't know that everyone takes advantage of what they have. They put in all this cool equipment, and they hide it away somewhere. You want people to know, 'We're making this right here.'"
Now serving flights
The new Hunter-Gatherer is a descendent of Varner's original brewpub, but adding a bottling line and ramping up production requires a new mindset. Whereas brewpub beer is expected to vary, bottled beer should taste the same every time.
"At the existing Hunter-Gatherer, the beer is always cold, it's never packaged, it's tasted every day," Varner explains. "When we put it on tap it tastes one way, and by the end of that cycle it tastes different, and that's fine. It's handmade. If you're packaging beer, it needs to be consistent."
For now, Varner will turn out the same classic British pale ales, porters and ESB he has brewed since day one. Eventually, though, he might add a few German or even Belgian styles.
"I never thought I'd say that. I always thought I'd stick to the British Isles," he says. "My idea now is to stick with a sort of traditional European model but a little more continental. I don't have space to brew a lot of different styles in my existing space, but in this place, I could."
Varner also hopes to bring on another brewer. In fact, he recently returned from a trip to his old Pacific Northwest stomping grounds, only this time he was handing out business cards. "It's inevitable, I have to hire someone at some point," he says. "Ideally, I would find someone that is number three or four at a brewery that we've all heard of. I want someone that has more experience than I have."
---
Share this Story! Let friends in your social network know what you are reading about
---