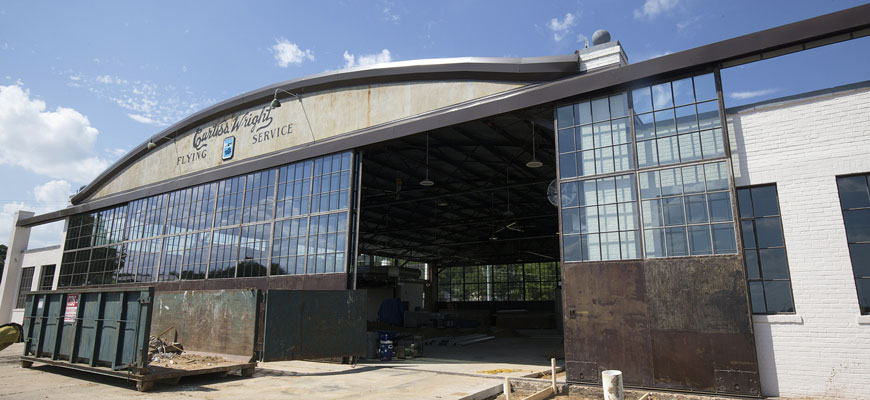 Rechristening an old friend
---
By Craig Brandhorst,
craigb1@mailbox.sc.edu
, 803-777-3681
---
When University of South Carolina alumnus Kevin Varner, '93, opens his new brewery in a restored airplane hangar outside Columbia's Jim Hamilton-L.B. Owens Airport this fall, the longtime owner of the Hunter-Gatherer Brewery and Ale House will be serving the same traditional British ales he's been brewing for a quarter century.
When the airfield opened in April 1930, however, the $50,000 hangar was christened with something a little less potent — a bottle of ginger ale wielded by the 6-year-old granddaughter of South Carolina Gov. John Richards.
That was the height of Prohibition, of course, but just the beginning of the hangar's rich history. Indeed, when a shard of glass from the aforementioned ginger ale bottle cut the little girl's hand, she was tended to by none other than baseball legend Ty Cobb, one of several prominent guests on hand for the festivities.
Later that same afternoon, 15,000-20,000 spectators turned out for the first day of a two-day airshow featuring nearly 150 aviators from around the country, among them WWI flying ace and South Carolina textile magnate Elliott White Springs. In the decade that followed, the hangar would also be visited by Amelia Earhart, Winston Churchill and Franklin Delano Roosevelt.
All of which is to say, the Curtiss-Wright hangar was a big deal.
"It's interesting to think about what it meant for Columbia at the time, for this company to come in and build a little airfield," says alumna Jennifer Betsworth, '11, who prepared a 98-page preservation plan for the hangar while pursuing her master's in public history.
Undertaken as part of an assistantship involving a USC's public history program, Owens Field and Historic Columbia, Betsworth's research project ultimately found its way into the hands of site developer and fellow Carolina alumnus Scott Linaberry, '95, who credits it with guiding the hangar's redevelopment.
"Jennifer's project was invaluable to us from day one," says Linaberry. "She documented everything from the history to the architecture to how the building was used through the years. We used her research when we worked with the South Carolina State Historic Preservation Office and the National Park Service."
Now a historic preservation specialist at the New York State Office of Parks, Recreation and Historic Preservation, Betsworth hasn't been able to check out the repurposed hanger in person, but she says she has followed the progress on Facebook.
"The hangar project was fascinating and a lot of fun," she says. "I spent a lot of time in front of the microfilm machine, which will make your eyes cross, but when you start digging up all these different details, and you spend some time just with the building, you begin to really understand its history. Now it's sort of an old friend."
---
Share this Story! Let friends in your social network know what you are reading about
---