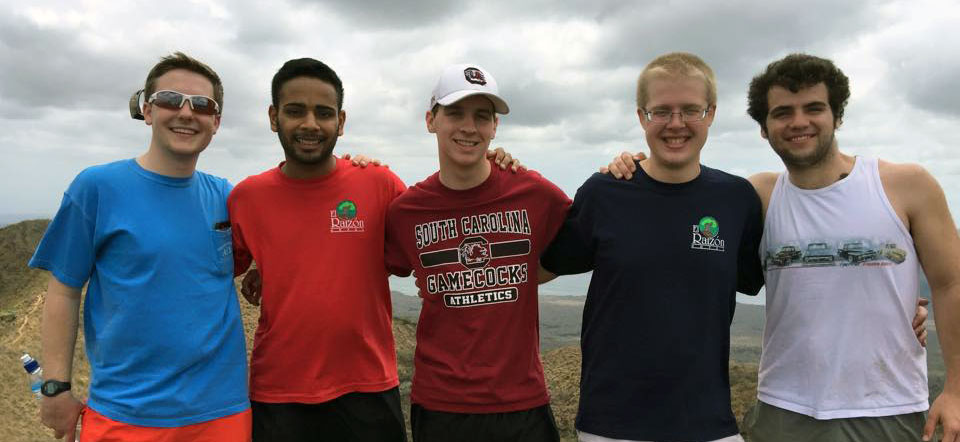 Gateway to adventure
---
By Jalesa Cooley,
stucomm@webmail.sc.edu
---
Whether heights, spiders or dark corners, we all have fears that need facing. Students in the Capstone Scholars program are encouraged to address their fears head-on and realize their potential through the Personal Challenge — a pillar of the Capstone experience that requires students to step out of their comfort zones and try something new. Challenges range from skydiving to participating in blood drives, but as interest in travel and adventure continues to grow amongst college students, many Capstone Scholars are choosing to participate in study abroad trips as a way to address their own challenges.
"Studying abroad was definitely a personal challenge for me," says junior Naimik Patel who went to Nicaragua during his freshman year. "I did not have any clinical experience going into this trip, and the idea of living in a foreign country that spoke a language I wasn't fluent in, with 45 strangers whom I didn't know a single thing about really put me outside of my comfort zone. Although, in retrospect, I think this was the best possible situation to put myself in."
To support students who choose to study abroad, the Capstone Scholars program offers competitive funding through Passport Travel Grants. These grants provide up to $2,000 and cover all tuition and fees associated with Maymester or summer study abroad trips. To date, the travel grant has allowed trips to a number of countries, including England, Scotland, China, Ecuador and Belize.
"The opportunity to engage students on study abroad trips for me has been life-changing," says Patrick Hickey, faculty principal for Capstone Scholars who has led trips to Ecuador, Belize and Nicaragua. "I have been blessed by having great students that were eager to learn, although a few challenges did exist."
A few of those challenges, like students' desires to be in constant connection with family and friends, can become problematic. While internet cafes, hotel computers and phones carried by trip leaders provide ample opportunities for students to stay connected, those who choose to bring their smartphones run the risk of theft or compromising the privacy of local facilities.
"Each and every issue has to be taken care of in a timely manner, while not affecting the flow of activities for the rest of the group," says Hickey. "Clear and concise communications between the faculty leader, trip assistant and in-country travel coordinators are crucial."
To prepare students for their trips many advisers will set up meetings to discuss packing lists and travel itineraries and to practice the language of the country they are visiting.
"All of the preparation helped us to be aware of what was going to happen when we got there, so I never felt nervous about anything," says sophomore Quinn Alsheimer who also went to Nicaragua. "Dr. Hickey was our faculty adviser, and he was a tremendous help. He really set an awesome example for us, and he was always outgoing, willing to try new things and eager to help others. Those were really the key things necessary for this trip."
Students traveling to new countries are often worried about fitting into a new culture and trying new or exotic foods. David DeWeil, associate principal in the Capstone Scholars Program who has led trips to Ecuador, Italy and Ireland, remembers how he stepped out of his comfort zone to address his own personal fears.
"I shared much of the same concern of my students due to my limited travel experience," says DeWeil. "The challenge for me personally was remaining flexible, open-minded and encouraging to others when we experience hardships as a whole group. During particular instances when things do not go as planned, the challenge to put yourself out there and lead can be difficult in such an unfamiliar place. However, all of these fears were quickly laid to rest upon arrival to our destination countries."
While satisfying the interest to travel to a new country is the first thought when students consider studying abroad, developing an awareness of the different languages, cultures and customs is an added incentive, as well as the opportunity to connect and engage on a personal level with faculty advisers.
"From the kindness of his heart, Dr. Hickey went above and beyond what anyone could have expected from him," says Patel. "He saw the potential all of us had and strived for each of us to reach bigger and better heights. He has created something that has intrinsic value, and he is fostering it one student at a time."
---
Share this Story! Let friends in your social network know what you are reading about
---