Managing memories
Working at Smithsonian a walk down memory lane for alum
---
By Megan Sexton,
msexton@mailbox.sc.edu
, 803-777-1421
---
There is no such thing as a typical day for Katharine Klein, museum specialist at the Smithsonian Institution's National Museum of American History.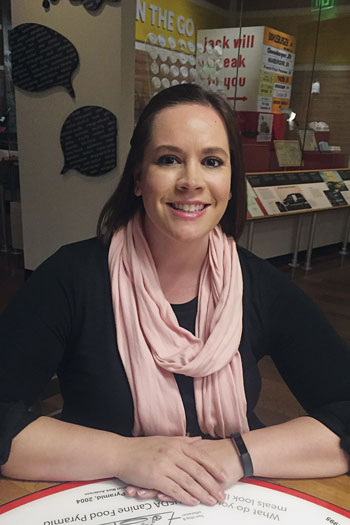 Some days she's in a hardhat and steel-toe boots, overseeing one of the construction areas of the Washington, D.C., museum. In the mornings, you can usually find Klein, who earned her M.A. in public history from Carolina in 2012, on the exhibiting floors at an installation, where she's handling objects such as a 692-pound bell cast by Paul Revere in 1802 or a 1948 Tucker automobile. Or maybe she's working in the staging spaces, looking to make collections more accessible. Or perhaps she's at her desk, researching topics for exhibitions, working on a book project or securing rights for the use of an image.
She says she's had the opportunity to work on some amazing installations at the American History museum, including "American Enterprise," "Religion in Early America," "Giving in America," "Inventive Minds and Places of Invention," "Advertising War," "FOOD: Transforming the American Table 1950–2000" and "Within These Walls."
"That being said, I think my favorite instal­lation was 'Inventing in America,' which opened in 2015 and included the actual workshop of Ralph Baer, known to many as 'the Father of Video Games,'" she says. "I had the privilege to work with Ralph Baer prior to his passing and corresponded with other instrumental inventors like Eric Fossum and Steve Wozniak.
"Every time I walk through the space, I remember, with a smile, my pitiful loss to Baer when we played ping-pong on his Brown Box replica game console at his home in New Hamp­shire. In all fairness, he did invent the game... "
She's now working on what she calls her favorite project thus far: "American Revolution: A World War," which opens this year.
"The exhibition will include a selection of paintings and artifacts that illustrate how the American Revolution was not a fight between Great Britain and its colonies, but a global conflict involving other nations," she says. "I absolutely love this period of American history, and I had the privilege to travel to Paris for research. Never in my wildest dreams did I think I would be researching in the collections of France's prominent museums for objects, meeting with distinguished scholars or visiting the home of the Comte de Rochambeau."
Klein says her position at the Smithsonian requires taking initiative and being willing to explore new ideas and techniques — something her time at USC taught her.
"Carolina provided connections, taught me practical skills and gave me the confidence to establish and lead collaborative teams and to form relationships with multiple stakeholders on high-visibility exhibitions," she says. "I am also in this position due to my unique assistantship at the South Carolina Political Collections, where I practiced valuable skills in developing, organizing, maintaining and exhibiting multiple collections on a daily basis."
---
Share this Story! Let friends in your social network know what you are reading about
---