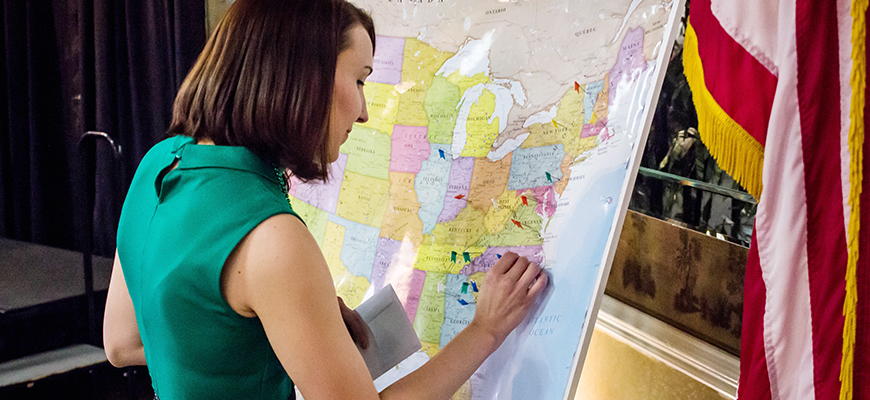 Futures revealed
Medical students learn on Match Day where they will train for the next 3-7 years
---
By Alyssa Yancey,
alyssa.yancey@uscmed.sc.edu
, 803-216-3302
---
On a cold and icy day this past January, fourth-year medical student Nora Demchur found herself in a scene you would expect to see on the big screen.
"I was on my way to Delaware for an interview. My first flight was late, but the gate attendant told me I had plenty of time," says Demchur. "They put me on a bus to take me to the plane, but when we got there the plane was backing out. The ground crew worker jumped off the bus and ran after the plane. It didn't stop."
Through some creative thinking and perseverance, Demchur made it to her interview on time.
"I was in New York City, so the airline gave me a taxi voucher to Penn Station. I got on a train from Manhattan, but the drawbridge was stuck open because of ice, so all the trains were delayed. My mom lives in Philadelphia, so she was able to pick me up, and then we drove to Delaware. It was literally, planes, trains and automobiles," says Demchur.
Demchur's adventure was the culmination of six weeks of high-stakes interviews for residency programs. Between Thanksgiving and Jan. 12, Demchur visited 12 states and interviewed with 16 programs. At one point she was on the road for 13 days straight.
More than 43,000 medical students across the country will learn the results of their residency interviews next week during Match Week. The match results will determine where students will spend the next three to seven years of their lives training in their chosen specialties.
Match Day
Demchur and 82 of her classmates at the UofSC School of Medicine will learn their fates during an event at The Zone on March 16. In the past, students would open their envelopes one-by-one on stage. This year, the Class of 2018 decided to change things up. Each student will have a balloon with an envelope attached. After retrieving their balloons, the students will have the option to open their envelope on stage or to open them with family and friends, and then decide if they'd like to announce their match on stage.
"I'm glad everyone wanted to do it different this year. We are all going to get together with our family and friends, the core group that has supported us through medical school. I'm glad I get to open my envelope with them," Demchur says. "The energy in the room is going to be a lot of fun."
The process of matching with a residency program starts during the fourth year of medical school. Many students participate in away clinical rotations in the early fall. These monthlong practicums serve as an extended tryout. All of the students hoping to match also participate in interviews at their preferred programs across the country.
For the first time in a lot of our lives a decision is out of our hands. So for better or worse, it is what it is. I like to look at it as it's up to fate. Wherever I end up is where I'm supposed to be.

Nora Demchur, fourth-year medical student
Students go to about a dozen interviews between October and January of their fourth year. In February, students submit a ranked list of their preferred programs to the National Resident Matching Program. The programs also rank each of the students who interview. Next week, students find out where they will land.
High stakes
The stakes can be particularly high for students with families who may need to be uprooted. Carla Foulks has a 9-year-old and an infant at home. She says she is eager to find out where her family will end up.
"I think my husband is more anxious than I am," Foulks says. "I'm at peace now, wherever I end up, I'll be happy at the end of the day. We just want a place where our children will have good schools. We're all ready to find out."
Kate Peralta also is anxious to learn where she matched. She is currently in a long-distance marriage with her husband, Nestor.
"My husband and I met during graduate school at Winthrop University. He recently accepted a job in Charleston," Peralta says. "Right now, we only see each other on the weekends, so we are anxiously waiting to see where I end up."
Peralta says the interview process was daunting, but she felt like she was well prepared.
"The department of pediatrics had a meeting with all of us who were interested in matching in pediatrics. Dr. (Caughman) Taylor and the residency coordinator gave us a lot of guidance which really helped alleviate some of the anxiety going into interview season."
All of the students seem to agree that the next step in their careers is now up to fate.
"For the first time in a lot of our lives a decision is out of our hands. So for better or worse, it is what it is," Demchur says. "I like to look at it as it's up to fate. Wherever I end up is where I'm supposed to be."
---
Share this Story! Let friends in your social network know what you are reading about
---