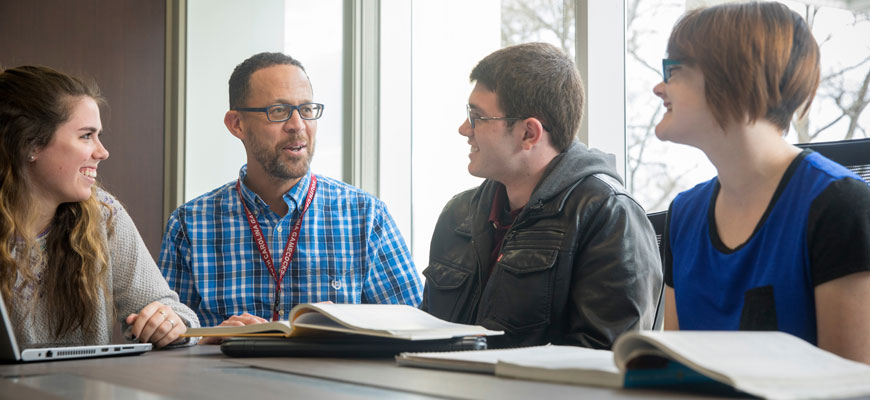 Galen Fellows
A healthy approach to a living and learning community
---
By Megan Sexton,
msexton@mailbox.sc.edu
, 803-777-1421
---
Cady Thomas was intrigued when she heard about the University of South Carolina's new Galen Health Fellows program while she was weighing her college options. The Virginia Beach resident knew she was heading for a career in medicine, perhaps as a pediatrician or pediatric oncologist, and liked the idea of living and taking classes with other freshmen with similar interests.
"I said, 'This is interesting ­— a community of other people all living together who are interested in the health care field, helping others and making the world a better place,' " says Thomas, now a Carolina freshman majoring in biology. "My roommate is a nursing major who also is interested in pediatrics. That was cool for me; we had a shared passion already."
That's exactly how University of South Carolina leaders envisioned the Galen Health Fellows Living and Learning Community, a home for first-year students with dreams of careers in the health sciences. The first class of 455 Galen fellows arrived on campus in August, moving into Patterson residence hall, taking chemistry, biology and other classes together and tapping into the university's extensive offerings in the health sciences.
Named for the ancient Greek physician and philosopher, the Galen community is designed to add to students' experiences outside of the classroom — everything from organized study groups to guest speakers talking about health careers to advice on undergraduate research and volunteer opportunities. Galen is the brainchild of Provost Joan Gabel, who recognized the importance of packaging the university's strength in the allied health sciences in a way undergraduate students could access. More than 14,000 students are enrolled in Carolina's 100-plus health science degree programs.
David Simmons is the faculty principal, charged with being the steward of that out-of-classroom time, bringing in experts, mentoring, targeting international and service learning, answering questions, creating a safety net, being an ally. Cassandra Pope serves as the assistant principal.
"In the Galen living-learning community we encourage students to think holistically about health; to think about health not only in terms of medical and biological approaches, but also to think about health through the prism of culture, social relations, economics, history and policy," Simmons says. "All of these things are related."
Simmons, an associate professor in anthropology and public health, believes that type of thinking is necessary to face today's complex health challenges. He was drawn to the job as faculty principal because it brought together many of his areas of interest and experience. He joined the university's faculty in 2005, after completing a three-year post-doctoral fellowship at Harvard Medical School. His research in medical anthropology and public health focuses on southern and West Africa, the Dominican Republic and the American South, and he directs an eight-week summer program on community health in the Dominican Republic to introduce students to public health challenges in underdeveloped communities.
As faculty principal at Galen, he sets up programming that offers an overview of the professional development to give students a strategic advantage as they move through college and into the workforce or professional and graduate schools. He developed a Galen Health Fellows syllabus, which outlines five key areas and includes a list of nonrequired reading for each of those. "It's not required because it's not a class, but it's a guiding document for students. It's our vision for the community and it really serves as a way for students to conceptualize the program and our expectations."
In the Galen living-learning community we encourage students to think holistically about health, to think about health not only in terms of medical and biological approaches, but also to think about health through the prism of culture, social relations, economics, history and policy. All of these things are related.

David Simmons, faculty principal of the Galen Health Fellows Living-Learning Community
Here is how Simmons explains Galen's five focus areas:
Cultural competency. "We want students to be culturally competent as health care providers and as good citizens; to understand and acknowledge the United States and the world around us is becoming more diverse and more interconnected in ways that demand health care providers be cognizant and knowledgeable about other cultures."
Interdisciplinary learning. Galen students will be exposed to looking at health issues from multiple perspectives. For example, discussing a topic such as the Zika virus would include looking at the science along with historical and public policy perspectives.
Communication. This focus area encompasses research, gathering information and communicating information to different audiences. "It's important for students to learn how to communicate findings to lay audiences. The ability to translate ideas from one context to another, avoiding jargon, that's an important skill to have."
Service. Getting involved in community service and being engaged in a community helps create and build empathy in students. "It's important to get out and interact with people who are different than you, especially those in underserved and under-resourced communities. As a faculty member, in the communities where I work in the Dominican Republic and southern Africa, I'm constantly made aware of my own privilege. As someone who was lucky enough to be born in the United States, lucky enough to get a good education, lucky enough to get a tenure-track position and be tenured. I'm aware of that privilege. Not working in those types of settings, you could take that for granted. Part of creating good citizens is getting students out to those communities where they are going to be able to reflect critically on themselves and their own privilege, which I think is so important."
Leadership. As Simmons read through the applications for Galen, he saw many students are "interested in going out and changing the world, which I was, too, at that age. It can be overwhelming when you think about what it takes to change the world. So, you need to divide that change into smaller units so it's more manageable." He said connecting Galen students with health-related student groups on campus that are doing work in underserved communities develops their leadership skills.
One of those students who jumped right into leadership and service roles is Collin Cheatle, a Galen Health Fellow from Charleston. Cheatle, who is majoring in biology and minoring in chemistry and Spanish, is the secretary for the Amigos del Buen Samaritano, a student organization that coordinates volunteers at the West Columbia location of the Good Samaritan Clinic. He volunteers at the free medical clinic, where he says he has a chance to work with patients and practice his Spanish language skills. He hopes to be a primary care doctor and would like to work in a developing country.
Jack Patterson of Anderson, South Carolina, says he was drawn to the Galen program because he wanted to live with peers with similar goals and ambitions. He hopes to become a general practitioner and work with Doctors Without Borders. The activities hosted by Galen have helped him think about undergraduate research, which he hopes to start next year.
"I wanted to live with people with the same goals and ambitions. With Galen, I've been able to meet people and connect with people who have the same interests in the health care field," he says. "The activities they've hosted have helped me with research proposals."
And Gabi Fedel of Atlanta, who also wants to pursue a career in medicine, says being a Galen Fellow has given her a sense of community in her early days at Carolina.
"Most of my friends on my hall are pre-med or science majors, so we're taking all the same biology and chemistry. It was nice in the first semester that we could all study together in the study rooms on the end of the hall," Fedel says. "On the first day of classes, there were people on my hall in there. It made the whole transition from high school to college easier."
Who is Galen?
Galen was the Greek father of medicine — a physician and surgeon during the reign of the Roman Empire. He also was a philosopher, classically and holistically trained, well-read, with a curious mind. His theories and writings influenced the development of a variety of scientific disciplines, including anatomy, physiology, pathology, pharmacology and neurology.
What's your major?
Percentage of Galen Fellows who say they intend to major in
Nursing, 25 percent
Biological sciences, 24 percent
Exercise science, 12 percent
Pharmacy, 7 percent
Public health, 5 percent
By the numbers
1,000-plus: Applicants to become Galen Fellows in 2017
455: Number of students in the first class of Galen Fellows
70: Percentage of Galen Fellows who are women
1: Faculty principal, David Simmons, an associate professor of anthropology and public health
---
Share this Story! Let friends in your social network know what you are reading about
---