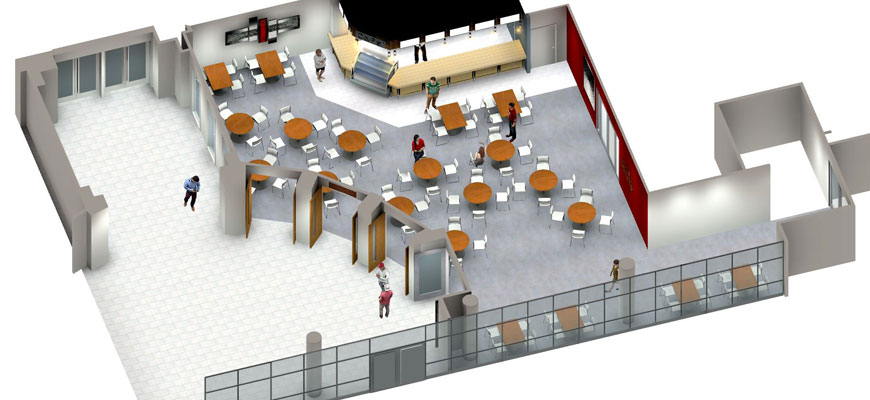 Mayo on that Slide Rule?
New café with engineering, computing-themed sandwiches planned for Swearingen Engineering Center
---
By Chris Horn,
chorn@mailbox.sc.edu
, 803-777-3687
---
This coming fall, a new café opens on campus with a menu that includes the following sandwiches: the Slide Rule, the Fortran, the B There or T Square and the Force Ten. Not hard to guess which college will be its home.
"This has sort of been the forgotten end of campus but not anymore," says Hossein Haj-Hariri, dean of the College of Engineering and Computing. "We have more than 3,200 undergraduates and about 600 graduate students, not to mention faculty and staff, and we've needed our own place."
The new and as-yet unnamed café, to be built through the university's food service contract with Aramark, will help create a sense of community at Swearingen Engineering Center, says Helen Zeigler, associate vice president for business affairs at the university. "We tried a food cart there selling pre-made sandwiches and that didn't work," she says. "A food truck parked outside Swearingen has done better, but the café will represent a real place for the engineering and computing community."
The café will be built in the space now occupied by the college's first-floor reading room, located just off the main entrance foyer. In addition to the aforementioned sandwiches, it will serve a variety of made-to-order sandwiches and salads, two rotating soups and an "engineer your own" approach to ordering. The breakfast menu will include wraps, croissants, bagels, grits, oatmeal, parfaits and cut fruit.
"It will be nice to have a place in the building where we can run into each other and have spontaneous conversations over a cup of coffee or a sandwich," Haj-Hariri says. "That's what spurs creativity and networking."
---
Share this Story! Let friends in your social network know what you are reading about
---