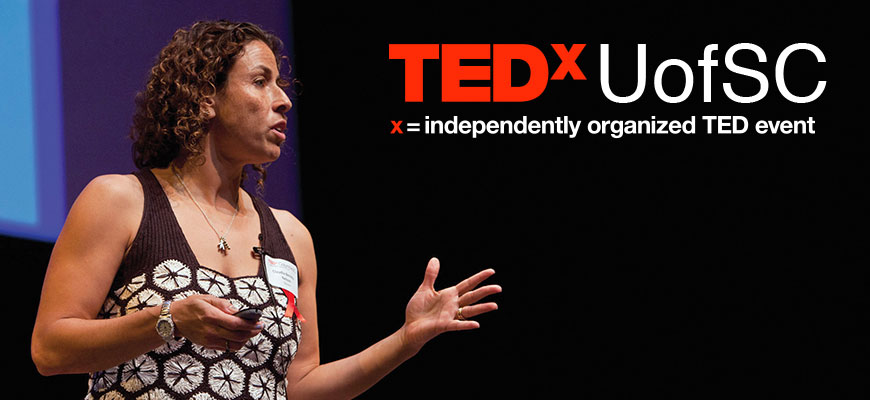 Talking TEDx
UofSC to host its first TEDx event; faculty discuss what it's like to be a speaker
---
By Megan Sexton,
msexton@mailbox.sc.edu
, 803-777-1421
---
Talk to some people who have given TEDx talks in the past and their advice sounds strikingly similar: Don't underestimate it. Focus your ideas. Be imaginative. Delivery matters. Practice, practice, practice.
It doesn't matter whether the talk is about climate change or letting go of anger — the short speeches described as "ideas worth spreading" can be daunting, liberating, humbling and invigorating.
Or, as history professor Bobby Donaldson says: "It's one of the most challenging things I've done."
Donaldson, who frequently speaks to groups about South Carolina's civil rights history, says his task was to boil down everything he knew about that topic to less than 20 minutes and pitch it to an audience that wasn't intimately familiar with the subject. And his words, the final TEDx Columbia presentation on Martin Luther King Day 2015, needed to be both informative and inspiring.
"I was more mindful about how I said things and what I said. I spent a lot of time thinking about how to frame details that would normally take an hour to go through. And I went through a lot of practice," he says. "It was one of the most exhilarating public programs I've experienced."
Donaldson and other university professors who participated in Columbia's previous TEDx talks say the rehearsals and critiques by TEDx coaches helped them focus their ideas and their delivery.
One of those professors was Ed Madden, poet, English professor and director of USC's Women's and Gender Studies Program. He used his 2014 TEDx talk to share his story about going home to Arkansas to care for his dying father — and staying with his family, from whom he was estranged.
"When I met with the committee, they liked the story I had to tell, but they really pushed me to think what was the idea I had to share," Madden says. "There's a difference between a story you want to tell and having an idea worth sharing. That's the focus of TED — to have an idea worth sharing. Part of my thinking was I wanted to tell the story well and honor the integrity of the story, but I had to figure out what was the idea. That was the hardest part of it."
Madden talked about having to let go of his anger before he could help his father, but his main point was about learning how to lift someone — literally and metaphorically. He pantomimed picking up his father and putting him in a wheelchair, and so pushed his TEDx talk into something more theatrical.
To prepare, he wrote a script.
"Some people don't. I did," he explains. "I'm a writer, and I wanted the words to be right. So I treated it as a script. I practiced and practiced and practiced. And I thought carefully about the images that go with it.
"I had people afterward telling me how moved they were. A lot of people have had, if not that experience, alienation from a family member. The two big experiences (in the talk) are alienation from family members and terminal illness. Most of us have had a variant of that."
There's a difference between a story you want to tell and having an idea worth sharing. That's the focus of TED — to have an idea worth sharing.

Ed Madden
Elise Partin is an instructor in the Arnold School of Public Health and the South Carolina Honors College, but it was her role as mayor of Cayce that informed her 2015 TEDx talk. She used her 8 minutes to discuss how everyone should consider running for public office — yes, everyone. It's something she believes would improve the health of the country.
"It's funny, I gave this talk before the 2016 election, which was a turning point for more people being engaged with elected office," she says. "I still think it is a big idea worth talking about. Not everybody has gotten there yet, but the numbers of people who are running that have never run before is staggering."
Partin, too, learned the importance of preparation for TED talk, going so far as to practice on stage in a local high school.
"There's a high expectation about what TED means. You're bringing your 'A' game," she says. "You have something important — whether it is research, or a new way of approaching a problem or whatever it might be — you have something critical to share. This isn't just everybody who gets to do this. To be picked to be part of that stage was pretty profound. Being in a room full of people who want to open their minds is palpable."
The topic of her TEDx talk has morphed into a political science class in the Honors College to help students understand what it's like to campaign and serve in public office.
Marine science professor Claudia Benitez-Nelson talked about climate change at the 2013 TEDx Columbia, a time when she says many people weren't interested in hearing about it.
"It's so depressing. Everything you talk about with climate is so depressing. I get it," Benitez-Nelson says. "So I wanted to think about some ways to get people to think about it in not such a terrifying way. What did I really want to say in a short amount of time and how could I say it in a way that might be more engaging and accessible to people who weren't sitting in my introduction to marine science class?"
The TEDx talk was Benitez-Nelson's first large talk outside a classroom, and she was pleasantly surprised and relieved it turned out well — and that it spurred thoughtful questions. She also credits the experience with opening the door to give other talks and presentations around the world.
"TEDx talks are fun, they are so much fun," she says. "Yes, they're a little nerve wracking and it's a little tense, but it's an opportunity to perhaps reach audiences that, for me, I never interact with. I talk with students and colleagues and my friends, but this is an opportunity to talk to a broad and diverse audience about the work that I do or things I think are important in a way that is completely open. That's liberating and exciting and terrifying at the same time."
What advice does she have for other faculty or staff members nominated to be TEDx speakers?
"Say yes. I could understand how you might want to say no. But say yes. And remember this is fun. Then think really hard about the one thing you want people to take away. Because of the shortness, it has to be one thing. Then pound that one thing." 
---
Share this Story! Let friends in your social network know what you are reading about
---