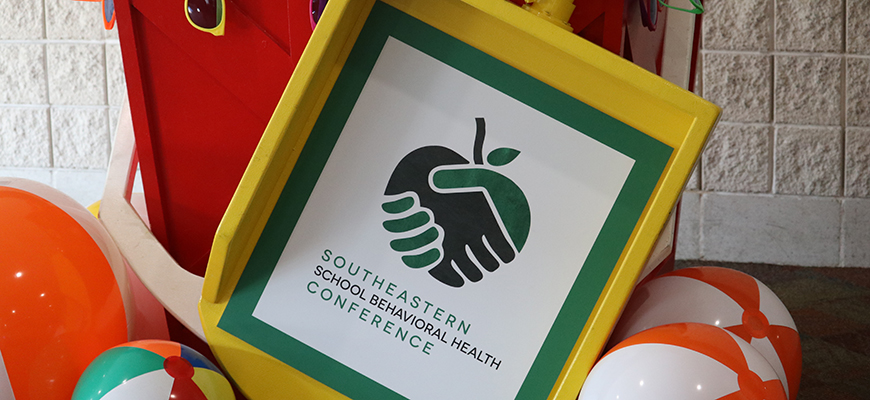 Alliance for change
New school behavioral health initiative aims to boost learning, solve mental health challenges
---
By Mary-Kathryn Craft,
craftm@mailbox.sc.edu
, 803-576-6195
---
From safety to teacher retention, some of the toughest challenges facing our schools today are tied to one commonality — school behavioral health.
University of South Carolina psychology professor Mark Weist uses the phrase school behavioral health on purpose to emphasize the importance of collaboration among clinicians, educators and entire communities when it comes to improving and addressing overall mental health issues in schools.
"The collective intellect is smarter than the intellect of any single person or discipline," Weist says. "The more we realize we are in this together and collaborate to build capacity, to strengthen our work within a multi-tiered system of support, we will help the work to be more efficient, effective and, hopefully, impactful on those important academic and health outcomes."
Weist and his team in the College of Arts and Sciences' psychology department recently received a $2 million grant from the South Carolina Department of Education to prevent and treat emotional and behavioral health issues in the state's public schools. They will do this through the newly launched interdisciplinary S.C. School Behavioral Health Alliance.
"At a recent summit, Gov. Henry McMaster and I committed to work together to increase the presence of school behavioral health and school resource officers to support our students, teachers and families," wrote State Superintendent of Education Molly Spearman in a letter announcing the alliance. "Critical to our progress is working together across professional disciplines and systems, moving toward a shared agenda that builds effective programs and services in our schools to support the wellness and academic achievement of our students."
As a clinical psychologist, Weist has dedicated 27 years to advancing school behavioral health policies and programs nationwide. Before joining the Carolina faculty in 2010, he helped found the Center for School Mental Health at the University of Maryland School of Medicine and the School Mental Health International Leadership Exchange. The statewide alliance will tap into those resources when working with seven South Carolina school districts during the initiative's first year.
Participating districts will be recruited by the South Carolina Department of Education's Office of Special Education Services and receive intensive training tailored to the individual needs of their schools for one year, with new districts participating each year of the five-year program. S.C. Department of Education Deputy Superintendent John Payne, who has long championed partnerships with mental health, will lead the initiative from the public schools' side.
"A lot of the challenges teachers face are behavioral, and we are looking at improving behavioral health as a way to retain good teachers," says Sonya Gayles, behavioral associate in the Office of Special Education Services. "We are having to look at different approaches in how to support teachers and how to support students. The timing with this project is perfect as Dr. Weist is working with both students and teachers."
When Weist moved to South Carolina, he reached out to educators and psychologists in all 46 counties with the idea of streamlining school behavioral health policy and programs. A series of small meetings led to a statewide conference in 2014. That event sparked a regional coalition called the Southeastern School Behavioral Health Community, which now sponsors an annual conference drawing educators, practitioners and advocates from 18 states.
Critical to our progress is working together across professional disciplines and systems, moving toward a shared agenda that builds effective programs and services in our schools to support the wellness and academic achievement of our students.

Molly Spearman, S.C. Superintendent of Education
This network will also inform and assist the new South Carolina alliance, and the annual conference is a key element. The 2018 conference attracted more than 500 attendees including educators, school psychologists, counselors, nurses, social workers and youth and adolescent advocates.
"Our work is South Carolina-centric in that this conference is always going to be in South Carolina, and there's a strong South Carolina emphasis, but we're drawing from this whole region with the notion of bringing in the best practices, taking each other's ideas and supporting one another to try to escalate positive change," Weist says.
Partners on the alliance's leadership team include the South Carolina Departments of Mental Health, Social Services, Juvenile Justice and Vocational Rehabilitation as well as the University of South Carolina College of Education's special education department.
In addition to guiding school behavioral health programs throughout the next five years, the leadership team aims to champion policy change including expanding the state-based mental health program so every public school has dedicated mental health clinician.
The alliance will offer free resources on its website and host webinars for school teams on topics like classroom management for teachers, trauma and adverse childhood experiences for school resource officers, and problem-solving skills for students.
"If we can directly train teachers in mental health and also improve school environments — that's a strategy that will help with teacher retention, which is a big policy issue as well," Weist says.
---
Share this Story! Let friends in your social network know what you are reading about
---