Flying Higher
McNAIR Center adds new labs and research interests
In just one year the university's McNAIR Center for Aerospace Innovation and Research has nearly doubled in size, taking under its wing new laboratories for drone design, combustion research and a data analytics program focused on Army helicopter maintenance.
The center's 3D printing laboratory has added metal alloys to its fabricating capabilities, and a virtual design space will soon showcase McNAIR's capabilities in digital twin design and virtual and augmented reality environments. The center now occupies about 35,000 square feet of laboratory and administrative space near the College of Engineering and Computing. On Sept. 26, the center will host a one-day showcase of its research activities in composites, digital transformation, predictive analytics, 3D printing, combustion and unmanned vehicles.
When the McNAIR Center took flight about five years ago, its initial research equipment included an Ingersoll fiber placement machine, similar to what Boeing uses to make fuselage sections for its Dreamliner 787 passenger jet. Industrial robots, induction welding equipment and an industrial-scale 3D printing fabrication lab rounded out the center's first phase of development.
"Our focus on design, manufacturing and digital transformation is now connecting us with aerospace companies like never before," says McNAIR Center director Abdel Bayoumi, a mechanical engineering professor who began the Center for Predictive Maintenance in 1998. That center, which works with the U.S. Army on improving data-informed maintenance of the Apache helicopter fleet, is now under the auspices of McNAIR.
In addition to Boeing and NASA, with whom the center is conducting some $8.5 million in funded research, the McNAIR Center is also partnering with Safran, a French multinational aerospace company that makes aircraft wiring harnesses. Safran leases space at the center for four of its engineers who daily collaborate with university faculty and students. McNAIR has also garnered research grants totaling $2.5 million from small to midsize aerospace companies such as Fokker, GE Renewable, GE Aviation, Samsung, Yasakawa, Carbon Conversions and Ingersoll.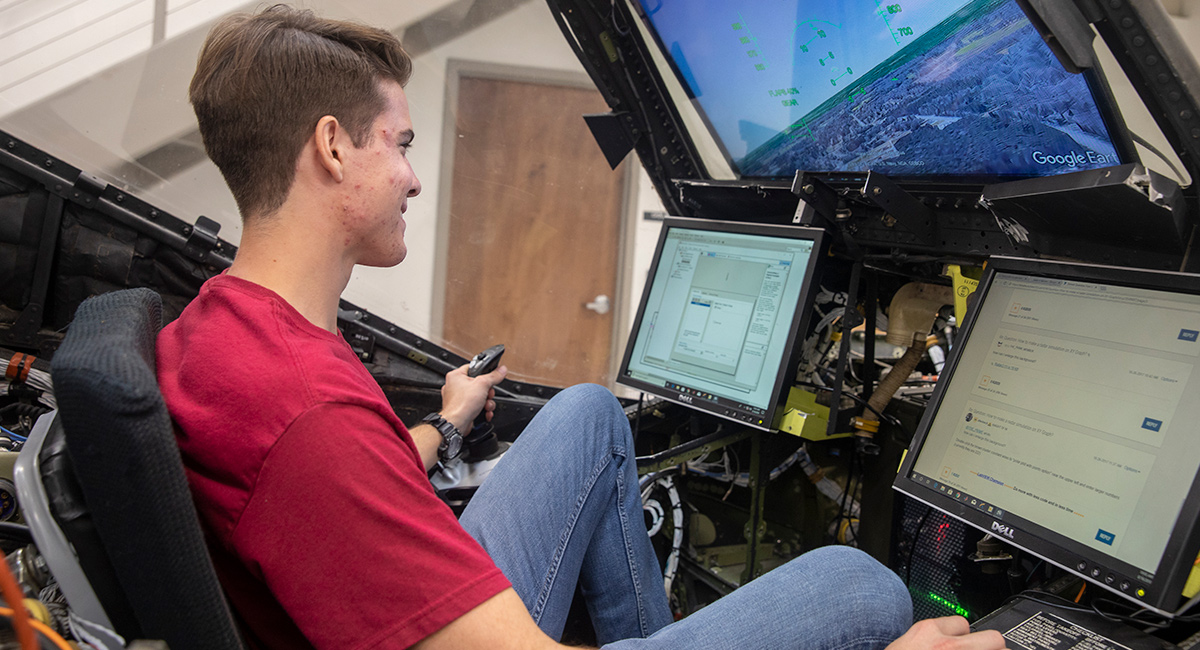 Mechanical engineering faculty members Michel van Tooren and Nikos Vitzilaios conduct research on drone design at McNAIR, and a soon-to-be-completed drone cage is part of the expansion in physical space at the center. Lightweight parts for drones have been fabricated at McNAIR using 3D carbon fiber printing, a technology that conceivably could be used to build an entire drone body.
Mechanical engineering associate professor Tanvir Farouk is moving his combustion research to McNAIR with a concentration on improved engine performance and fuel efficiency. Other aerospace faculty are focused on aerospace modeling research with composite materials, while associate professor Ramy Harik is concentrated on product life management.
Several McNAIR research scientists recently participated in training with Siemens software intended for digital design. The German conglomerate last year donated technology to the university, including product life-cycle management software, valued at more than $625 million. Rhea Matthews, a research scientist at McNAIR, says the capabilities of the sophisticated Siemens software dovetails perfectly with the McNAIR Center's foray into digital twin design, which allows engineers to test different scenarios for design optimization. "We can run different situations without potentially destroying a prototype device, and if something is wrong, I can test different fixes on the digital model to see what works best," Matthews says.
Still under construction, the McNAIR Center's new digital design display area will feature conference-style booths that showcase a transaxle gear model from the Center for Predictive Maintenance, a neonatal incubator from a research collaboration with the College of Nursing, industrial valves from a water pipeline project, water pumps for a desalination project in Egypt, and a household appliance that's part of a research partnership with Samsung. The space will be used to demonstrate McNAIR's capabilities to prospective industrial partners as well as prospective students.
Bayoumi points to this fall's launch of an undergraduate aerospace engineering degree program as the perfect complement to the center's research mission. Many of those new aerospace engineering majors will find undergraduate research opportunities at the McNAIR Center. The college also offers a master's degree in aerospace engineering.
Much of the aerospace curriculum overlaps with mechanical engineering courses, but also includes electronics and artificial intelligence, two areas that undergraduate students will able to concentrate in during their junior and senior years.
"We have a complete aerospace academic program and will soon have close to 100 students," Bayoumi says. "This brings things full circle. We're growing our research capabilities, and we're helping to grow the aerospace workforce."
And that's important because McNAIR isn't the only aerospace entity that's getting bigger in South Carolina. The financial impact of the more than 400 aerospace-related companies in the state has grown to $19 billion.