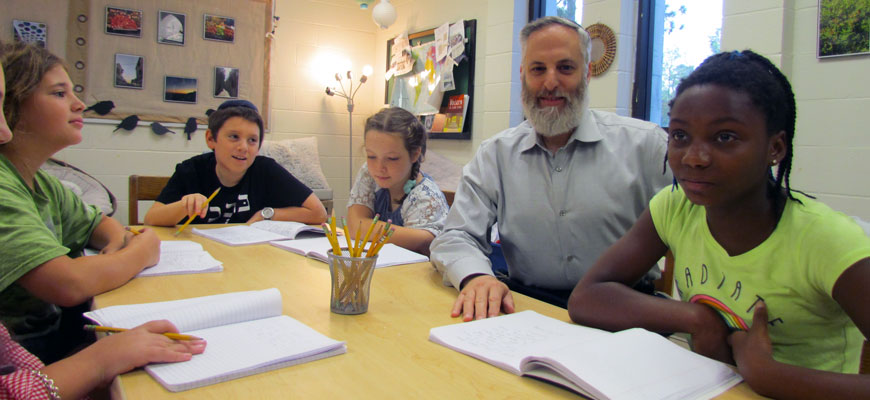 Justice, justice you shall pursue
Education professor joins global effort to combat anti-Semitism and racial bias in teaching
---
By Kathryn McPhail,
mcphailk@mailbox.sc.edu
, 803-777-8841
---
In the late 1930s in Vienna, a Jewish woman named Helen Mueller watched as her family was ripped apart, sent to concentration camps, forced into hard labor and executed. Her family sold everything they had to buy her a ticket to the United States. Helen, who was pregnant with her first child at the time, paid off a Nazi soldier to sneak her husband, Fred, out of a concentration camp.
Almost 80 years later, their grandson Meir Muller is devoted to countering anti-Semitism and bias through education. As a University of South Carolina education professor and rabbi, Muller's work is shaping school curriculum for children in Europe and ultimately, here in South Carolina.
I believe our jobs as educators, and humans, is to pursue justice. And what better way to do that than by changing the minds and hearts of young people.

Meir Muller, education professor
"I often reference a biblical teaching from Deuteronomy: 'Justice, justice you shall pursue,' " Muller says. "A deep tenet of the Jewish faith is the pursuit of justice. And that pursuit, I believe, begins with education."
His family's history certainly affected Muller's decision to become a rabbi and an educator. He and his wife founded the Cutler Jewish Day School in Columbia 27 years ago. The school now serves more than 165 students of all faiths.
While earning his master's degree at the College of Education, he came to understand that the issues of anti-Semitism faced by Jewish people around the world were not unlike the racial inequities faced by African-American and other minority children in the United States.
"My studies at USC shaped the lens that I see the world through," Muller says. "Racial injustice impacts many people, including a majority of children in South Carolina. And unfortunately, teachers can compound the problem if they are not trained to be self-reflective of their own racial bias and suitably prepared to teach all children, not just those who look like them."
As a professor, Muller encourages his university students — all future educators — to continuously seek justice for the children they serve, which means tackling racial bias in their classrooms and schools.
"We are seeing a rise of racism, including anti-Semitism, in America today," Muller says. "Examples include the horrible events in Charlottesville (Virginia) last year and bomb threats at Jewish community centers in the summer of 2017. But I think it's still worse in many parts of Europe. There are communities where no Jewish people have lived in decades and yet, there is still graffiti of Nazi symbols on buildings."
To combat anti-Semitism in Europe, the Office for Democratic Institutions and Human Rights — a division of the Organization for Security and Co-operation — launched an effort two years ago to create curriculum and materials for teachers across 57 countries in Europe, North America and Asia.
The program, Turning Words into Action to Address Anti-Semitism, convened teachers and educational scholars from around the word to develop a curriculum that will ensure schools systems are educating young people against the ideas of anti-Semitism, violent extremism, intolerance and discrimination, through critical thinking and respect for others.
Because of his unique perspective as a rabbi, school leader, teacher and university professor, Muller was asked to join the curriculum development team. This semester, he is traveling to Lithuania to review and finalize the lessons and materials that will be disseminated to teachers across the world.
"This curriculum will be shared with thousands of teachers, specifically those who serve children from middle to high school, so they can address social injustice, racism and other inequities that lead to hatred and dysfunction among people and communities," Muller says.
Though the curriculum wasn't designed specifically for schools in the United States, Muller hopes to eventually bring some of the resources back to South Carolina.
"If we could offer teachers a rich database of lessons plans, materials and examples, they could effectively teach lessons on topics designed to counter prejudice and promote tolerance, global citizenship and inclusiveness. I believe our jobs as educators, and humans, is to pursue justice. And what better way to do that than by changing the minds and hearts of young people," Muller says.
---
Share this Story! Let friends in your social network know what you are reading about
---