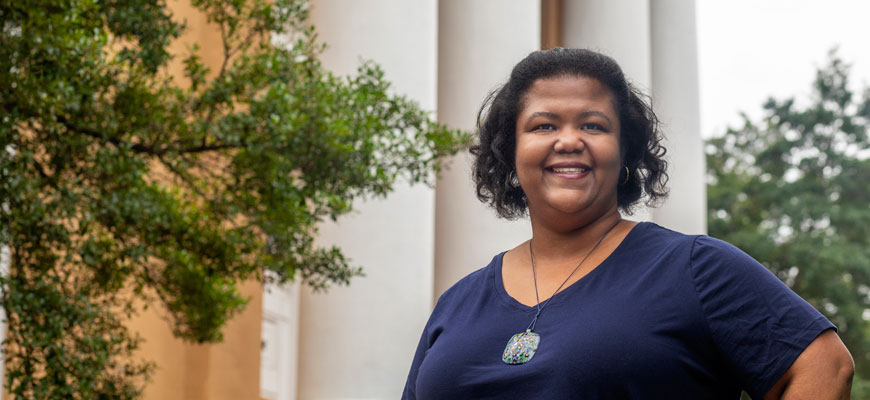 Meet new faculty: Nicole Cooke
---
By Megan Sexton,
msexton@mailbox.sc.edu
, 803-777-1421
---
Hometown: East Orange, New Jersey
Education: B.A., communication, Rutgers University; master of library services, Rutgers; M.Ed., adult education, Pennsylvania State University; Ph.D., Communication, Information and Library Studies, Rutgers
Position: Augusta Baker Chair in Childhood Literacy, School of Library and Information Science
---
How did you get interested in the field?
I went to college to go to pharmacy school. All of the math and science I had learned and was reasonably good at, they covered that in the first two weeks and I thought, "Now what?" By the end of the first year, I could see the writing on the walls. Luckily, I had a scholarship to Rutgers that was Rutgers-wide, and one day, I was in the library going through the Occupational Outlook Handbook, the book nerd that I am, trying to figure out what to do. My mother made an offhand comment, "You're always in the library, why don't you work in one." At that point I didn't know anything about librarians. I didn't know you had to have a master's degree. I went to the person in charge of the office and said I wanted to sign up for the library program. She said, 'Have you even graduated?' The school had multiple programs, library science, journalism and communications, very much like here. I majored as an undergrad in communications. Then I went right upstairs into the library (master's) program.
What did you do before earning your doctorate?
At first, I wanted to work in newspaper and magazine libraries. I did a couple internships and I hated it. Then I took the first job I could get that didn't require me to move, and that was children's services at the Montclair Public Library. Then I worked at the medical library at the University of Medicine and Dentistry of New Jersey. From there, I went to Montclair State University and worked as a reference and instruction librarian for nine years. That job introduced me to teaching and pedagogy.
What was the topic of your dissertation?
My dissertation was about the information behaviors of online graduate students. I have a second master's degree in adult education from Penn State. It was all online and I hated every second of it. It was the early days of distance education for a lot of people, and Penn State knew they had to be online, but the faculty didn't want to do it. And they didn't know how to do it. I thought there's got to be a better way to do this, and that's what I want to do my research on. Information behavior is a whole genre of study. In a nutshell, I say information behavior is how people use, seek and avoid information. I still very much do information behavior work. In the last year and a half, that work has been focused on fake news and disinformation and how people are interacting or not with that type of information.
I want people to know what a trailblazer (Augusta Baker) was. I wouldn't be here if she had not paved some of this ground.

Nicole Cooke, Augusta Baker Chair in Childhood Literacy
Why did you choose to come to South Carolina?
They invited me to keynote the first diversity symposium the college had in 2018. I was so impressed with the fact that they were having a symposium. Lots of places espouse diversity and inclusion and equity but they don't demonstrate it. I thought this was a demonstrative way to say, "We believe in this." I had a good feeling about it. On my way out, my suitcase was in (SLIS director David Lankes') office. He asked me to come in and sit down and he started talking about the Augusta Baker chair. And I said, "I don't do children's work. I don't think this is going to work." But he laid out what he had in mind — a vision for building knowledge, building community. He said, "Your work fits within all of that in terms of diversity, equity and inclusion." That's the work I've been known for in the field. My goal has been to bridge the divide between theory and practice. How do we get the profession to look like the communities we are serving. Frankly, depending on where you are, this work isn't always valued. But to be somewhere where they so clearly value it, it was pretty much a no-brainer. This is the most diverse and committed set of colleagues I've ever had.
What are you most looking forward to at South Carolina?
I'm looking forward to getting to know the South Carolina library community. We have a very strong and very present alumni association. They were here during my interview. They represent public libraries, academic libraries. And (College of Information and Communications Dean Tom Reichert) wants journalism and the library to come together more in the college. I'm looking forward to that as well, to figure out some new collaborations and opportunities for innovation.
What do you hope to accomplish over the next five years?
As I said in my interview, I want the world to know who Augusta Baker was. On this campus people know her as a storyteller and a teacher, which is magnificent. But she was also a legendary librarian. She had a list of firsts. She worked her way up through the New York Public Library and she was the first black woman to do almost everything at that library. I want people to know what a trailblazer she was. I wouldn't be here if she had not paved some of this ground.
In the library field, the profession is very white and very female. There have been lots of initiatives to say we need to recruit a diverse workforce, so the field is decent in recruiting. The field is not so good about retention. There was a librarian, teacher and scholar named E.J. Josey who founded the Black Caucus of the American Library Association. When Dr. Josey was on the library science faculty at Pittsburgh, the school was legendary for the diverse students he recruited into master's and Ph.D. programs and then put out into the field. He's got this celebrity roster of librarians who were his students who went on to innovate in the profession. He made Pittsburgh a destination of sorts for diverse librarians to receive training and education. I want us to be that new destination. I want us to be the destination for minority and underrepresented students who want a career in librarianship.
What is a talent or something you've done that people might find surprising?
I was a classically trained pianist. I studied from K through 12 with a master musician. When I went to college, I stopped playing. I can't play by ear but I can read music. So it was always so much work for me. But it's a training like no other in terms of discipline. I wouldn't trade it for the world.
---
Share this Story! Let friends in your social network know what you are reading about
---