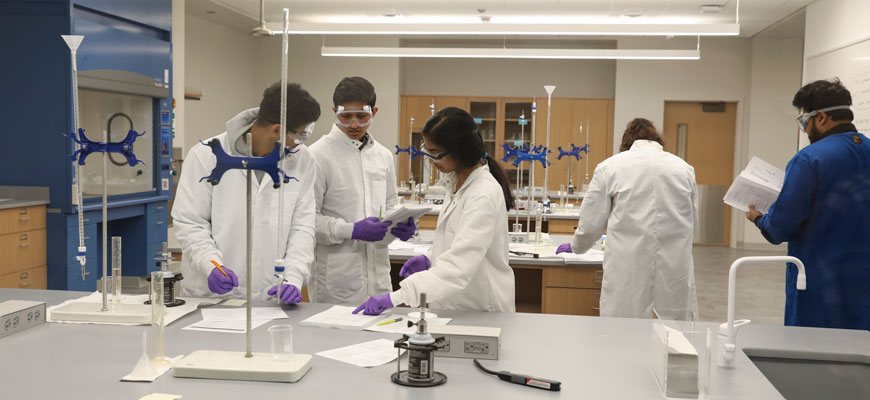 New chemistry labs open in renovated building
---
By Megan Sexton,
msexton@mailbox.sc.edu
, 803-777-1421
---
Scott Goode had four overarching goals when he was envisioning a new home for University of South Carolina undergraduate chemistry students.
At the top of the list for the distinguished professor emeritus: state-of-the-art chemistry labs that would enhance the learning experience for students. He also wanted an attractive, comfortable space that would become a gathering spot for science students; a staircase that people would choose instead of riding the elevator; and a bright atrium the department could use for speakers, receptions and recruitment.
Step inside the building at 1112 Greene St., the former home of the law school, and it's clear the university's renovation met — or exceeded — those goals.
Raquelle Bourgeois, a senior chemistry major from Bloomington, Minnesota, says the space, equipment and lighting in the labs offer a marked difference from her past three years in the labs in the Jones Physical Science Building.
"Obviously we have much better technology here, so we get to experience what it feels like to be a chemist in a real lab. This would be what it's like if we went into industry," Bourgeois says. "This definitely feels like it prepares us really well."
All of UofSC's undergraduate chemistry labs moved this semester from Jones across Main Street to the new location. The labs in Jones, which was built in 1967, were dark and small, while the new home is full of light, with windows into all of the labs offering a view from the hallways of the equipment and the experiments being conducted by students. The three floors that house the chemistry laboratories feature 17 wet labs and a computer lab. Each of the labs has a vestibule with small lockers where students leave their backpacks and put on safety eyewear, gloves and a white lab coat before they enter.
Lacy Ford, dean of the College of Arts and Sciences, says the $50 million renovation that turned a portion of the former law school building into new chemistry instructional labs gives the undergraduates a safe, comfortable and well-planned learning environment.
"These labs offer our students the best 21st century lab experience now available. It will become a showpiece for our college and university and stands as just another example of our college's commitment to providing an excellent undergraduate education," Ford says. "I look forward to a day we can say that all of our instructional labs are state-of- the-art."
At the new labs, most of the chemical experiments are conducted under fume hoods, the principle way to keep students safe from exposure to harmful fumes. In Jones, for example, a 24-student lab would have one or two fume hoods. In the new building, the lab for the same class has 14 hoods. There also are fireproof doors to each room and each floor, especially important when working with dangerous solvents, gases and liquids.
"We've built in unbelievable safety features in our labs that allow us to do experiments that we couldn't do in our other building," Goode says. "In this $50 million building renovation, half the cost is hidden. It's in the complex ductwork above the ceiling that we need to make the labs safe for our students."
"These labs offer our students the best 21st-century lab experience now available.

Lacy Ford, dean, College of Arts and Sciences
Goode, a fellow of the American Chemical Society who specializes in chemistry safety, taught chemistry at UofSC for 44 years before his retirement in May 2017. He says he was lured back to the university for the opportunity to plan and open the new building. Along with the extensive equipment and safety features, he's particularly proud of the new look for the building, especially the atrium and staircase.
"We raised this whole thing up and put in support columns to make it a beautiful space. When the sun is out, the light coming in is incredible. I asked the architects (Watson Tate Savory in Columbia) in the planning stages to come up with a staircase that was so pretty that people would want to take the stairs instead of the elevators," he says. "I wanted some pizzazz in the atrium and great gathering spaces to try to turn this into a science student hangout."
A typical chemistry major would take 13 labs in eight semesters at UofSC, so they will spend a lot of time in the building. The first days of labs drew rave reviews from students who were donning lab coats and safety glasses for class.
Senior chemistry major Alyssa Stephens said the new labs would enhance the student learning experience. At a recent class, students were performing infrared spectrum analyses of oil to see which equipment was best for analyzing the fatty acid in different oils.
"We can actually use the instruments here. In the old lab it was too crowded and we couldn't all get a hands-on experience with everything. It's cool to see how it works and not be in the background," says Stephens, who will graduate in May then begin her master's in education at UofSC on her way to teaching high school chemistry.
Taylor Adams, a freshman public health major from North Augusta, South Carolina, is taking her first lab, Chemistry 111, this semester.
"I have an older brother who goes here; he's in pharmacy school. We compared the lab differences and now he's jealous that I get to go in the new lab and use all the new stuff," she says. "It was really nice to have my first lab in the new building."
Madison Arbour from Fort Mill, South Carolina, is taking Chemistry 112 this spring. She completed Chemistry 111 last semester in the old labs in Jones.
"Oh my gosh, it is so much better," Arbour says. "I think you work better when your environment is better."
---
Share this Story! Let friends in your social network know what you are reading about
---