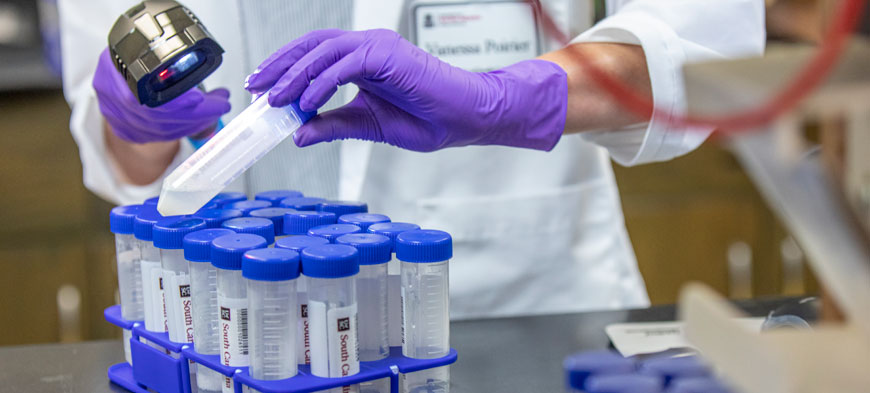 How a village of scientists created better testing for COVID-19
Researchers at South Carolina collaborated with colleagues across the country to make a faster surveillance test
---
By Chris Horn,
chorn@sc.edu
, 803-777-3687
---
The University of South Carolina's new saliva-based COVID-19 surveillance test, announced last week, provides rapid results within 24 hours. It is a key tool in the university's efforts to monitor and contain the spread of the virus within the campus community. The test — which is recommended specifically for asymptomatic cases — bypasses the discomfort of nasal swabbing and is much less expensive to process, allowing retesting multiple times throughout the semester.
Students, faculty and staff at UofSC can be tested for free between 10 a.m. and 2 p.m. Monday, Wednesday and Friday on Davis Field II and from noon to 4 p.m. Tuesday and Thursday at 650 Lincoln St. The rain location is 650 Lincoln.
Development of the test might never have happened if not for the efforts of a spontaneous coalition of scientists in South Carolina and across the country who worked nearly nonstop and shared results and materials with one another in the weeks before and after the initial lockdown in March. Phil Buckhaults, an associate professor in the College of Pharmacy, likens the collective effort to "a nerd club on Twitter."
"Most of us weren't even COVID researchers, but we were scientists whose labs were shut down, and we started keeping track of the COVID literature and discussing with each other what needed to be done," says Buckhaults, a molecular biologist and cancer geneticist in the pharmacy college's Department of Drug Discovery and Biomedical Sciences who years ago developed high-throughput genomic techniques to more quickly characterize cancer genomes.
Buckhaults, Michael Wyatt, Carolyn Banister and Michael Shtutman in the College of Pharmacy kept their labs running during the lockdown and soon joined forces with Helmut Albrecht, an infectious disease M.D. and clinical professor at the School of Medicine Columbia, to focus their efforts on developing novel testing capabilities. They also collaborated with two scientists at Clemson University, Mark Blenner and Delphine Dean.
Buckhaults points to other scientists across the country, including Feng Zhang at MIT and virologist Nathan Grubaugh at Yale, who adopted open-door approaches to sharing with researchers at other institutions.
"There was like three months of time where everybody stopped behaving like competitive academicians who were always trying to get to the punch line first, and everyone was very open-handed because there was this feeling that this might be the end of the world," Buckhaults says.
One day, "Nathan blasted out on Twitter and said, 'We all are going to need RNA standards to get this PCR test going. My post-docs just made a bunch. Anybody who wants [COVID] standard RNA, let me know." And I thought he was just talking to his virology buddies, you know, and I just kind of raised my hand and said, 'Hey, can I have some, too?' And he says, 'Absolutely, give me your address and I'll ship it to your house tomorrow morning.'
"And it continued like that where we were all sharing protocols and results, things that didn't work and things that did work."
There was like three months of time where everybody stopped behaving like competitive academicians ... and everyone was very open-handed because there was this feeling that this might be the end of the world.

Philip Buckhaults, College of Pharmacy
In the early days of the pandemic, wide-scale testing was needed, but nasal swab tests proved uncomfortable, the results took days to come back (and often still do) and the necessary supplies and chemical reagents were in short supply because every testing site was competing for them.
"Twitter is a place where people just give their opinions all the time, and scientists were like, 'Why the heck are we doing [the testing] this way? We do this all the time this other way.' And I'm not even sure who suggested it first, but several of us started looking at saliva," Buckhaults says.
Albrecht says that saliva testing made perfect sense from a biological point of view, but the sophisticated instruments used to analyze nasal swab samples don't handle saliva samples well.
"And there are standard operating procedures for these swabs and PCR machines, but that doesn't help anybody in developing countries where they don't have the swabs," Albrecht says. "So we tried Q-tips — everybody can get Q-tips — and they aren't as good as swabs, but they work. And the scientists have solved some of these other challenges through technical expertise.
"That's how saliva testing and scaling saliva testing came about. If there hadn't been enthusiastic researchers who listened to people about what we really need, this wouldn't have happened."
---
Learn more
Registration is required for the Saliva Assay Free Expedited (SAFE) COVID-19 testing. Learn more at the College of Pharmacy SAFE website.
---
Share this Story! Let friends in your social network know what you are reading about
---