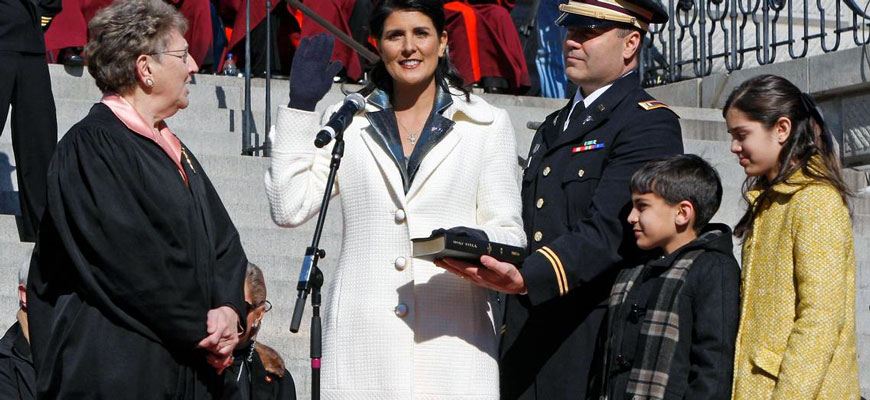 100 years of suffrage: The 21st century and beyond
3rd-wave feminism looks beyond gender for equity, justice
---
By Page Ivey,
pivey@mailbox.sc.edu
, 803-777-3085
---
As women reach new heights in the political arena, a third-wave of feminism begins to take on persistent inequities beyond gender.
Just 37 of the Fortune 500 CEOs are women, and women make up just a quarter of the U.S. Congress. Only nine of the nation's 50 governors are women, and as of September 2019, 22 percent of the 1,366 mayors of U.S. cities with populations over 30,000, were women, according to the U.S. Conference of Mayors.
Still the 21st century has seen many cracks in the proverbial glass ceiling — that artificial barrier to women and minorities reaching the top jobs in their fields.
U.S. Rep. Nancy Pelosi of California became the first female speaker of the U.S. House in 2007 and former first lady, U.S. senator and Secretary of State Hillary Rodham Clinton became the first woman nominated on a major party ticket to be president of the United States. Clinton won the popular vote by nearly 3 million votes, but lost in the Electoral College.
In South Carolina, Bamberg native Nikki Haley became South Carolina's first woman and first Indian American governor in 2010, and in 2016, the state's oldest inland city — Camden — elected its first African American woman mayor, longtime city councilwoman and UofSC graduate Alfred Mae Drakeford.
Born in Paterson, New Jersey, Drakeford and grew up in Kershaw County, South Carolina and had been a member of the Camden City Council since 2005.
She earned her bachelor's degree in business management from UofSC while working as a supervisor at DuPont in Kershaw County.
"I was the first Black female to be promoted into management," Drakeford says in an interview conducted by Honors College student Donzelle Benton that is part of the UofSC Oral History Department's Second Wave of the Women's Movement collection. "So, I was told that, 'Okay, you're being promoted today, and you'll come in Monday, to start management training.' And so it's like, one work day I was with my friends, and the next day I was thrown into the environment with a bunch of white men that didn't want me there in the first place.
"It was really hard. And I once said that, 'You know, I can't do this.' And then I thought, 'If I didn't do it, what effect it would have on other women coming after me.' So, I hung in there … And I'm glad I did."
Drakeford retired as manager of quality and training at DuPont in 2001 before beginning her political career.
"I realized that the City Council in Camden didn't have any Blacks. They had a couple of guys previously, but never a [Black] female. So, I thought, 'Hmm, I can do that,' " Drakeford says in her oral history interview. "I ran in '04 for council then I ran again in '08 and '12, and I had not planned to run anymore. … Then the mayor at the time had decided he would not run for re-election. I had been trying to get a Black person interested in running for council and couldn't get anybody interested so I said, 'Well, if I leave, there is nobody. There is no representation.' So, I decided to run for mayor.
"And I had the opportunity, by being mayor, to use all those management skills that I'd learned at USC because I didn't get to do a lot of those things at DuPont, but now I get to put those things to work."
Drakeford says she has tried to encourage other Black residents to run for office in Camden.
"If you're not at the table, you're not thought of," she says.
Opening up seats at the table for marginalized groups is the driving force behind the latest era of the women's movement, known as third-wave or global feminism.
In this new era of the women's movement, the constituency is quite broad, comprising all people who are marginalized regardless of gender identity, race or sexual orientation, says Carla Pfeffer, sociology professor and director of the Women's and Gender Studies program in the College of Arts and Sciences.
This era is marked by individualism and self-determination, the #MeToo movement that condemns sexual abusers without shaming assault survivors, social and environmental justice advocacy and a focus on issues facing women, trans women and other marginalized groups around the world.
The first leaders of third-wave feminism were born in the 1960s and '70s and see the future as a fight for equity and justice, not just about gender.
"I think if you had to capture what is third-wave feminism, I think it is a shift toward the intersectional and social justice, rather than single-issue focused," Pfeffer says. "Where feminism is all about gender, I think the third wave, took us into a space where we say this is going to be about intersectional social movements that consider race, class, gender, sexuality, disability, national origin. All of these things matter and are imperative to think about when we are thinking about gender, justice and equity."
Banner image: South Carolina Supreme Court Chief Justice Jean Toal (left) administers the oath of office for Nikki Haley, the first woman elected governor of South Carolina, with Haley's husband, Michael, and their children watching. Photo by The State.
---
Share this Story! Let friends in your social network know what you are reading about
---