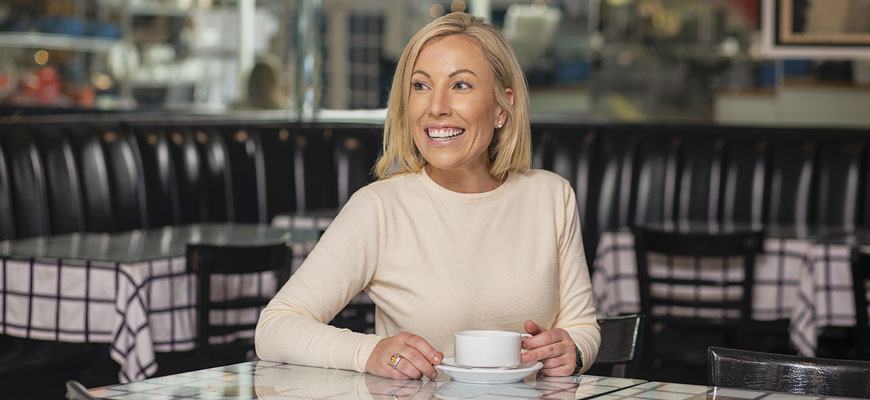 UofSC alums help keep 5 Points alive
Amy Beth Franks invests in one of the district's oldest businesses
---
By Craig Brandhorst,
craigb1@mailbox.sc.edu
, 803-777-3681
---
If you think Five Points is only a college bar district, think again.
The village down the hill has drawn South Carolina students for more than a century, and not simply to celebrate. And for many who settle in the Capital City after graduation, Five Points remains an integral part of their lives.
"It's an amazingly unique neighborhood, and everybody's a regular," says Kelsey Hennighan, executive director of the Five Points Association. "If you come down any given afternoon for lunch, or Sunday for brunch, or even for an early dinner, you see people outside eating, talking, you see people with their dogs — we're probably the most dog-friendly neighborhood in town."
Hennighan would know. As director, she coordinates the district's economic development, beautification and safety efforts — not to mention the annual St. Patrick's Day celebration. But she also knows the scene, having worked as a hostess at Saluda's as an undergrad before taking a PR job at Spirit Communications.
"When I applied for the director position, I kind of came full circle," she says.
Carolinian caught up with five alumni who, like Hennighan, can't shake Five Points from their system.
---
Amy Beth Franks — Gourmet Shop
By the time Amy Beth Franks signed up for her Journalism 597 internship, her top choices were taken. But the PR major needed the class, so she hit the School of Journalism database and made a random query.
As it happened, the Five Points Association was a perfect fit — a small nonprofit with a big agenda and plenty of networking opportunities. And executive director Merritt McNeely, '05, was looking for someone ready to work.
"Because it was just me and the executive director, I had a chance to do everything," Franks explains. "I did email marketing, I did market research, I did event logistics, I handled media calls. There's just something about real-life experience that is unmatched by anything you can read in a book."
Five Points is not just a bunch of businesses and employees. It's a family.

Amy Beth Franks
Franks stayed at the internship three more semesters. And while she would trade nonprofits for politics after she graduated in 2009 — working under Governors Mark Sanford and Nikki Haley, and on the team that launched South Carolina's Office of the Inspector General — her time at the association left a mark on more than her resume.
"What really made the position special was the community," she says. "Five Points is not just a bunch of businesses and employees. It's a family. I loved that, and I felt that." And when McNeely offered her a full-time job, she took a pay cut to come back. "That's how important it was to me. I saw so much potential in this community. I didn't even hesitate, and I've never really looked back."
That was 2012. Two years later, McNeely took a job at the South Carolina State Museum [she's now executive vice president at integrated communications firm Flock and Rally] and Franks ascended to executive director at the association. Six years after that, she redoubled her commitment to Five Points — buying one of the village's most venerable businesses, the Gourmet Shop, which has occupied the same Saluda Avenue address for more than 40 years.
"I wasn't going to buy just any business," says Franks. "I was very close with [owners] Dennis and Linda Hiltner, and I knew they wanted to retire. One day, off the cuff, I said, 'Why don't you sell me the shop?' But the whole process took about two years."
Franks celebrated her first year running the café and market in 2020, but she wants to keep the Gourmet Shop the Gourmet Shop, building on the Hiltners' hard work. Partly that's just good business, but Franks also feels a sense of obligation — to the business's reputation, its customers and its 45 employees.
"My favorite thing to hear is when a customer says, 'Oh, I didn't even know the store had been sold!'" she says. "But it can be stressful. Any time I leave this building I feel like I should be here. If you have a strong sense of responsibility, it consumes you."
---
Share this Story! Let friends in your social network know what you are reading about
---