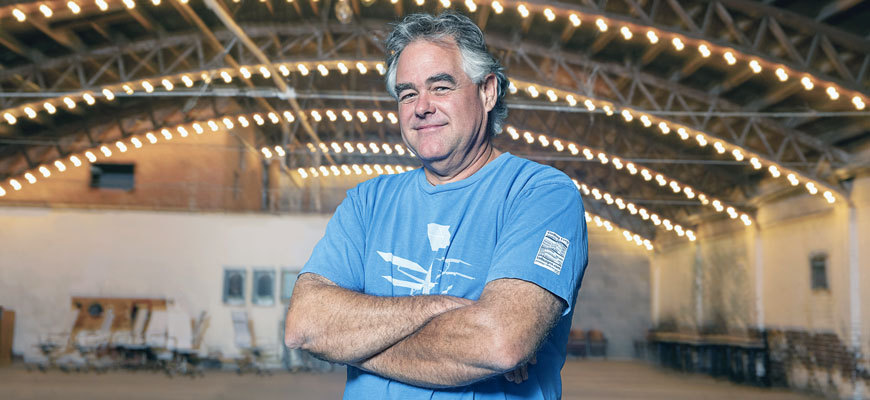 UofSC alums help keep 5 Points alive
Richard Burts re-imagines the district's spaces
---
By Craig Brandhorst,
craigb1@mailbox.sc.edu
, 803-777-3681
---
If you think Five Points is only a college bar district, think again.
The village down the hill has drawn South Carolina students for more than a century, and not simply to celebrate. And for many who settle in the Capital City after graduation, Five Points remains an integral part of their lives.
"It's an amazingly unique neighborhood, and everybody's a regular," says Kelsey Hennighan, executive director of the Five Points Association. "If you come down any given afternoon for lunch, or Sunday for brunch, or even for an early dinner, you see people outside eating, talking, you see people with their dogs — we're probably the most dog-friendly neighborhood in town."
Hennighan would know. As director, she coordinates the district's economic development, beautification and safety efforts — not to mention the annual St. Patrick's Day celebration. But she also knows the scene, having worked as a hostess at Saluda's as an undergrad before taking a PR job at Spirit Communications.
"When I applied for the director position, I kind of came full circle," she says.
Carolinian caught up with five alumni who, like Hennighan, can't shake Five Points from their system.
---
Richard Burts — Fountains and beyond
If you ask around about Five Points' biggest visionaries, one name pops up again and again: Richard Burts.
Perhaps best known for restoring the historic 701 Whaley event space in Columbia's Olympia neighborhood, Burts actually began his career as a restaurateur, launching a string of Five Points hotspots in the 1990s — Monterey Jack's, Poor Richard's, Hannah Jane's, Saluda's. And it was during his tenure as president of the Five Points Association that he discovered his passion for property development.
Some people paint, some sew, some draw. My outlet is creating unique spaces. It's kind of why I get up in the morning.

Richard Burts
That was 1991, maybe '92, and Burts, a onetime economics major, was at the back table of Linda and Dennis Hiltner's Gourmet Shop with a handful of neighborhood leaders brainstorming a streetscape project. The focus shifted, though, toward what would ultimately become the plaza and fountain at the intersection of Greene, Saluda and Harden.
"We knew it was going to be expensive, we knew it would take a long time, but we wanted to do something tangible where we could show everybody what we could achieve," says Burts. "Once we had a budget, we asked the city to match the FPA in dollars. Our budget was around $400,000."
The project would take six years, and while Burts was intimately involved throughout, he is quick to deflect credit. He name-drops his successor at the association, Jack Van Loan, who helped secure funding, plus the Hiltners, architect Doug Quackenbush, landscape architect Mark Cotterill — the list goes on.
"Nothing ever gets done by a single person," he says. "It takes a lot of different people coming together. And you know, it's not even work when it's fun, when you enjoy each other's company, when you enjoy the creative process."
And he's still enjoying that process. After fountain No. 1, he helped put a second fountain at the other end of the Saluda Avenue business corridor. Then he worked on Centennial Plaza, commemorating the village's 100th anniversary and honoring Van Loan, a former prisoner of war. Then he helped facilitate the installation of the Jay Hubbell sculpture at Saluda and Devine, the Blue Sky mural behind Groucho's Deli and, most recently, an alleyscape project off Harden Street.
Now, Burts is exploring a pair of new projects. The first involves repurposing a former taxi garage behind the White Mule and Loose Lucy's for an undetermined purpose. The second would punch a breezeway connecting Saluda Avenue to a courtyard abutting the railroad tracks, and would open up several hundred feet of new storefront for makerspaces.
Neither project has a green light yet, but Burts is already dreaming — and his fingerprints are everywhere. "I enjoy the creative process, it's just that my canvas is different," he says. "Some people paint, some sew, some draw. My outlet is creating unique spaces. It's kind of why I get up in the morning. I love to go out and find the next deal."
---
Share this Story! Let friends in your social network know what you are reading about
---