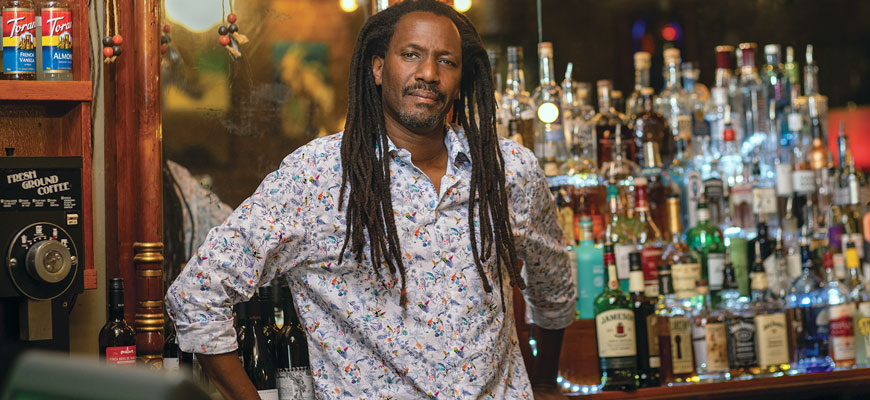 UofSC alums help keep 5 Points alive
Opie Patterson reopens one of the district's most iconic nightspots
---
By Craig Brandhorst,
craigb1@mailbox.sc.edu
, 803-777-3681
---
If you think Five Points is only a college bar district, think again.
The village down the hill has drawn South Carolina students for more than a century, and not simply to celebrate. And for many who settle in the Capital City after graduation, Five Points remains an integral part of their lives.
"It's an amazingly unique neighborhood, and everybody's a regular," says Kelsey Hennighan, executive director of the Five Points Association. "If you come down any given afternoon for lunch, or Sunday for brunch, or even for an early dinner, you see people outside eating, talking, you see people with their dogs — we're probably the most dog-friendly neighborhood in town."
Hennighan would know. As director, she coordinates the district's economic development, beautification and safety efforts — not to mention the annual St. Patrick's Day celebration. But she also knows the scene, having worked as a hostess at Saluda's as an undergrad before taking a PR job at Spirit Communications.
"When I applied for the director position, I kind of came full circle," she says.
Carolinian caught up with five alumni who, like Hennighan, can't shake Five Points from their system.
---
Opie Patterson — Goat's
Goat's is like Goatfeathers but with fresh energy. That's according to Olando "Opie" Patterson, who reopened the iconic Five Points nightspot under its popular nickname in 2015, a year-and-half after it vanished from the local scene.
But the Columbia native and onetime marine science and media arts major didn't just take over Goatfeathers when original owner Jeff Helsley retired in 2014; he worked there from 1995 until last call, and much of that time, he ran the show.
Initially a part-time bartender while he held down a day job at a camera shop and pursued a photography career, Patterson soon found himself pouring drinks full time at Goatfeathers and eventually made manager. The bar, which drew an older crowd than most other Five Points bars, became the unofficial happy hour rendezvous for many Columbia attorneys, and Patterson became its public face.
This place needed a lot of love. A lot of love.

Olando "Opie" Patterson
Except he had his own ambitions, and by 2014 he was looking to open a restaurant and bar of his own. He even had a spot picked out — on Main Street, not in Five Points — and he might have made the jump if he could have afforded the building. But he didn't want to invest in a new kitchen and be on a lease. He'd seen too many other restaurateurs get burned by their landlords.
"And then I thought about it for a while," he says. "I liked this location, I knew the area, I just needed to revamp the place a little and give it a new energy."
But when rumors started to circulate that Goatfeathers might return for a second act, Patterson neither confirmed nor denied them. "I didn't really tell anybody until we opened because I didn't want anybody to fishbowl me," he says with a laugh. "This place needed a lot of love. A lot of love."
One problem? Goatfeathers was a smoking establishment prior to the citywide ban, and years of cigarette and cigar smoke had permeated the walls. The bar and the kitchen were also in bad shape.
Among the people Patterson did trust with his secret plans were restaurateur-turned-developers Scott Linaberry and Richard Burts.
"We walked through the building and I was telling them everything I wanted to get done — redo the carpet, redo the floors — and they kept saying, 'Opie, just open the door and make some money, open the door and make some money.' But my pride wouldn't let me."
It would take more than a year to open Goat's, which in retrospect makes Patterson laugh. "Looking back, I probably should have just opened up and made some money," he jokes. "But no, it really needed the work. It really did."
Patterson was invested, and not just financially. He was never a big party guy in college — he was too busy interning at South Carolina Wildlife magazine, working as a lifeguard at Maxcy Gregg pool and as an EMT at Thomson Student Health Center on campus — but the bar became his second home, his career, his life.
"I wanted it to be the place I remember first coming to," he says. "Of course, at that time Five Points was basically the only entertainment district in Columbia, so you can't rest on your laurels. You have to earn everybody's respect."
---
Share this Story! Let friends in your social network know what you are reading about
---