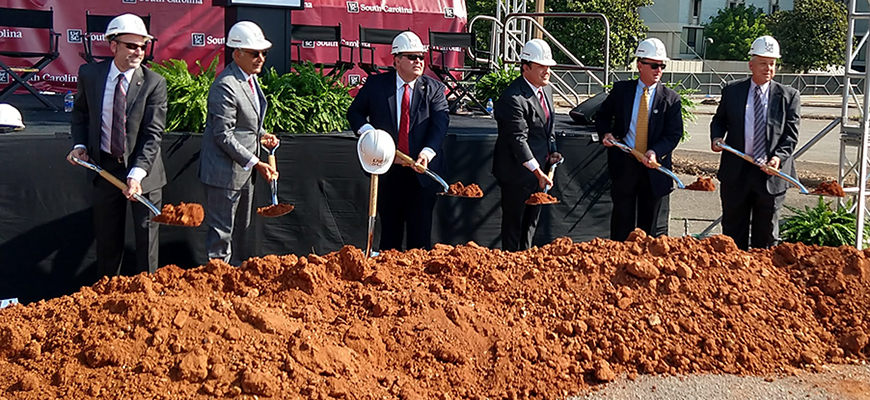 UofSC, Greystar break ground on Campus Village construction project
4 buildings will remake southern part of campus, add 1,800 beds
---
By Koby Padgett,
kpadgett@sc.edu
, 803-576-6701
---
A project years in the making, Campus Village construction began officially on Wednesday (May 26) as the University of South Carolina hosted a groundbreaking ceremony along with development partner Greystar Real Estate Partners.
When completed in fall of 2023, Campus Village will bring four new buildings and more than 1,800 new beds to south campus, offering students a unique living-learning experience. Incorporated into the buildings are academic support spaces, a dining facility and a campus safety office. The development also includes a sundry store and coffee shop that will be available for use by neighborhood residents as well as students.
The project, the largest in the history of the university, will cost an estimated $210 million, which will be recouped over time through student housing fees. Under the development agreement, Charleston-based Greystar will build and maintain the site, while the university will own the buildings and provide housing operations and student support. More than 300 construction jobs will be added at the height of construction, with Juneau Construction overseeing the building project.
Interim university President Harris Pastides, South Carolina Secretary of Commerce Bobby Hitt and Bill Maddux, executive managing director at Greystar, were among the dignitaries on hand for the chrome-shovel groundbreaking ceremony.
"Campus Village will be nothing short of one of the best living and learning communities in the United States," said Pastides. "This project is about people and about building lifelong friendships."
"We couldn't be more excited about our long-term partnership with the University of South Carolina," said Maddux. "The Campus Village concept has become a reality through a strong collaborative effort. From university leaders to local residents and neighborhood groups to the building and design experts on our Greystar team, so many stakeholders have come together to focus on offering a top-notch live-learn experience for students. I am confident this on-campus community will help attract future Gamecocks for generations to come."
Campus Village will be nothing short of one of the best living and learning communities in the United States.

Interim President Harris Pastides
Students who live on campus perform better academically and are more likely to earn degrees, studies show. As the student body at South Carolina has grown, sophomores and upperclassmen have had to find off-campus residences after their freshmen year. The additional space provided by Campus Village will make it possible for more of those students to continue to live on campus.
The final design of the project incorporates input of nearby neighborhood groups while also conforming to the university's high building standards. The five to six-story structures will be red-brick masonry with beige architectural cast stone accents. The site's design brings a greenspace and courtyard area for students to enjoy. New shuttle stops on site will provide for easy transport to parking and the Horseshoe, and bike paths and pedestrian access to the main areas of campus will discourage automobile use.
"Higher education is key to economic development," said Hitt. "The Campus Village will be yet another asset that will help the university attract and retain students who will one day be the top talent in our state's workforce."
About the University of South Carolina
The University of South Carolina is a globally recognized, high-impact research university committed to a superior student experience and dedicated to innovation in learning, research and community engagement. Founded in 1801, the university offers more than 350 degree programs and is the state's only top-tier Carnegie Foundation research institution. More than 50,000 students are enrolled at one of 20 locations throughout the state, including the research campus in Columbia. With 56 nationally ranked academic programs including top-ranked programs in international business, the nation's best honors college and distinguished programs in engineering, law, medicine, public health and the arts, the university is helping to build healthier, more educated communities in South Carolina and around the world.
About Greystar
Greystar is a leading, fully integrated real estate company offering expertise in investment management, development, and management of rental housing properties globally. Headquartered in Charleston, South Carolina, Greystar manages and operates over an estimated $220 billion of real estate in more than 200 markets globally including offices throughout the United States, United Kingdom, Europe, South America, and the Asia-Pacific region. Greystar is the largest operator of apartments in the United States, managing more than 740,000 units/beds, and has a robust institutional investment management platform with approximately $41.3 billion of assets under management, including over $19.2 billion of assets under development. Greystar was founded by Bob Faith in 1993 with the intent to become a provider of world-class service in the rental residential real estate business. To learn more, visit the company's website.
---
Share this Story! Let friends in your social network know what you are reading about
---