The University of South Carolina hosted a grand opening on Friday (Aug. 18) for its new Campus Village student residential housing development, the largest construction project in the university's 222-year history.
Located in the south region of campus near the former site of Cliff Apartments, Campus Village is comprised of four state-of-the-art buildings housing a total of 1,800 student residents. Campus Village provides students with a wide range of features and amenities designed to build strong communities by fostering shared academic and social development. It's also part of the university's commitment to a world-class student experience.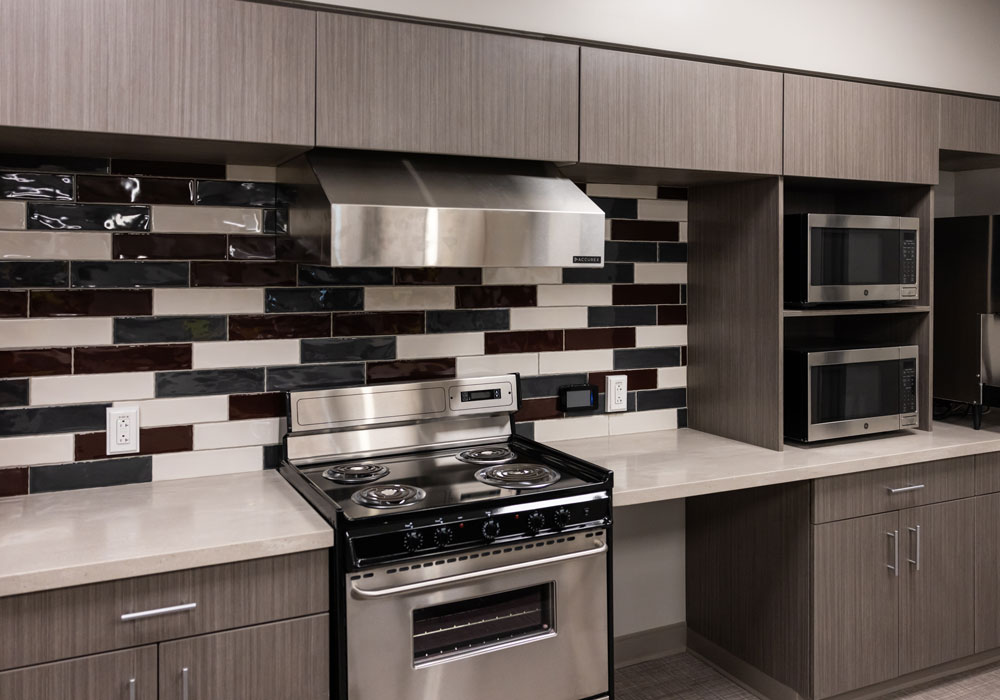 "I'm delighted today to cut the ribbon of a much-needed housing facility for our undergraduate students. The impressive Campus Village complex reflects the growth and future potential of USC, addresses the needs of our students and further strengthens their overall college experience," said USC President Michael Amiridis.
Campus Village is years in the making, and its final design incorporates input from local residents, neighborhood groups and the City of Columbia Planning Department. The six-story red brick masonry buildings are set among ample greenspace and courtyards, anchored by pedestrian promenades and a clocktower. Each building features innovative study and classroom spaces, community kitchens and suite or pod-style room options. Other features of Campus Village include:
Dining: Campus Village is home to The Pavilion, a nearly 14,000 square-foot dining hall (supported by more than 10,000 square feet of additional food preparation and serving space) featuring a wide variety of all-you-can-eat fare, including customizable pizza, Asian cuisine, vegan, and allergen-free options. The Pavilion seats 650 and is open to all USC students.
Retail: The Gamecock General Store sundry shop, a Jimmy John's sandwich shop and a Starbucks coffee accessible to the entire community is scheduled to open this fall.
Living-learning communities: Campus Village is home to several USC student living-learning communities, including Information, Design and Computing; Engineering and Computing; and Entrepreneurship and Innovation. USC is home to 13 living and learning communities, and they rank among the best in the nation.
Transportation: Enhanced shuttle service and easy pedestrian access encourage sustainable navigation to and from central campus. Additional campus parking within walking distance of Campus Village is available to students with automobiles.
"USC is known nationally for providing an outstanding campus experience, and these new facilities will help enhance the academic and co-curricular lives of our students in Columbia," said USC Board of Trustees Chair Thad Westbrook. "A high-quality residential experience is fundamental to the value proposition of flagship universities like USC."
Construction on the $240 million Campus Village development began in May of 2019. USC partnered with Charleston-based Greystar to develop the project. Greystar, a globally renowned real estate and development company and one of the nation's largest developers of collegiate properties, will assist with property management. Columbia-based Contract Construction and Atlanta-based Juneau Construction oversaw project construction, which was completed on time and on budget despite challenges with the COVID-19 pandemic. Boudreaux, based in Columbia, and WDG, a national leading in student housing, led the architectural design and planning for Campus Village.
"We are excited to celebrate the opening of Campus Village with our long-term partner, the University of South Carolina," said Bob Faith, founder, chairman and CEO of Greystar. "This best-in-class, live-learn community supporting USC's growing student body is a result of successful collaboration with university leadership, local residents, students and our design and construction partners. Given South Carolina is home to Greystar's corporate headquarters, we are humbled to partner with our state's flagship university and deliver a premier living experience for students."
Quality on-campus housing options are important because studies show students who live on campus perform better academically and develop relationships that can last a lifetime. USC, which is welcoming its largest freshman class in school history this fall, is currently ranked No. 1 in the nation among public universities by U.S. News for its first-year student experience.
---
The University of South Carolina is a globally recognized, high-impact research university committed to a superior student experience and to innovation in learning, research and community engagement. Founded in 1801, the university is a top-tier Carnegie Foundation research institution offering the No. 1 first-year student experience among public universities and more than 350 academic degree programs. More than 50,000 students are enrolled at one of 20 locations throughout the state, including the research campus in Columbia. With 60 nationally ranked academic programs — including top-ranked programs in international business, the nation's best honors college and distinguished programs in engineering, law, medicine, public health and the arts — the university is helping to build healthier, more educated communities in South Carolina and around the world.