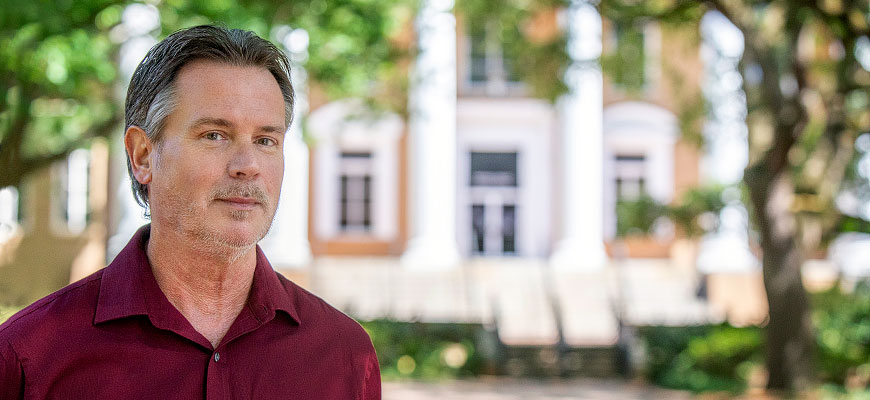 Psychologist Mark Weist works to dismantle hierarchy, replace it with partnership
UofSC professor receives SEC faculty award for transformative work in school behavioral health
---
By Abe Danaher,
adanaher@mailbox.sc.edu
, 803-576-7780
---
From the very first time Mark Weist picked up a psychology book, he questioned one of the field's central paradigms. In his first job, working at a mental health clinic, he realized that the mental health system of the time was ill-fit to meet to the needs of patients. And, when a never-before-seen pandemic shut down the world around him, he kept his research from shutting down with it.
It's this refusal to accept the status quo as necessity that has made Weist one of the leading mental health researchers in the nation. And now, it has led to him receiving the Southeastern Conference's 2021 Faculty Achievement Award for the University of South Carolina. The annual award recognizes one faculty member at each university in the SEC for their "outstanding records in teaching and scholarship."
We shouldn't use terms like psychopathology or emotional disturbance. We shouldn't treat families like they are less important than us. We shouldn't look down on them.


- Mark Weist, psychology professor
"From the very beginning of my career, I've been a skeptic," says Weist, a professor of psychology in the College of Arts and Sciences. "I've always asked, 'Are things working?' and looked for constructs that might be off."
Flipping the paradigm
Since Sigmund Freud's pioneering research in the early 1900s, the field of psychology largely consisted of experts identifying the pathology of patients and telling these patients what to do to correct their problems. Families and individuals historically were treated as less important than their more knowledgeable doctors, who classified patients with terms like "psychopathology" and "emotional disturbance." The words and actions of these experts formed the foundation of a hierarchical system.
Throughout his career, Weist has sought to flip this paradigm on its head and instead create a collaborative relationship between providers and patients. As an assistant professor at the University of Maryland, he even went so far as to refuse wearing the white coat that traditionally distinguished providers from patients.
"We've been pushing against that model from the beginning," he says of his group's work. "First of all, we shouldn't pathologize people. And we shouldn't use terms like 'psychopathology' or 'emotional disturbance.' We shouldn't treat families like they are less important than us. We shouldn't look down on them. We shouldn't have hierarchical systems. We need really collaborative systems."
He also worked to change not only the ethos of the mental health field, but the way the mental health system was structured. After observing a lack of effectiveness in clinics in the early 1990s, his research group came up with an innovative idea that shaped the futures of the mental health field and the entire U.S. education system: moving mental health services within the K-12 school system.
A win-win situation
"If you look at basic epidemiology, you'll realize that children and youth present far more common emotional-behavioral challenges than they present significant physical health challenges, for the most part," he says. "So, we immediately realized that was the big gap, so we began to bring social workers and other staff into these schools."
In just a few years, Weist himself went from working in a mental health clinic — where he saw just three patients a day — to a high school in downtown Baltimore, where 98 percent of the students were disadvantaged. He was no longer an outsider telling select patients what was wrong with them, but an essential part of a community in need — working with 15 to 18 students a day as he ate lunch with them in the cafeteria, cheered them on at their athletic events, and passed by them in the halls.
The idea was an immediate success and created a "win-win situation" for all, says Weist. The mental health system immediately became more relevant and saw a major uptick in the number of students and families it reached. And schools were able to offer mental health support to their students like never before.
Twenty-five years have passed since Weist first implemented the transformative idea to pair mental health services with the school system. In that time, Weist started one of the nation's first centers dedicated to advancing mental health in schools, became a national leader in school mental health research, graduated over 70 graduate students and 40 post-doctoral fellows into the field, and received over $15 million in funding. And while the university he is at has changed — Weist joined the University of South Carolina in 2010 — the focus of his research and his pioneering vision have not.
Mental health in a pandemic
In 2019, Weist began the biggest grant of his career — a $5.1 million randomized trial studying the effects of providing mental health resources to 20 schools in Greenville, SC, and Baltimore. But, just as the trial began, the coronavirus pandemic started and threatened to completely halt the study.
Rather than succumbing to what many saw as an inevitable pause on research, Weist found a way to continue the study virtually. In the process, he continued providing the 1,400 students in the trial with mental health resources that were more needed than ever.
"We've been excited to persist and think that the research elements are especially relevant now as we see mental health challenges are so pervasive," he says. "If anyone says they are not struggling with their mental health, they are lying. Because, really, we all are. We all are at some level."
A career of impact
It's the impact of his work, both in the past year and the 29 years prior, that led to Weist being selected by the SEC for the 2021 Faculty Achievement Award for the University of South Carolina.
"I think Dr. Weist's research is as important now as it has ever been, but the work is getting more opportunity to have the spotlight shined on it as society talks more openly about mental health," says Joel Samuels, interim dean of the College of Arts and Sciences. "And I think that is very important for us all to remember. It is a reminder of the amazing research being done at the university that sometimes, if the news cycle doesn't pick it up, doesn't necessarily get the attention that it might otherwise deserve."
"Professor Weist has made tremendous contributions in research, teaching and the community to advance the recognition and treatment of mental health impairments in school aged children," said William Tate, executive vice president and provost at the University of South Carolina, in the SEC's press release announcing the award. "A thought leader in the field, he has quietly gone about the business of building one of the most important and strongest programs of research in school mental health in the world."
For Weist, the recognition is about more than his personal accomplishments. It's about the dramatic impact the team he works with has had on mental health and education in America the past 30 years, and the support that allowed for the transformative merging of the two to occur.
"I feel unworthy, to be frank, because I have colleagues who I feel are more prominent than me," he says. "I feel very supported by Jane Roberts, our department chair, and Claudia Benitez-Nelson, our associate dean, in particular. First of all, to nominate me, and then to provide support to me as I was putting together the application."
He continues, saying, "The field has really grown tremendously. So, it's cool to be able to watch the growth of the field, to watch the improvements, to watch the impacts, and to realize now how needed it is. Thankfully, we have had a lot of development, we are much more effective, and that's just what we need now after all the stress from the pandemic."
---
Share this Story! Let friends in your social network know what you are reading about
---