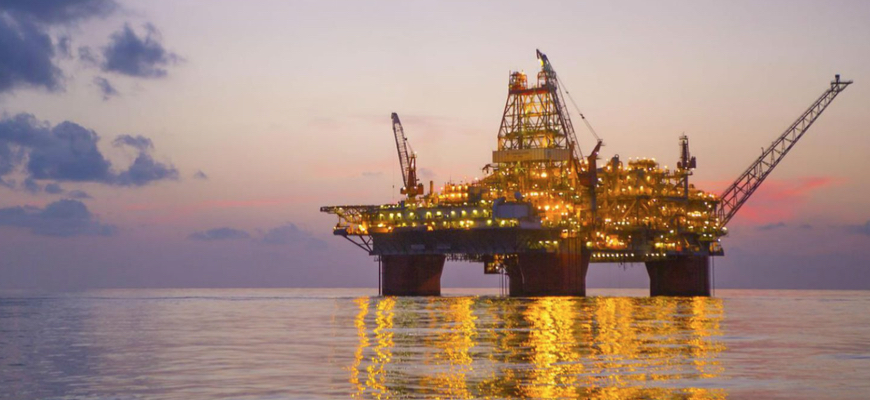 From Hilton Head to Thunder Horse
Engineering alumna's career has taken her across the country and far offshore
---
By Chris Horn,
chorn@sc.edu
, 803-777-3687
---
Lizzie Gandy one day will regale her grandchildren with stories about the years she strapped on a hard hat and rode a helicopter to her job on the biggest moored oil platform in the world, anchored deep in the Gulf of Mexico.
"I did that for nine and a half years, rotating on and off three of BP's floating facilities in the Gulf," says Gandy, whose 28-year career with the multi-national energy company has, thus far, included assignments on land and sea. "I recently had a conversation with my son — he's 21 now — and I pretty much rotated on and off those rigs for nearly half of his life, two weeks on and two weeks off."
Now an operations authority focused on safety protocols, Gandy doesn't have to endure the same back-and-forth grind as before when she was supervising hundreds of oil platform workers in the open water. But she continues to find satisfaction in the work that a mechanical engineering degree from South Carolina in 1992 made possible.
"I grew up in Hilton Head, and it seemed like all you saw were doctors and lawyers, so I started out in biology with a medical degree in mind," says Gandy, who began her collegiate experience at Tennessee State University. "As I started meeting people in college, I saw other things that interested me more and decided to see where mathematics would take me."
A mathematics degree took her briefly to graduate school, where she interned at an ALCOA plant and found her passion — a career in manufacturing. That led her to the University of South Carolina's College of Engineering and Computing where she earned a second bachelor's degree, this one in mechanical engineering.
"It was a good environment at Carolina. They have Amoco Hall in the Swearingen Engineering Building, and it was nice to have classes in that hall because that's the company I really wanted to work for one day," Gandy says. She got her wish right after graduation, launching her career at an Amoco Corp. chemical plant near Charleston as a plant engineer.
A lot of guys, they had never seen anybody like me offshore as well as in that role of being the offshore installation manager.

Lizzie Gandy, 1992 mechanical engineering
After 11 years at the Cooper River plant, she moved to Houston and joined BP's pipeline business (BP acquired Amoco in 1998), where she led a team that did pipeline inspections in Texas. Five years later she became an operations team lead on BP's Mad Dog oil platform in the Gulf of Mexico before becoming an offshore installation manager for the Na Kika and Thunder Horse platforms.
"My husband was very supportive — he was in the industry — so we both understood the demands with assignments that take you away from home," she says. "It was definitely an effort that we both agreed to take on, and I'm glad I had the opportunity."
Gandy had 19 years of experience when she first began working offshore, which helped her gain acceptance. "Not only was I the first woman, I was the first black woman," she says. "A lot of guys, they had never seen anybody like me offshore as well as in that role of being the offshore installation manager. But I was as experienced in operations as my counterparts. I've been the only one during a lot of my career, and you just kind of get used to it."
One of the things that drew Gandy to work for BP was the breadth of its business. "That's why I joined the company 28 years ago because it had so many different opportunities, and there's so much now in the energy industry, including wind and solar. I'm just taking it one day at time now — it's good to have options."
---
Share this Story! Let friends in your social network know what you are reading about
---