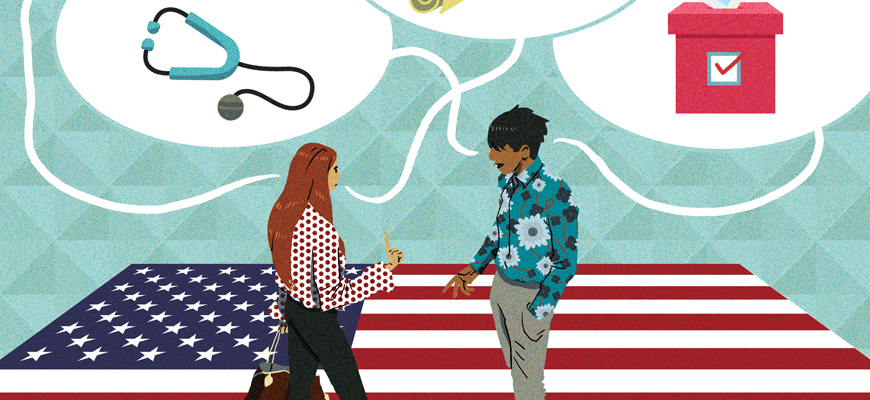 Civics 101: Community and the pandemic
Business researchers look at how people fared in the pandemic based on social identity
---
By Page Ivey,
pivey@mailbox.sc.edu
, 803-777-3085
---
Civic engagement is essential to the pursuit of an equitable and prosperous society — and civic responsibility is a cornerstone of higher education, especially at the University of South Carolina.
Whether it's a journalism professor studying political engagement, a criminal justice professor mentoring future mentors, a business professor inviting an undergraduate into his research on community spread of COVID , UofSC faculty affect the greater community year-round, round the clock and in ways you might never imagine.
---
During the early days of the COVID-19 pandemic, researchers in the Darla Moore School of Business began to apply context to the exponential growth in reported cases. Wolfgang Messner and Sarah Payson's findings could help communities across the U.S. confront future pandemics.
Messner, a clinical associate professor at the Moore School, and Payson, an international business major, seized on the opportunity to study the links between types of community and the transmission of communicable disease.
The two-person research team specifically examined cultural factors, such as whether the population of a geographic area was characterized as more collectivist (marked by more tightly knit social frame-work with people looking out for each other) or individualist (marked by a more loosely knit frame-work in which people feel an obligation only to immediate family).
Everybody brings their own cultural view and perspective to the U.S., and these distinct differences are still with us today.

Wolfgang Messner
Messner and Payson also looked at education levels, ethnic makeup, air pollution and a variety of other factors in their search for common threads in areas with the worst COVID outbreaks. "When the pandemic hit us, it was a unique opportunity to see how different cultures were affected," Messner says.
Messner initially looked at outbreak differences among countries and found cultural values had significant impact on outbreak rates. Payson joined the effort when her study abroad was cut short, and the two turned their attention to the U.S.
Using Census Bureau data at the county level and several international indices at the state level that quantify cultural indicators of collectivism and individualism, Messner and Payson determined that collectivist populations saw greater numbers of cases, as would be expected because those populations tend to be more socially active. The results matched findings from other studies around the world, but theirs was one of the first and few to focus on a population as diverse as the United States.
"Those cultural differences basically go back to the peopling of the U.S. with people from different immigrant nations in Europe that arrived on the East Coast," Messner says. "Everybody brings their own cultural view and perspective to the U.S., and these distinct differences are still with us today."
There were also some conundrums in the data. For example, areas with higher math scores showed lower levels of outbreak, while areas with higher incomes — typically an indicator of better overall education — showed worse case numbers.
Messner says the math differential could owe to the education levels of populations that better understand variables such as infection rates and exponential growth curves, and that also see the value of social distancing and masking. But higher incomes, he posits, could also indicate more economic activity, which would cause more person-to-person interactions and thus more spread.
Messner says the research results could be useful for predicting hot spots in future pandemics. But even during the current pandemic, the differences for ethnic groups and locations with greater air pollution, for example, could direct health officials as they decide where to concentrate vaccination distribution or other health resources.
---
Share this Story! Let friends in your social network know what you are reading about
---