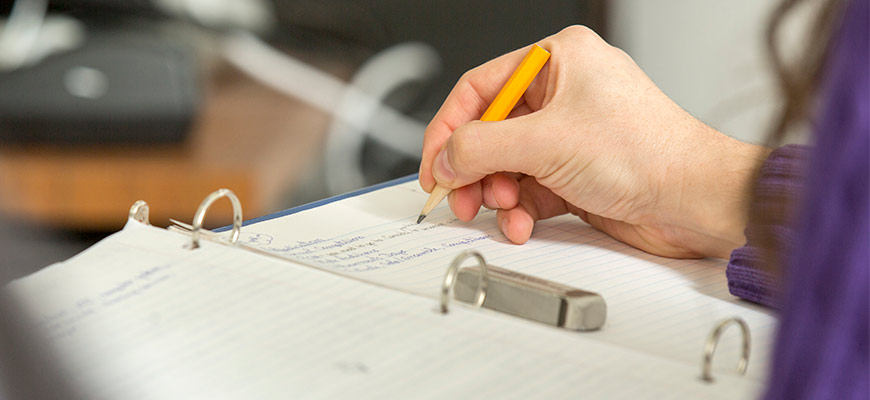 Intriguing class offerings for spring 2022
---
By Cam Adams,
stucomm@mailbox.sc.edu
---
While the fall semester is far from over, it is time to start thinking about registering for spring 2022 classes. In addition to the essentials all students need to satisfy graduation requirements, we found a few classes open to all majors that you might want to look into.
You can learn about makeup design for film or how history is presented in video games. You can take a class to analyze how the sports media covers Southeastern Conference football or learn more about digital technology and big data.
"We are proud to offer new courses each semester that expose our students to the latest cultural trends and ensure students are prepared to succeed post-graduation," says Stephen Cutler, interim provost at the University of South Carolina. "The courses introduced this year represent our university's continued commitment to providing students with engaging course offerings that captivate their interests and expand their horizons."
Here is a quick list of just a few classes you might want to try as you register for the spring.
College of Information and Communications
SLIS 480: Information Security and Intelligence
This course will provide the student with frameworks and best practices in worldwide cybersecurity education and information. Students will collaborate with current cybersecurity experts, architects and instructors to learn how to manage modern day cybersecurity risks.

SLIS 480 003 STC: Blockchain, Cryptocurrency and Data Privacy
This course will encourage you to think critically about the trade-offs and challenges presented by the ever-changing role of digital technology.
JOUR 215: Photojournalism via smartphonography
This course will cover traditional photojournalism practices while utilizing our smartphone cameras. We will use the native camera app of our respective smartphones, while exploring additional apps for image capture, image formats, editing techniques and image delivery methods.
JOUR 244 section J10: Jobs in the Sports Media
Exploring the different jobs in sports media that students might choose to pursue. We will focus on sports media careers within the fields covered by the degree programs within SJMC.
JOUR 244 section 001: SEC Football and the Sports Media
The media's role in how the public views the SEC football games, schools and the athletes is a key component to the mystique of the league. This course examines the media's role in the past, present and future of the SEC.

JOUR 311: Minorities, Women, and the Mass Media
Study the relationship among people of color, women and the mass media in the U.S.
JOUR 391: Sports, Media & Society
History of sports media and an analysis of current relationships between the sports industry, athletes, media, social media and the audience.
JOUR 400: Digital Media and Big Data Analysis
Understanding digital media concepts including artificial intelligence, blockchain, net neutrality, big data, privacy and network analysis.
College of Hospitality, Retail and Sport Management
HRTM 275: Introduction to Beverage Management
Introduction to Beverage Management, is an introductory course designed to give students a broad understanding of the beverage industry.
HRTM 383: EcoTourism
Focuses on tourism that is nature-based and entails a learning component while being managed for environmental, economic, and sociocultural sustainability.
HRTM 386: Tourism Festival Planning and Management
Planning, marketing, sponsorship, budgeting, management, impacts and evaluation of successful and sustainable tourism festivals are discussed from both a theoretical and practical perspective.
HRTM 590: Travel, Transformation and Enlightenment in Film
Rich Harrill, an expert in tourism, economic development and international development, delves into how film and literature may help in understanding the possibilities for and critiques of personal discovery through travel and tourism, negative consequences of colonialism and neocolonialism in tourism experiences and destinations, and travel futures, including leisure dystopias.
College of Arts and Sciences
ANTH 161: Human Origins: An Introduction to Biological Anthropology
An introduction to the science of biological anthropology, a sub-field of anthropology that emphasizes a focus on humanity and its origin from a biological perspective, employing laboratory components to complement and reinforce lecture materials. The course also incorporates virtual reality/360° video.
PHIL 370: Climate Ethics and Columbia
Students will be working with and hosting a mini-conference with local civic and nonprofit leaders focusing on climate justice in the Columbia area.
CRJU 551: Adolescent Mentoring, taught by Tia Stevens Andersen
This criminal justice course allows people to learn how to mentor students and gives them a chance to practice it. Students paired as mentors with students at a local alternative high school.
HIST 314: Video Games and History
History in video games; comparison of selected games with historical scholarship, to assess the validity of the games' presentations of historical developments and the value of games to the understanding of history.
THEA 230: Make up Design in Theatre/Film, taught by Valerie Pruett
Theory and practice of makeup design using analytical and research skills in the visual development of the character.
---
Share this Story! Let friends in your social network know what you are reading about
---