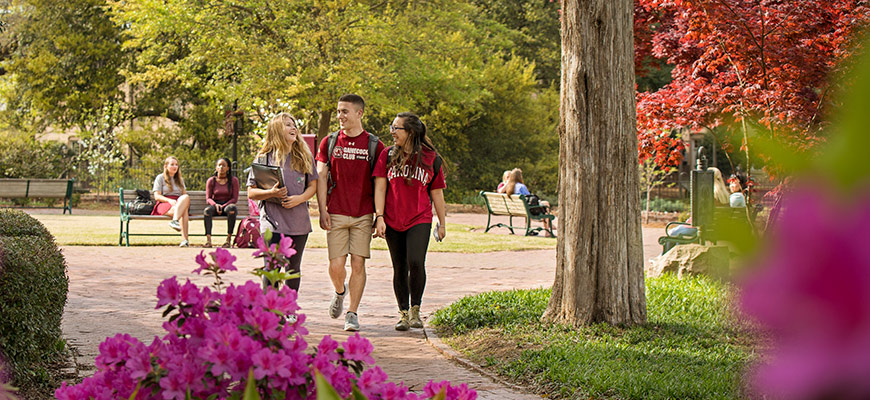 Tips for successfully navigating virtual career fairs
---
By Kelley Barrett,
kab12@email.sc.edu
---
While virtual career fairs were born of necessity during the COVID-19 pandemic, they are here to stay, says Mark Anthony, senior associate director of career development and experiential education in the university's Career Center.
Recruiters and job seekers are able to communicate from miles away, creating greater convenience and opportunity than ever before, Anthony says.
Preparing for a virtual career fair is similar to preparing for an in-person fair.
Do research on the companies that will be there and narrow down a list of the ones you want to speak with most.
Make sure you are dressed professionally — at least from the waist up.
Find a quiet space to log into the fair from, ensuring your background is free from distractions.
Plan ahead and rent a study room at Thomas Cooper Library if you know your dorm room or apartment will be noisy.
Companies may offer an informational session, which is typically 20-25 minutes to talk about their organization and take questions in a group setting. If they do, make sure to have your camera on and ask questions that show you did your research on the company.
Companies also may offer sign-ups for one-on-one sessions to speak with a recruiter. These sessions are typically 10 minutes. This is a great opportunity to see if your values match the company you are interested in. This would be a good time to ask about the company's diversity, equity and inclusion initiatives or if it supports philanthropic work.
The Career Center is offering two virtual career fairs open to all majors. The Explore & Engage event takes place March 2-3. The first day offers educational programming, including tips on how to present yourself at a job fair, how to research companies and what the best questions are to ask recruiters. The second day provides the opportunity to attend virtual information sessions and sign up for one-on-one sessions with recruiters.
The Just in Time Virtual Career Fair will be April 14.
---
Share this Story! Let friends in your social network know what you are reading about
---